Renowned for a generally relaxed vibe, the Mediterranean is an attractive yachting haven and reliable summer stalwart. The array of vibrant locations, each with their own distinct flavour, means there is something for everyone to enjoy. While many choose to just sit back and relax during their Med escape, the region also offers numerous options for a bit of excitement and adventure. While most yachting holidays offer the opportunity for the occasional jet ski or paddleboard spin, venturing further afield can open a number of new possibilities for true thrill-seekers – both ashore and on the water. During a yachting break, whilst relishing the changing scenery and a new view every day, there are also countless choices to enjoy fun and action which will suit all moods.
Sardinia
Filled with history, untouched landscapes and bursting with exceptional cuisine, the windy island of Sardinia has a few more secrets to discover. Boasting some of the best conditions in Europe, thanks to the Mistral, Scirocco, Ponente and Levante winds, southern Sardinia is an unexpected haven for kitesurfers. The on-point combination of a reliable breeze, shallow waters and generous kiting zones get the adrenaline pumping. Some exceptional surf school facilities at Punta Trettu offer a journey from zero to hero with everyone accommodated, whether a beginner or advanced.
Daring travellers may relish the opportunity to try a wild coasteering tour, available across numerous locations in Sardinia. Walk inter-tidal rocky coastlines, swim round sapphire coves, dive from granite outcrops and zipline over some of the highest cliffs into the cool water below. These guided expeditions run by local enthusiasts seriously raise the fun factor, whilst gaining an unforeseen perspective of the stunning coastline. A smile on your face is guaranteed!
Corsica
Luring travellers with a flair for adventure, the island paradise of Corsica has a proven reputation for outdoor pursuits thanks to the tough GR20 long distance trail. Dubbed the 'mountain in the sea', Corsica delivers prime mountainous landscapes for those in search of exceptional rock climbing and bouldering experiences. Peaks rise to 2,000m, with a variety of rock types to choose from, such as granite, limestone or sandstone walls. Home to some of the best granite climbing in the world, Punta d'u Corbu offers technical multi-pitch routes, while the many crags of Rocher des Gozzi are a popular area with diverse and high-quality climbs.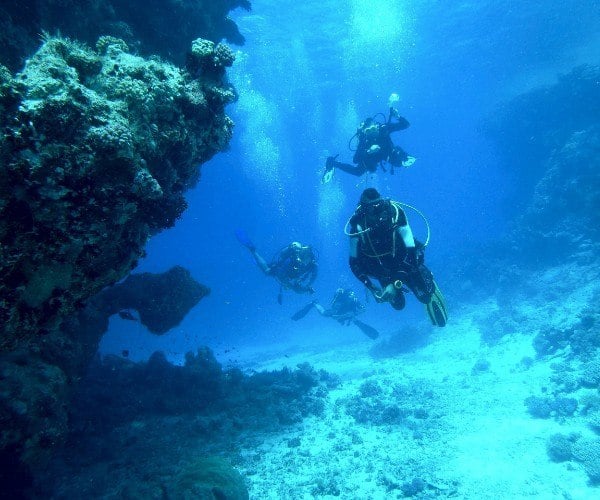 Continuing underwater, the dramatic and rugged coastline presents a display of towering needles, rocky peaks and deep canyons with superb visibility in crystalline waters. Exceptional diving is found in the Lavezzi Reserve where the marine world is a magnificent fusion of colourful life. Most celebrated is the Citta delle Cernie, home to a colony of 30 giant groupers who regularly interact with scuba visitors, accompanying them on their aquatic adventure. The monolithic slabs of Pilone di Lavezzi present a fascinating drift dive site, where sealife swarm amidst intricate crevices and gullies.
Balearics
Running along the northwest coast of Mallorca, the UNESCO World Heritage Site of the Serra de Tramuntana mountain range covers 30% of the island. Steep and rocky ancient footpaths cut through some of the most beautiful scenery imaginable; past hilltop villages, glistening reservoirs, historic monasteries and gatherings of wild sheep. For a single hike, the walk from Deià to Sóller is a gentle paced trail amongst leafy forests and lemon groves, while multi-day treks over the four full walking stages will lure intrepid explorers with plenty of energy.
Activities calling for stamina, adrenaline and determination are top of the list here. Famed for a ground-breaking ascent of the difficult and rocky Es Pontas arch, Mallorca has developed into a mecca for hard deep-water soloing (DWS). Not for the faint hearted, this advanced and pure style of climbing unaccompanied above the sea without safety ropes, takes place across a diverse array of steep and strenuous cliff faces on the east coast. Cala Varques has many multi-pitch caves and challenging overhangs, while Cala Serena is the largest DWS crag offering 100+ routes of varying grades. Guided tuition is available locally for beginners right through to established climbers, enabling freedom to explore the perfect limestone with a refreshing drop into the azure seas below.
Montenegro
A veritable magnet for thrill seekers, Montenegro is an outdoor enthusiasts delight. The Tara Canyon, dubbed the 'Tear of Europe', within the Durmitor National Park, delivers the ride of your life. Nearly 10km of cascading river, encompassing 50 rapids, wind through the remote mountains. This is an exhilarating and truly ultimate rafting adventure, with breath-taking swim stops at waterfalls along the way. For the fastest and longest zipline in Montenegro, plus a huge adrenaline rush, head upwards to the Red Rock Zipline – 170m above the canyon, intrepid explorers shoot 1,050m across at speeds reaching up to 80 km/hr!
Nearby, the Nevidio Canyon brings an experience that combines daring nerve and exciting fun. A guided canyoning tour allows a fully immersive experience, enabling you to appreciate the stunning surroundings whilst using a variety of techniques including scrambling, climbing, rappelling and swimming. Cut into bedrock stone, the narrow river gorges have numerous drops with beautifully sculpted walls and spectacular waterfalls. With an emphasis on active fun rather than sheer difficulty, this can be enjoyed by people of all ages and skill levels.
It is fair to say that, whilst the Med may often be associated with long, lazy lunches followed by an afternoon napping in the sun, there are also plenty of opportunities for those looking for something a little more energetic!
Nicholas Dean is Managing Partner of Ocean Independence. Ocean Independence is a global leader in luxury yachting, providing a bespoke experience across yacht charter, sales and management.
If you would like to be a guest blogger on A Luxury Travel Blog in order to raise your profile, please contact us.