By
Michael Edwards
on Jul 12, 2019 in
Accommodation
,
Denmark
,
Europe
,
Featured
,
Food and Drink
,
Going Out
,
Hotels
,
Regions
,
Restaurants
,
Travel Miscellany
,
Western Europe
The Absalon Hotel is just a three minute walk from Copenhagen Central Station in the upcoming Vesterbro district. It is a great base for seeing Copenhagen and beyond.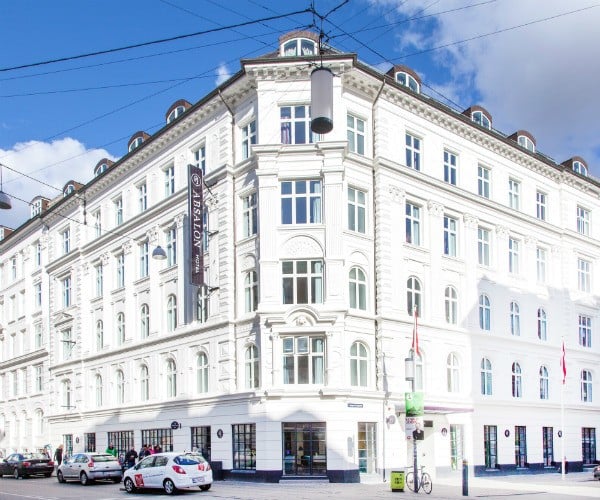 Vesterbro, a haven for foodies and lovers of quirky boutiques and design stores, is steaming ahead with classy gentrification. But the Absalon's recent sophisticated revamp has edged it clear of the neighbours in the style stakes.
A beautiful white neo-classical 19th century building was always going to provide an elegant competitive edge. Owned by the same family since it's 1931 inauguration as an 11 room hotel, familial care and love are very evident throughout.
The welcome
A classic blue-eyed, Scandi-smile welcome. There's generosity too. We are given free admission to the neighbouring Tivoli gardens for one evening and a 100 Danish Krone voucher to spend in the Absalon's bar.
And there is Danish efficient functionalism too. Form-filling is stripped down to bare essentials. Within minutes we have our keys and directions to the room.
The rooms
Trisha Guild OBE, London Designer, was hired to mastermind the recent revamp. Up on the quiet 5th floor there's a plush comfort to the thick-piled rich grey carpet, easy on both eye and feet.
On one feature wall there is a silver sheen to the merest hint of a floral pattern on the decadent wallpaper. It contrasts with the vivid greens and purples that dominant curtains and cushions: statement soft-furnishings. Three colourful sharp focus close-up prints of glossy plant-life complete the green theme. Other rooms focus on blues and purples.
With an entrance hall serving as cloakroom/ kitchenette /wardrobe / dressing room there is space to spread out as you prepare to devote your days to exploring Denmark's capital city.
The bathroom
The Philippe Starck-designed marble bathroom is a vision of white hygienic cleanliness. So a chromatographic circle of colour, the control panel for you to choose the lighting's hue, stands out.
That control panel is almost a-burst-of-colour-art-installation in the white textural collage of flannels, tissues and towels. There are two sets of dispensers for organic Karmameju products and their aromas of lavender / frankincense / yarrow. Be aware that the power-shower is a force of nature.
The facilities
Continental breakfast is available from 6.30am, though by the time the spread of breads, cheeses, fruits, meats and yogurts is cleared away at 11.00am it is as much a social event as breakfast. Throughout the day, the bar draws in locals who spill out into a courtyard protected by sails from summer sun.
No restaurant but plenty of good places to eat locally, particularly at Uformel. As the cool, edgy younger brother of Michelin-starred Formel B, the restaurant throws away the rule book and adds cosmopolitan flair to the purity of Nordic cuisine: Danish beef tartar comes with the intense flavours of sun-dried tomato.
You can opt for tasting menus or select a la carte. The Sommelier's recommendations for the tasting menus were superb, particularly an Alsace dry white to accompany the pickled mackerel starter and a bubbly French Rose for dessert.
The location
As it is just a 12 minute train ride from Copenhagen airport to Copenhagen Central and then a three minute walk you can be your room in the Absalon within 20 minutes.
From the station you can take trains to The Viking Ship Museum at Roskilde, Hamlet's Castle at Helsingør or even a day trip to Malmo in Sweden.
It's around an eight minute walk to Nyhavn, the iconic canal inlet of traditional coloured houses and  rigged wooden ships.
Other nice touches
Concept Green encourages you to decline housekeeping and receive a gift instead: hand soap / nuts / a day's bike hire or a 100 Danish Krone voucher to spend in the bar.
Everyday, across the road at the sister hotel, The Andersen Hotel, there is a Wine Hour, with complimentary wine available from 5pm to 6pm.
If you book direct with the hotel, Concept 24 allows you to keep your room for 24 hours from the moment you check-in. For example, if you check-in at 3.30 pm you can check out at 3.29 pm the next day.
Cost
Rooms, with breakfast, begin from £135. Book direct with the hotel to receive a 100 Danish Krone bar voucher and the privilege of Concept 24.
The best bit
Not only is Denmark happy, always in the running for top spot in the Global Happiness League, but the Absalon staff is lygge (happy) too.
The hotel won first place for the "Best Place to Work" in Denmark in 2018, for small businesses, and came third in Europe overall. No surprise that the staff is smiling and very happy to help.
The final verdict
Stunningly quiet at night, almost silent, for a hotel so centrally located. Trisha Guild's soft-furnishings bring colour, comfort, depth and texture to the Absalon Hotel in a city where design can, at times, be a little too functional and minimalistic.
Disclosure: Our stay was sponsored by the Absalon Hotel and Uformel.