It is amazing how things can change in half a century. After World War II, decades of war, political upheaval, and social conflict were all anyone thought of when you mentioned any of the countries in Southeast Asia, especially Vietnam. But here we are, in the twenty-first century, and Vietnam has made leaps and bounds in their development to now become a pristine vacation location for people around the world.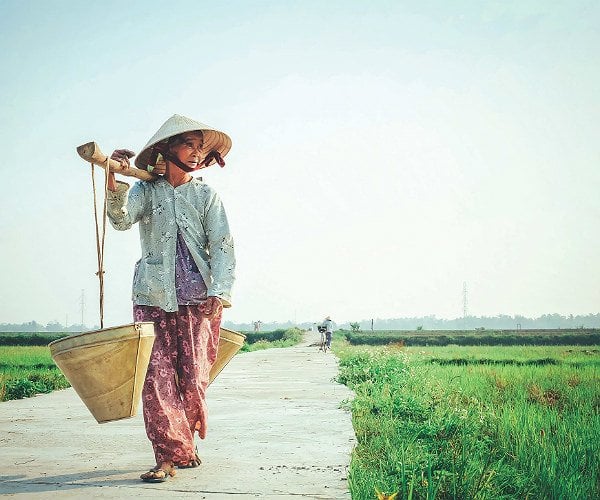 Due in part to their limited export capacity, Vietnam's economy is heavily reliant on the tourism industry these days. This means they understand that getting visitors into the country is paramount, and offering them an unsurpassed stay is the key to getting them to come back. Because of this, Vietnamese luxury hotels have become world-renowned for their unique experiences and fantastic service that will leave you wanting to come back again and again. So before you book your flight, have a look at these top ten luxury hotels in this ancient land of culture and beauty.
1. Amanoi, Vinh Hy Village
This resort is the hidden jewel of Vinh Hy Bay, tucked into tumbling jungles and surrounded by crystal-clear waters along 32 km of pristine coastline. They feature three different accommodation styles; villas, residencies, and spa houses. The spa houses are world-renowned, even earning the title of "Best Spa for Wellness" in Harper's Bazaar Travel Guide to the 100 Greatest Hotels in the World.
They feature a variety of packages that can be tailored to fit your personal style. Want to spend your luxury vacation enjoying nothing but spa treatments and good food? They have it. Want to experience the culture and wonder of Indochina? They've got you covered. Want to merely sit and relax in the untouched majesty of nature? Your wish is their command. Dining in this resort has several experiences in and of itself. They provide ancient and contemporary Vietnamese dishes cooked both in the restaurant or served to you beach-side with a flute of champagne. Specialties include braised abalone with shiitake mushrooms, whole live crab fried with tamarind sauce, fresh spring rolls with shrimp and pork, and grilled beef in bamboo. And to top it off, every herb they use in the resort is grown in their own garden.
2. InterContinental Danang Sun Peninsula Resort, Danang
This hotel is built around lush gardens, a private beach, is inspired by Vietnamese temples and traditional villages in its blended designs. The hotel itself boasts a classy stay in one of their world-renowned rooms, classic suites, or executive rooms. But even the standard room in this hotel boasts a balcony view of the East Sea and incredible Vietnamese architecture, and they start at around $500 US dollars a night.
In addition to immaculate suites, this resort boasts access to some of the finest restaurants in the country. Treat yourself to an experience at La Maison 1888, where your tastebuds will be caressed by the artistry of three-star Michelin chef, Pierre Gagnaire. You can also take advantages of the many spa treatments available at this location, including the HARNN Heritage Spa or partake in the ultimate pedicure regimen by world renowned posiatrist, Bastien Gonzalez.
3. Sofitel Legend Metropol, Hanoi
Like the city of Hanoi itself, this first-class hotel is designed to reflect the colorful tradition of the city's history as well as the modern elegance first-class travel requires. The resort is mere steps away from the Old Opera House in Hanoi's historic and vibrant French Quarter, bathing you in the opulence of the Era of Empires while also immersing you in local artistic culture, Vietnamese cuisine and dream-like architecture that includes the original wrought iron details and stately wood paneling residing through over a century of history. Stays begin at around $250 US.
4. The Reverie Saigon, Ho Chi Minh City
This hotel is best known for its incredible hospitality and absolutely stunning list of services offered during your stay here. From spa getaway suites to expensive luxury car chauffeuring services, the Reverie has thought of nearly everything. And with luxury suites starting in the $600 ballpark, it's easy to see why this is such a popular destination. And don't even get us started on the food; the acclaimed Reverie Lounge and dozens of high end traditional and international restaurants will leave you with an experience that will last you a lifetime, and yet leave you wanting to come back for more.
5. Park Hyatt Saigon, Hồ Chí Minh
Shifting gears, the urban luxury in Ho Chi Minh is no better experience than in the Park Hyatt Saigon hotel. The hotel has 245 rooms including 23 suites, which recently underwent a complete upgrade to French-colonial style rooms that combine elegant, traditional "old-world" comfort with the latest in technology, including in-room mini iPads, Nespresso machines, and sensor lighting systems. The Suites are large and spacious, perfect for making an extended stay as comfortable as is humanly possible.
The Hyatt's signature restaurant, Square One, features authentic Vietnamese and French cuisine, while Opera offers traditional Italian dishes prepared in a large open kitchen. If the nightlife is what you crave, the 2 Lam Son brags itself the liveliest nightspot in Ho Chi Minh City. Even the Lounge is alive with local live musicians several nights of the week.
6. The Nam Hai Four Seasons Resort, Hoi An
Ideally located in Vietnam's rich central coast, The Nam Hai offers a portal to some of the most popular and celebrated beaches in this coastal country. They offer sunsets on the East Sea by kayak, historic trips of imperial Hue and world-class restaurants in the area. Their villas are proclaimed as the best in central Vietnam and a stay in this exotic utopia starts at only around $700 US. The Four Seasons is also known for its fantastic culinary options and state of the art luxury dining facilities.
7. Six Senses Ninh Van Bay, Khanh Hoa Province
The dramatic rocky bay of Van Bay in Khanh Hoa gives visitors to the Six Senses the sense that they are on an island unto themselves. The secluded nature of this tropical paradise includes such experiences as the renowned sauna and fitness center, playing tennis, volleyball or badminton, and long mountain walks around the bay area. They also specialize in watersports such as scuba diving, paddle boarding, sailing, kayaking, snorkeling, waterskiing, tubing, and even fishing charters. From the front desk, you can also schedule an excursion into Nha Trang City for a tour or take a guided trip to the Cai River and Mud Baths nearby. Also available are world-class restaurants and spa treatments
8. Anantara Quy Nhon Villas, Bình Định
Touted as one of the "finest beach resorts in Vietnam", Anantara is a paradise surrounded by mountains on three sides and overlooking the Bay of Quy Nhon, one of the world's most beautiful beach fronts. With only 26 villas dotting the lush landscape, it's no wonder a stay at Anantara is one of the most sought after reservations in Indochina. With full-service butlers, four-hand massages, ancient local ruins, and traditional fisherman's villages, there's plenty to do and be pampered by in this corner of the jungle. The cuisine is also incredible, featuring restaurants serving you experiences in local seafood, gourmet street eats, traditional hot pot grilling and island picnics on the surrounding uninhabited islands.
9. Six Senses Con Dao, Vũng Tàu
For those of you looking for sustainable opulence, look no further than Six Senses Con Dao, another premier location for the discerning luxury stay. This remote, secluded island has many things the mainland just cannot offer, like the protected national and marine park that surround this remote archipelago. With pristine villas designed to mimic a traditional fishing village, this spa getaway is a vacation you don't want to miss out on starting at $600 US per night.
Cuisine in the area includes Vietnamese by the Market, an immersive experience featuring traditional local flavors. By the Beach is the resort's official seafood restaurant sporting a panoramic ocean view and continual sea breezes. Outings and activities include touring the islands around the hotel, paddleboarding the natural reef, and guided scuba diving outings.
10. Anantara Hoi An Resort, Quảng Nam
Another location steeped in tradition and history, Anantara Hoi An Resort is less than a kilometer from the historic quarter of Hoi An, in lush gardens fronting the Thu Bon River. Riverfront dining, blissful spa treatments, and sunset river cruises along the river are only a couple of the things this enticing resort has in store for its guests. Enjoy the views as you saunter down the promenade past shrines, modern art galleries, teahouses, and small cafes, An Bang Beach, one of the country's most famous beach fonts, is just down the way from the resort's own private jetty. Whether you plan on spending the day in one of their elegant 93 rooms or venturing out to see all that Hoi An has to offer, Anantara Hoi An is a fantastic option.
Now you can begin planning your dream vacation to the mysterious lands of the Orient. Whether your personal taste resides in the simple pleasures of a spa secluded in nature or a highrise, state of the art suite in the city, Vietnam has a luxury destination just waiting for you.
Guido Graf is Founder of Privateupgrades. Privateupgrades is a global luxury travel club with over 20 years of experience in luxury hotels, ensuring exclusive VIP privileges like upgrades, free breakfast, free nights, rate discounts, free airport transfers, free massages and much more.
If you would like to be a guest blogger on A Luxury Travel Blog in order to raise your profile, please contact us.