With such a lot to see and do in Provence, it can sometimes become overwhelming trying to plan a holiday in Provence… especially if you have never visited before!
To help you enjoy the perfect Provence vacation I've listed some top attractions and well as lots of useful information about the region. If you've got any unanswered questions after have a read, leave them in the comments below and I'll do my best to answer!
Region overview
Provence is a hugely popular area of France. Located in the south of the country, it covers a large area from the Mediterranean Sea up to the French Alps. To its western border is the Rhône River and to the east is Italy! The region is broken down into smaller sections or 'Departments' as the French call them (the equivalent of Counties in the UK).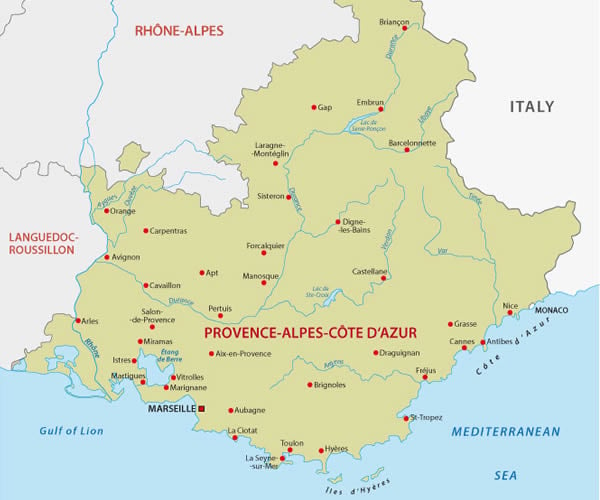 Alpes-de-Haute-Provence
This is the mountainous northern part of the historic Provence. A must visit is the Verdon Gorge.
Alpes-Maritimes
Home to the French Riviera. With around 300 sunny days per year it's the perfect destination for sun seekers!
Bouches-du-Rhône
Home to wetlands of the Camargue and the picturesque village of Cassis and many other fantastic destinations.
Hautes-Alpes
This region is part of the French Alps and among one of the highest regions in Europe!
Var
Taking its name from the river Var, it is home to lots of seaside resorts including Saint Tropez.
Vaucluse
Mountains dominate a significant portion of the Department, most famously Mont Ventoux which is known as the Giant of Provence. It is home to the village of Gordes, recognised as one of the most beautiful in France.
Getting there and travelling around
Marseille Provence Airport offers a convenient gateway to the region with flights arriving here from airports around the world. You are well-positioned upon arriving in Marseille to begin exploring the region.
Hiring a car when you arrive is a popular choice as it offers you maximum flexibility to organise your travel plans as you wish, as well as meaning you can visit some of the regions smaller villages and attractions that might not be served by public transport. Roads in France are generally excellent (just remember to drive on the right!).
You'll almost certainly be able to enjoy some fabulous stretches of open road with barely another car in sight, although of course around larger towns and cities things will be busy. The French police (Gendarmes) take a particularly dim view of people who speed however, and will happily pull you over for exceeding the posted speed limits which will result in an on-the-spot fine so keep an eye on that speedo!
Top tip: You may not notice posted speed limits in towns and villages. Unless otherwise stated, the speed limit in these areas is 50kph. This speed limit comes into force when you enter the town/village which will be marked by a sign announcing the name of the town/village. The end of the 50kph zone is marked by a sign with the town/village name on that has a red stripe through it.
Another popular airport is Nice Côte d'Azur Airport which provides convenient access to Eastern side of Provence including the Riviera. Cannes is just 30 minutes down the road from here.
The weather
Described as 'typically Mediterranean', the weather is one of the many reasons Provence is so popular as a holiday destination. Its unique geography with mountains to the to the north means the region is well protected from incoming weather fronts and remains lovely and dry for much of the year.
Spring comes early and Winter arrives late, leaving a wonderfully long warm season to enjoy. Temperatures start to climb in March/April and reach high 20C's by June. Even during the winter, you can have plenty of days that are in excess of 10C making it warmer than much of France at this time of year. And, with an average of 12 hours of sunshine in July, you can be all but guaranteed to be able to top up your tan whenever you want!
The food
The food in Provence is quite simply superb! With miles of coastline to provide fresh fish, endless sunshine to help grow fabulous fruit and vegetables, and world-renowned chefs to prepare dishes, a trip to Provence is a gastronomic delight. The region is renowned for a range of ingredients including Olives, Truffles, Goat's cheese and Nougat.
And of course, let's not forget the wine! Provence is home to some of the world's best vineyards and wine growing regions including the famous Châteauneuf-du-Pape.
A trip to one of Provence's many Michelin starred restaurants is a great way to experience the very best in food that the region has to offer. And fear not if your budget doesn't extend to Michelin dining, you'll find no shortage of other wonderful restaurants that will leave you with plenty of happy food memories.
Currency, health system and etiquette
Money: Swap out your £s or $s for some Euros (€)! At the time of writing, £1 gets you approx. 1.12 Euros and $1 gets you 0.9 Euros. As always, changing your money at an airport will prove expensive. Cash machines are prevalent and normally offer a menu in English when you insert your card. You will likely be limited to being able to withdraw around 300Euros from any one cash machine in a day so plan accordingly.
Health: The French health system is widely regarded as excellent. If you should be unfortunate enough to fall ill whilst on holiday you will be able to receive world-class medical care. Local doctors are typically well equipped to deal with minor injuries or alternatively walk in A&E (Les urgences) are well-staffed and resourced. In an emergency dial 112 or 114 for help.
Etiquette: The French are typically more formal and will shake hands or kiss when meeting. People will say hello more freely when passing and especially in shops… expect to be greeted with a 'Bonjour' when entering an establishment and make sure this is returned! The reputation for rudeness (especially in waiting staff) is very much unfounded, especially in the South of France. Expect to be treated in a friendly manner by most people. And if you can possibly manage it, try speaking in French! Although many French speak some English (especially in the hospitality industry) an attempt to converse in French (no matter how poor your French may be!) is normally hugely appreciated.
Things to do and places to visit
Where to begin! Almost without exception, there is something on offer for everybody in Provence.
Beautiful villages, towns and cities
From the charming village of Le Castellet with its winding streets lined with quaint Provencal houses that are interspersed with a variety of shops including craft shops, stylish boutiques, cafes and restaurants to the buzzing metropolis that is Marseille, the variety of incredible villages towns and cities across Provence almost knows no bounds!
Epic scenery and architecture
From the sweeping fields of lavender, row after row of sunflowers, historic Abbey's & Churches to the incredible coastline and breathtakingly beautiful Gorges du Verdon, the Provence landscape is one to be savoured and admired. It really is a stunning region of the world and everything has a timeless harmony to it that leaves you feeling completely relaxed as you explore it.
Activities
Take your pick! From drawing classes in Aix-en-Provence through to motor racing at the famous Circuit Paul Ricard, the question is what do you want to do? Water sports are, perhaps unsurprisingly a popular activity making this an ideal destination for those of you who love getting out on a boat or in the water! From scuba diving to sailing you can do it in Provence. Hiking and biking are also top activities. Miles of quiet roads and bike tracks make this an ideal area to explore on two wheels, whilst National Parks like the Calanques or Carmargue offer great walking opportunities. And of course, let's not forget some more relaxing pastimes… just sitting on a beach, soaking up the sun, perhaps with a glass of chilled Rosé to hand, is a justifiably legitimate use of holiday time as any!
Events
The French are hugely proactive about organising lots of events throughout the year. From concerts to food festivals there is normally always something going on. Whilst the summer is the most popular time of year for many events to be held, you'll also find events organised during the winter, especially around Christmas. With the weather being far more reliable than in more northern parts of the world, these events will often be held outside. Somehow, things like a Jazz concert are so much more fun when hosted outdoors during a balmy warm summers evening! Check with your hotel or local tourist office for a full list of the going's on during your stay.
Bon vacance!
Su Stephens is Owner of Olives & Vines. Olives & Vines is a luxury holiday company based in the South of France offering stays at their beautifully designed holiday house and boutique hotel in Le Castellet.
If you would like to be a guest blogger on A Luxury Travel Blog in order to raise your profile, please contact us.