Kruger, Cape Town and the Garden Route are undeniably the most popular destinations for first-time visitors to South Africa, however the more adventurous traveller will find many wonderful places to explore in other parts of this vast country.
Top of the list of less-visited gems is KwaZulu-Natal. Whilst South Africans from Jo'burg have long escaped to the mountains and beaches of KwaZulu-Natal, it is estimated that only 10% or so of overseas visitors travel to this fascinating province.
There is something for everyone in KwaZulu-Natal: excellent Big 5 game viewing, stunning mountain scenery, a rich history and culture, and beautiful beaches lapped by the Indian Ocean.  Nowhere else in Southern Africa are so many outstanding tourist destinations to be found in such close proximity to one another, and everything can be easily reached by road as part of either a self-drive holiday or an organised tour.
It is now a year since British Airways started offering three direct flights a week from London to Durban, making KwaZulu-Natal more accessible than ever, and this is our guide to some of the most popular destinations in this exciting province.
Durban
Durban is the gateway to KwaZulu-Natal, and is a large and lively city, with an average of over 300 days of sunshine a year and a sub-tropical climate cooled by sea breezes.
The beach hotels along the golden mile are popular with South Africans from other parts of the country, however most overseas visitors usually prefer to get their beach fix a little further away from the city. The Oyster Box is probably the most popular of the hotel resorts – situated in the upmarket Umhlanga area, yet still only 15 minutes transfer time from the airport, this hotel has been regularly voted as the best hotel in South Africa by the Trip Advisor Travellers' Choice Awards . Individually designed rooms offer either tropical garden or ocean views, and the dining experience here from breakfast to dinner will make a stay here extra special.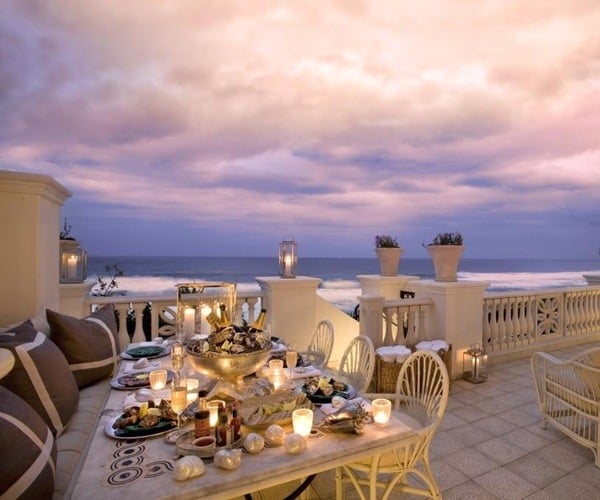 If you can drag yourself away from the sun loungers, beach and fine cuisine, there is plenty to do in and around Durban: there are excellent museums including the Phansi museum that has a wonderful collection of African art and crafts, and the  ; the historic Victoria Street Market has stalls sell-ing traditional African artwork, Indian spices, seafood, bags, brassware, traditional clothes and much more; and the sprawling botanical gardens were established in 1849 and offer 15 hectares of rare plants and exquisite orchids, interesting sculptures and a lovely café with great views.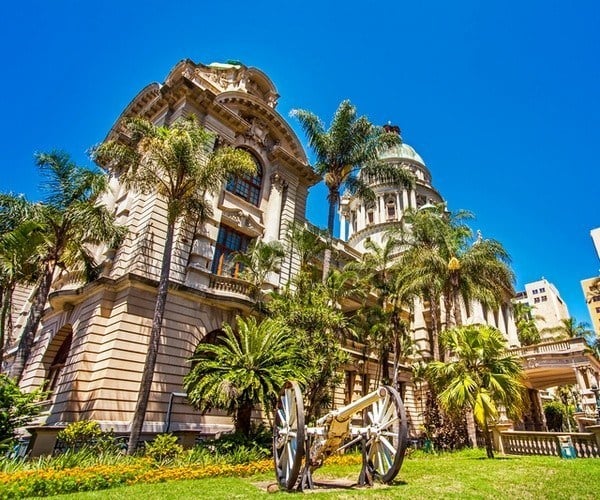 Safaris
Only 280 km north of Durban, and set in the heart of Zululand, the Hluhluwe-iMfolozi Park covers 96,000 hectares and is renowned for the abundance and variety of its wildlife. Once used as a royal hunting ground belonging to King Shaka Zulu, the Park is the oldest proclaimed game reserve in Africa and has played a leading role in rhino conservation over the years.
Today, the Big 5 (lion, leopard, elephant, buffalo and rhino), cheetah, wild dog, giraffe, zebra and many other species inhabit the woodlands and open plains of the park offering the visitor a varied self-drive or guided game viewing experience.
Five star guests will relish the experience at the two Mantis properties – Biyela and Mthembu – both small and intimate lodges situated in a private 6,000 hectare concession which is an extension of the Park. Chic and contemporary styled suites offer the perfect place to relax after a day of game viewing.
Phinda Private Game Reserve features not only the Big 5, but a plethora of other animals and birds within its 28,555 hectares. This wide diversity of wildlife thrives across the reserve's 7 distinct ecosystems – dry sand forest, savanna, woodland and wetland systems, beautiful river courses, mountain ranges, marshes and pans. With lodges ranging from the impressive Rock Lodge, set high on the cliff face to Vlei Lodge, overlooking an open area where herds of an-telope and zebra frequently graze, the reserve is also famous for its unprecedented cheetah sightings.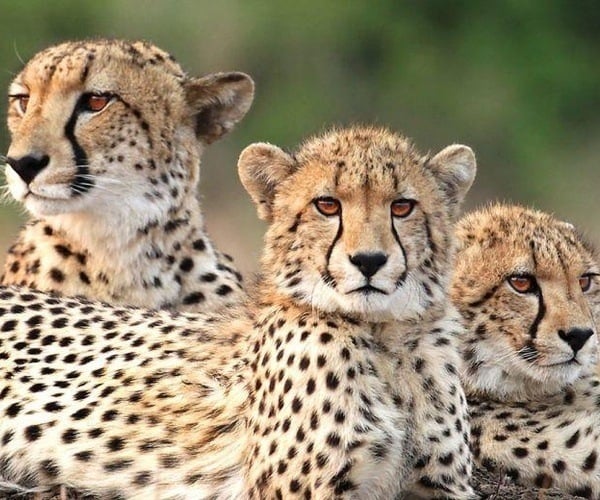 Mkuze Falls, Thanda, and Amazulu also offer an excellent safari experience in the same part of the province, and the Nambiti Game Reserve is located in a malaria-free area near Lady-smith and the Drakensberg Mountains.
The Drakensberg
The Drakensberg mountain range is breathtakingly beautiful, and forms a massive barrier between KwaZulu-Natal and the Kingdom of Lesotho. In winter the highest points of the mountains are covered in snow, and the area is famous for the tens of thousands of art paintings that depict the daily life of the San, hunter-gatherers who are believed to have lived in this area for 4,000 years, as far back as the Stone Age.
Nature lovers will enjoy the many hiking and walking trails available for all levels of ability. There are easier walks through lush meadows and across clear streams, or more strenuous hikes up and across rugged mountain terrain. In addition there are countless other activities including horse riding, fly-fishing, helicopter flips, and even white water rafting to be enjoyed.
Foodies should check out Cleopatra Mountain Farmhouse, which offers a comfortabe and welcoming retreat and every evening you can sit down to a sumptuous 7 course dinner accompanied by fine wines, and theatrically introduced by the ever enthusiastic chef. For those looking for some history, Hartford House in the nearby Natal Midlands was once home to the family of the last Prime Minister of the Colony of Natal, and this prestigious award-winning hotel is today situated amidst beautiful landscaped gardens alongside one of South Africa's top thoroughbred racehorse stud farms.
The Battlefields
The Battlefields of Kwa-Zulu Natal offer an incredible insight into the history of South Africa, and a stay at one of the lodges in the area that offers battlefield tours is highly recommended.
Even if you feel you have no longstanding interest in history or warfare, the tales of the historic battles of Isandlwana, Rorke's Drift, Spionkop, and Blood River are fascinating and moving, and it is well worth spending a day or two in the area.
These are not your usual dry lectures, of interest only to military historians – these are incredible stories of events that happened less than 150 years ago and the impact they had on those directly involved and the world at large. For example, Winston Churchill, Mahatma Gandhi, and Louis Botha, first Prime Minister of the Union of South Africa, were all present in different capacities at the Battle of Spionkop. Had any one of them been killed, the history of the 20th century would have been very different. Spionkop Lodge is situated on the site of the original farmhouse where Winston Churchill set up camp prior to the battle, and escorted trips to the battlefield are run by the owener, a gifted raconteur who brings to life the adventures and misadventures of that fateful day.
Further to the southeast, Isandlwana Lodge is perched on the edge of the Isandlwana Battlefield. Impressive high ceilings with full picture windows give you impressive views over one of the most famous battle sites of the Anglo-Zulu war. We would recommend a two night stay here as this means you can relax on arrival on your first evening and then visit both Isandlwana and Rorke's Drift sites on the same day – both battles occurred on 22nd January 1879, and visiting them in one day and in the ordfer in which they occurred really adds to the experience.
The KwaZulu-Natal coastline
South Africa's first World Heritage Site, the iSimangaliso Wetland Park (formerly St Lucia Wetland Park), is in the north of the region and stretches from Maphelane in the south to Kosi Bay on the border with Mozambique in the North.
For those looking for somewhere to relax at the end of their KZN voyage of discovery, Rocktail Camp is the ideal spot. Unspoilt beaches, world class diving and snorkelling, and guided turtle tours during the summer months where guests can go out at night in search of Loggerhead and Leatherback turtles that come ashore to lay their eggs are just some of the activities you can enjoy during your time here.
Paul Campbell is a Co-founder and Managing Director at Travel Butlers. Travel Butlers are specialists in tailor-made safari and beach holidays to Africa and the Indian Ocean.
If you would like to be a guest blogger on A Luxury Travel Blog in order to raise your profile, please contact us.