Luxury: a perspective from the rainforest
The word luxury usually conjures up images of decadence and comfort for most of us. That may be a bit extreme, but luxury is usually tied to ideas of power and wealth. Success dictates the level of luxury we have in our lives. The more successful you are, the greater level of luxury you can afford.  Of course, material wealth isn't the only measurement of luxury, just probably the first and most common. Luxury can have nothing to do with wealth or any of the other thigs we equate it with, because luxury is a subjective matter. The appreciation of the primeval rainforest can be considered, having the luck of hearing a natural orchestra, while traveling a creek. Feeling the rain up your shoulders running down your face, will be as marvellous as watching a plain starry sky.
Additionally, a escape to the nature, refresh the spirit, body and soul, away from gridlock traffic, sunless days working indoors, the relentless cacophony of the city and the hustle and bustle of city life. Something which can be considered of a great luxury.
Simple luxuries
We can all take pleasure in the simple things in life that we label luxury. Each of us have those things that we consider a luxury and none of them have any correlation with material possessions or wealth. Relaxing in a hot bath after a long hard day is a favourite for many. Soaking your feet in hot water after a day of standing or moving will run a close second. A hot drink on a cold day, is another example. What is considered luxury is really up to the individual, but not much compares to waking up to the dawn chorus of the Howler monkeys on an Amazon morning.
The luxury of experience
Being able to experience many things in life can be considered a luxury. Most of us are limited in what we do, see or know, for various mundane reasons. Expanding your knowledge or experience of life can be seen as a luxury not everyone can attain. Of course, that depends on whether or not the experiences you encounter are of a voluntary nature. Some people are believed to have 'rich lives' because of what they have experienced, but unfortunately not all of those experiences have been wanted. One voluntary experience to consider is a trip to Amazonia.
Spiritual richness
Apart from material things, luxury can also be interpreted as an intensity of feeling or sense of well-being. To reach a level of spirituality where one feels connected to the world can be described as a luxury, especially in today's fast-moving, goal oriented and very impersonal world. Fortunately, this can be attained by the most simplest of means. A stroll in the park, a ramble in the countryside or drifting down an Amazon waterway in a canoe. The experience of living under canvas and cooking over an open fire can be very rewarding, but there's no need to go that far to satisfy your desires. It is more to do with a shift in attitude. It is always breath taking if you take the time to look around and appreciate it, imagine that feeling in the middle of the nature! Take a break at the top of a tree, indulge your senses and feel a palpable rejuvenation of your spirit.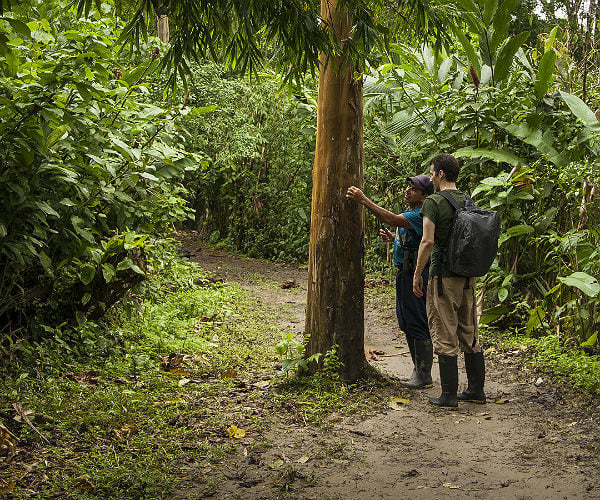 Recognition
Recognising what is luxury is just a matter of perspective. A luxury holiday in a first class hotel or resort, will be very pleasing, but does it compare to the wonders of nature? To be able to surround yourself with nature is a luxury in itself and to observe all the exotic fauna and flora in the wild has rewards that cannot be bought. Just imagine, a trip to the Amazon is like plunging back into the past, where the rainforest a few feet in front of you hasn't changed for time out of mind. From the ground up or the canopy down, a hidden viewing blind, or silently paddling up black-water creeks, the photo opportunity you have always dreamed. Capture the beauty of the moment so you can also reminisce about it later and share this experience with friends and family. Visiting different places can also include learning practical skills depending on your areas of interest, such as how to start a fire or create jewellery from natural found objects such as seeds. Reproduce them later on at home, and share this knowledge with others. You can buy the plane ticket, pay for your first class accommodation, but you can't buy the feelings or sense of richness that personal experience of something so outside of your normal existence will bring.
Miguel Andy is General Manager of Napo Wildlife Center. Napo Wildlife Center is an eco-lodge offering unforgettable experiences in the Amazon rainforest of Ecuador, inside Yasuni Biosphere Reserve, which is managed by the Añangu kichwa aboriginal community.
If you would like to be a guest blogger on A Luxury Travel Blog in order to raise your profile, please contact us.
Did you enjoy this article?
Receive similar content direct to your inbox.