Ready to finally dive into planning that trip to Africa? On a continent of such scale, diversity and limitless possibility, it can be difficult to know where to start. If you're the sort that loves to do everything, then taking advantage of a new flight link between Kenya's Masai Mara and Uganda is an excellent place to start. This exciting combination fuses a classic Out of Africa experience with an exhilarating trek to see one of the world's most endangered species.
The Masai Mara is one of east Africa's best-known game viewing areas and adjoins the Serengeti National Park in Tanzania. This is perhaps the only region left in Kenya where you may see animals in the same super abundance as existed a century ago. Staying on these fertile grasslands, you'll have the lion's share of accommodation options, from rustic bush camps to brass-tap-luxury lodges. Many of the best properties though are remotely situated on the private concessions surrounding the National Reserve. While offering equally, if not more, abundant wildlife populations, the experience is exceptionally more private.
The scenery of the Mara is breathtaking, with panoramas of vast, golden plains, undulating hills, and woodland groves. These fertile grasslands with their many watering places sustain large numbers of plains game, including thousands of elephant, graceful giraffe, and thriving herds of buffalo, zebra and wildebeest. Other creatures you might see are baboon, warthog and jackal, as well as myriad antelope species, from topi and gazelle to kingly kudu.
The Mara is a haven for cats and is home to Kenya's largest lion population. Even while lazing the day away in the shade of acacia trees, these regal felines are always alert to the chance of an easy meal. To spot leopard takes a trained eye, but your expert guide will know exactly where to look to make sure you see this member of the Big Five. Cheetah can be spotted posting lookouts on kopjes or utilising their speed and agility to chase down prey across the plains. Be sure to watch for the smaller serval and caracal, too. The former are adept jumpers, often reaching vertical leaps of two to three metres to catch a bird mid-flight, while the latter stalk the shadows, perfectly camouflaged with their copper coats.
During your stay, you may have the chance to meet the Maasai people on a village visit. This is a special and enlightening opportunity to learn about the everyday life of one of Africa's most well-known and interesting cultures. Spending several hours in the village provides the chance to learn about Maasai dress and do some dancing, singing and high jumping. If invited into the home of village elders, you will learn about their ancient lore and traditions. Be sure to speak to the Maasai women about their intricate beadwork and the significance of colour in their culture – support their work by purchasing a unique piece to take home with you.
After enjoying several days of game drives, bush walks and sundowners, you will be transported northwest to Uganda's Bwindi Impenetrable Forest via Entebbe International Airport. Bwindi is an area of lowland rainforest and montane forest, with dense undergrowth, vines and bamboo. Situated in the far west of the country, it is very close to the geographical heart of Africa, where the confluence of the Great Rift Valley and the Great Lakes have created an ecosystem that perhaps defines the very essence of the continent.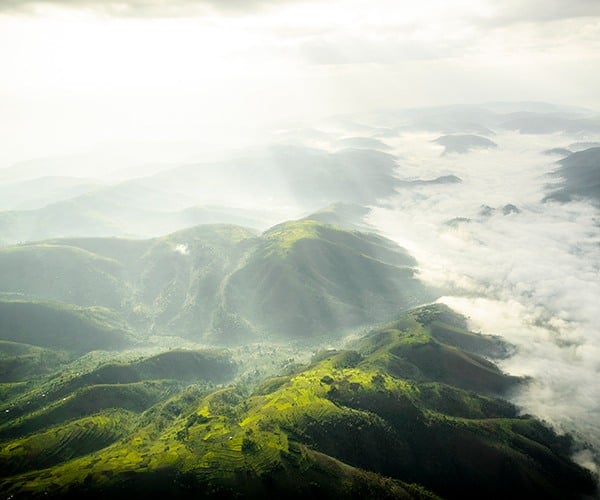 The huge trees and exotic vegetation provide the perfect playground for primates. Here reside colobus monkey, chimpanzee and a growing population of mountain gorilla. The bird life in Uganda is equally prolific – the country boasts over 1,000 avian species – making this one of the most biologically diverse areas on earth. The properties in the Bwindi area are atmospheric, blending seamlessly into their surroundings and immersing you into your environment from the moment you arrive.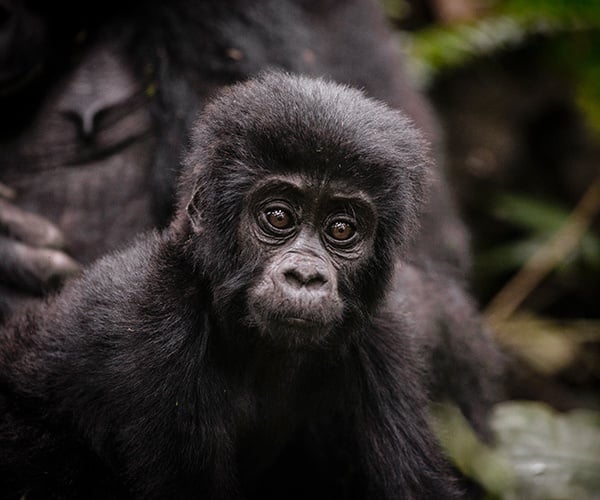 Early in the morning of one of your days here, you will be taken to the gorilla tracking base to be briefed by your guides before setting off into the hills to track these truly amazing animals. Tracking gorillas through the misty forests requires patience and stamina, sometimes walking for hours in the mud and the wet. Finally meeting them in the undergrowth is an inspiring moment. Quietly chewing away at their vegetarian delicacies, they seem like a marooned human family. The tender grooming and firm disciplining of their offspring seems all too familiar. The family cast a wary glance at the sudden human presence in their private world, but are comforted by the clucking made by the trackers.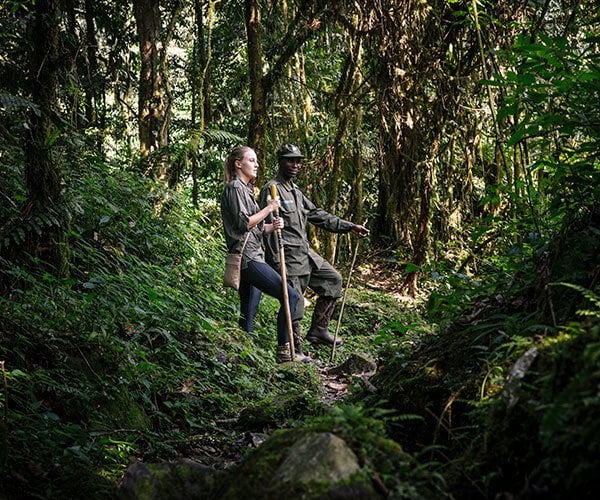 Throughout your stay, you will have the opportunity to enjoy other activities in and around the national park. Take a guided walk in the rainforest, home to several endemic bird species, clouds of butterflies and rare plant life. This walk offers excellent photographic opportunities and your knowledgeable guide will provide a great insight into this globally important habitat. Walk through the local village, meet tea pickers on the farm, learn about community projects, visit a medicine man and even the Bwindi Community Hospital that started as a health clinic under a tree and now provides vital medical and educational services to over 60,000 people.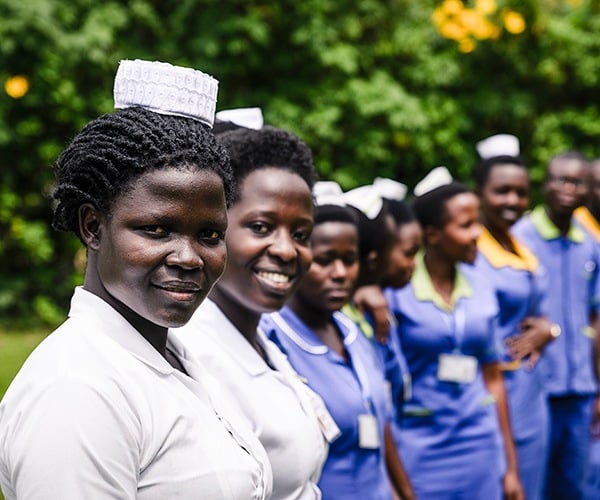 While both Kenya and Uganda stand alone as equally superb safari destinations, the option to combine the two creates a wonderfully diverse holiday experience. If you have more time, you can also choose to add other regional destinations onto either side of your trip. Starting in northern Kenya, discover the conservation efforts in Lewa that have brought several endangered species back from the brink of extinction or have an action-packed adventure in Loisaba. If you haven't had your fill of primates or felines, you can also choose to track chimpanzee in Kibale or see the tree-climbing lions of Queen Elizabeth National Park. No matter how you choose to craft your adventure, it is certain to be spectacular.
Laura Burdett-Munns is Managing Director at Africa Exclusive. Africa Exclusive has been creating the finest tailor-made safaris since 1990, specialising in luxurious accommodation in beautiful remote places.
If you would like to be a guest blogger on A Luxury Travel Blog in order to raise your profile, please contact us.