By
Nabeel Shariff
on Oct 21, 2019 in
Argentina
,
Colorado
,
Europe
,
Germany
,
Leisure Travel
,
New Zealand
,
North America
,
Oceania
,
Regions
,
South America
,
Speciality Travel
,
Switzerland
,
USA
,
Western Europe
With Autumn already here, and Winter just around the corner, we're left with no choice but to accept the fact that the cold bitter days are approaching. While I don't know many people that are big fans of the Winter, it's hard not to appreciate the fun snow can bring. For those with families especially, snowy days mean hours of fun for the little ones, something you can't help but try and enjoy and let your inner child run free. As much as we love the sun, getting to experience the perfect winter wonderland in a halal-friendly destination doesn't sound that bad, especially when you choose a holiday in one of the 5 destinations we've selected below.
You may say, "but it's only October, don't talk about snow yet", the reality is this. If you want to make the most of the snow this year, or if you're looking to treat your family to a snow adventure of a lifetime, now is the time to get looking and booking, before the holiday's approach and the tickets soar. Below we've carefully selected 5 winter wonderland destinations we're sure will bring you and your family all the happiness you need to enjoy a fun packaged getaway in the snow.
Germany: Bavarian Alps
If you're looking for a winter getaway closer to home, you won't have to travel far. Germany's Bavarian Alps has all the winter-loving activities and views you'll need to enjoy a white winter. Complete with a selection of ski runs that appeal to all levels of experience, here you'll enjoy days out much more than days in. Other outdoor activities such as dog sledding, bobsledding, horse-drawn sleigh rides, snow kite surfing, snow archery, and snowshoeing are available for guests of all ages making the Bavarian Alps a popular destination. It's here you'll get to enjoy the outdoors and live the ultimate winter European dream.
Argentina: Patagonia
Known as the chocolate capital of Argentina (another bonus), Patagonia is a great getaway for those wanting to play in the snow. Situated in the foothills of the Andes Mountains, the stunning surroundings of natural wonders and pure air will definitely be a relaxing and breathtaking site. The widespread area of ski runs makes it the perfect place to accommodate ski lovers with a lift capacity of 22,200 skiers per hour! Visit the Mount Catedral in Nahuel Huapi National Park for fun-packed days out and about, with the chance to take advantage of their hotel that provides refreshments and areas for one to rest. They also have a great ski store for those looking to purchase! Other adventures one can take part in when in the area are ice skating, horseback riding, whale watching, river rafting, and rock climbing.
Colorado: Aspen
A little further away from home, but worth the journey is Colorado's Aspen. Home to four distinct mountains, the Aspen Mountain, Snowmass, Aspen Highlands and Buttermilk, here you'll have a selection of healthy snow-capped open space to accommodate your skiing and snow needs. A variety of skiing experience levels are available with various assistance for beginners. If you're looking to engage in something that keeps you more on the ground, snowmobiling and snowshoeing are other popular and fun choices.
Switzerland: Gstaad
Imagine 136 miles of ski runs. It sounds like a skiing paradise, and that's exactly what it is. Located in Switzerland, Gstaad offers guests the ultimate winter getaway with a range of adventurous activities to keep you on your feet. Apart from skiing, one can also take part in activities such as dog sledding and tobogganing. Despite offering extremely great skiing options, only a third of winter guests actually ski. Meaning skiing doesn't have to have anything to do with your winter holiday even if you do choose to select a destination that provides skiing facilities. There are 180 miles of trails for those looking to enjoy the views, while shoppers will enjoy strolling on the pedestrianized promenade.
New Zealand: Queenstown
Our furthest winder wonderland destination is all the way across the world, making it a long journey, but definitely worth the extra hours. Unofficially known as the 'Adventure Capital of the World,' Queenstown is famous for its endless supply of year-round activities. Heli-skiing, snowshoeing, dog sledding, skydiving, jet boating, and kayaking are available, while skiing is more popular during the months of June through to September. However, if travelling towards the end of the year is the plan, don't worry, other activities such as bungee jumping, skydiving, zim trekking, dirt biking, jet boating, and paragliding are also available.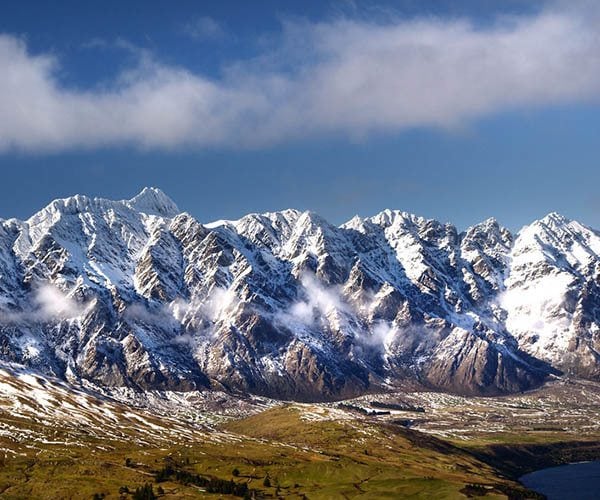 Though skiing plays a large part in the above destinations mentioned, there are plenty of other snow-related activities waiting for you to explore. Choosing a winter wonderland doesn't mean you have to get physically involved with the snow, and many travellers simply enjoy a different environment for a change. Whether you're skiing, taking part in other outdoor snow-related activities, or simply relaxing in the snow, enjoy the winter wonderland destination of your choice at this special time of the year.
Nabeel Shariff is the Owner of Luxury Halal Travel. Luxury Halal Travel brings together some of the world's leading hotel brands to offer Muslim travellers incredible experiences whilst observing their Muslim faith.
If you would like to be a guest blogger on A Luxury Travel Blog in order to raise your profile, please contact us.