You might not think of winter as the ideal time to visit Provence and especially not to see the top tourist attractions on offer across the region. Surely the summer is the best time? Well actually late Autumn to early Spring offers a superb window of opportunity to enjoy a holiday in this fabulous area of France.
Whilst sunbathing might be out, visiting some of the top tourist attractions in this region, especially the indoor ones, during the winter months can be a smart move. Not only will you dodge the crowds, but you'll enjoy cheaper flights, cheaper car hire and cheaper accommodation.
Plus, when the weather is glorious, visiting galleries and museums can be low on the list of priorities. But when the weather outside is a little on the chilly side, it offers the perfect opportunity to enjoy some of the best indoor activities and attractions on offer throughout the region!
1. Carrières de Lumières
This former quarry has become something of a 'wow' destination. Home to a so-called 'AMIEX' (or Art & Music Immersive Experience), the entire venue displays truly incredible images on the walls, floor and ceilings of the quarry.
The images are projected and move constantly. The effect generates an immersive experience like no other. Currently, artwork by Vin Gogh among others are being projected. Even if you can't go, head to their website to get a tiny feel for just what an incredible venue this is!
Winter opening times: January, March, November, December: 10 am to 6 pm.
2. Hôtel de Caumont
With Parisian influences throughout, the Hôtel de Caumont in Aix en Provence is a historic mansion built 'between courtyard and garden'. This is an architectural design that appeared in Paris in the 16th century… essentially a château and its park on an urban scale.
The sheer extent of its design is unlike anything else in Aix-en-Provence. The carriage gate, façade and the wrought iron bannister are of such quality that they were listed in a supplementary inventory for Monuments Historiques in 1925 and the entire mansion was listed in 1987. There is plenty to see on site and also a coffee shop and gift and bookshop.
Winter opening times: The Hôtel de Caumont is open every day from October to April: 10am to 6pm.
3. Château La Coste
Personally, I'll happily enjoy wine at any time of the year but Winter does offer a lovely opportunity to book a day out wine tasting! A wine workshop at Château La Coste is the perfect way to deepen your knowledge of wine making and wine appreciation.
Afterwards, enjoy an Art & Architecture walk throughout the fabulous grounds of the Château through wooded hilltops and valleys, alongside olive groves and vine fields, discovering the many installations of contemporary art on your way. An Art Centre, Café, onsite shop and four restaurants offer lots more ways to entertain yourself during your visit.
Winter opening times: Wine tasting visits are available year-round with café, shop and restaurant opening times varying.
4. Basilique Notre Dame de la Garde
The Basilique Notre Dame de la Garde occupies Marseille's highest point, La Garde at 154m above sea level. This opulent 19th-century Romano-Byzantine basilica is Marseille's most-visited icon and it's not hard to see why when you arrive. Inside you'll find stunning marble combines with soaring ornate ceilings dripping with gold leaf.
Outside, views are spectacular with a full 360 degree Marseille panorama. Burn off breakfast with a steep 1km walk or alternatively catch a ride on the tourist train to reach the Basilique!
Winter opening times: Year-round from 7am to 6.30pm
5. Château d'If
Whilst you're in Marseille this is the perfect opportunity to visit Château d'If. Located just off the coast, this entire island comprises of a fortress complex made famous by being featured in the literary classic, The Count of Monte Cristo.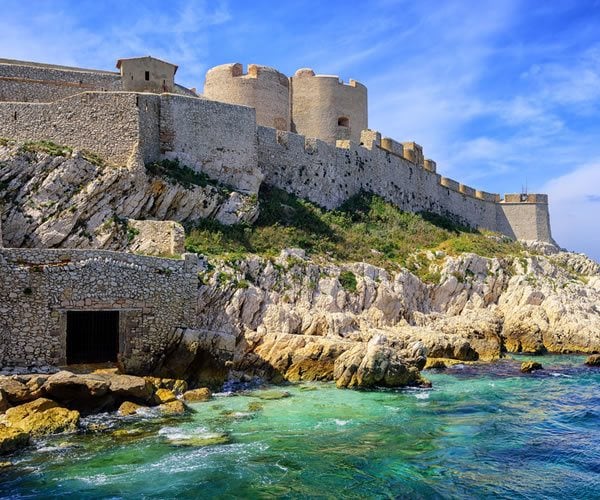 You'll catch one of several shuttle boats that operate throughout the day to reach the island where you can then explore this fascinating piece of history. Built in the 1500's it was first designed to provide coastal defence before being converted to a prison where anyone opposing official authority was imprisoned here from 1580 until 1871, especially Protestants and Republicans.
Winter opening times: 2nd October to 31st December – Open every day except Monday, 10am to 5pm. 2nd January to 1st April – Open every day except Monday, 10am to 5pm.
6. Palais des Papes
The Palace of the Popes in Avignon stands as the mighty symbol of the church's influence throughout the western Christian world in the 14th century. This truly amazing building covers a vast acreage (15,000 square metres of living space alone!) and welcomes over 560,000 visitors a year.
A guided tour is a great way to ensure you get to explore the key areas of the Palais. A Café and shop are also available to enjoy when your feet have had enough of exploring!
Winter opening times: From 2nd November to 29 February: 9.30am – 5.45pm.
7. Museum of Ancient Arles
The permanent collection of ancient artifacts at the Museum of Ancient Arles offers a treasure trove of finds to explore for all of you interested in archaeology, art and history.
Housed in a contemporary building built by Henri Ciriani, the Departmental Museum of Ancient Arles displays Arles' archaeological collections (including objects used during everyday life, architectural pieces, mosaics, sarcophagi and more). This is a must-see to better understand the development of the Roman city on the site.
Winter opening times: Daily from 10am to 6pm Tuesdays. Closed: 1 January, 1 May, 1 November and 25 December.
8. Hike around the Gorges du Verdon
Well it might be Winter, but you can still get some glorious weather at this time of year in Provence. If the sun is shining, then why not pull on a pair of boots and head to the Gorges du Verdon for a walk! Few places come close to the jaw-dropping scale and natural beauty of the Gorges du Verdon, often referred to as 'Europe's Grand Canyon'.
It really is best explored on foot and during a sunny Winter's day you'll get to experience it without the crowds!
Whatever you get up to this Winter in Provence, I hope you have a great time!
Su Stephens is Owner of Olives & Vines. Olives & Vines is a luxury holiday company based in the South of France offering stays at their beautifully designed holiday house and boutique hotel in Le Castellet.
If you would like to be a guest blogger on A Luxury Travel Blog in order to raise your profile, please contact us.