The concept of a luxury chalet hadn't evolved when I started out in the ski holiday business 25 years ago. Back then, a luxury ski chalet was one that had enough hot water for the guests to bathe after a day on the slopes! and they were few and far between. The most common accommodation set up was a room with bunk beds and a shared bathroom!
Nowadays, the sky is almost the limit and chalets offer a sophisticated and luxurious choice of accommodation – a good hot water supply is a given and wouldn't even merit a mention and underfloor heating is considered de rigeur! Not all the baths qualify as small swimming pools, but opulence is the key word, with marble jacuzzi baths, walk in showers of epic proportions and all offering the best quality toiletries and thick, soft and fluffy towels and robes. Most chalets also feature bubbling hot tubs or private indoor or outdoor swimming pools (often heated to bathwater temperatures) should bathing outside whilst watching the slopes or star gazing be your thing.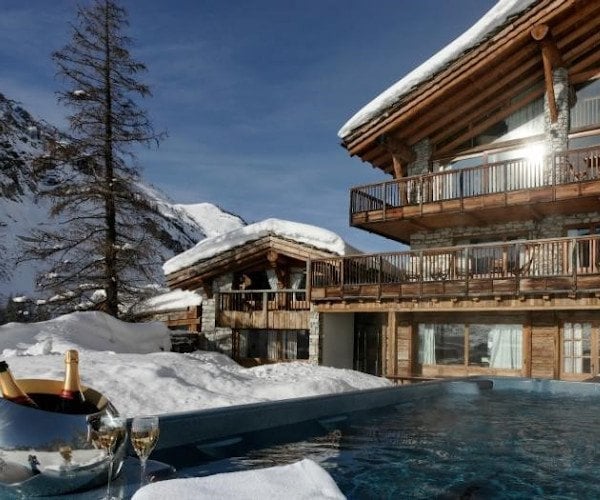 The luxury chalet market these days caters for sophisticated tastes and guests with high expectations. Nowadays the finest chalets are designed for corporate entertaining, luxury family holidays or groups of friends looking for a more relaxed atmosphere than any 5* hotel can offer, but without compromising on excellent service, delicious food and fine wines. From spacious dining rooms which can seat up to 20 or so comfortably, lounges lined with superbly comfortable sofas, upholstered in the finest of fabrics and bursting with designer cushions and fur or cashmere throws. The bedrooms, some of which feature sleigh beds and all of which will be made up with the finest of linens and cottons (sometimes silks!) We have 98 chalets to choose from nearly all of which have open fires in several rooms so there is plenty of opportunity to snuggle up with a book or listen to music whilst the fire crackles when you return from the slopes or just fancy some downtime.
It's no coincidence that the most desirable ski chalets are to be found in some of the most prestigious ski resorts. Chalet owners want their mountain homes in only the best of locations in these resorts. Whilst proximity to the pistes is a major attraction many are willing to forgo this in preference of privacy and a secluded setting. With this being the case, they will often have a private on-call driver to drive you to and from the slopes and après. This combination of convenience and privacy is a must for many visitors be they corporate parties, family or friends groups, or the occasional celebrity.
Most of the best chalets have spas, and massage rooms, some even have helipads, cigar rooms and billiard tables.
Obviously, Going hand in hand with luxury furnishings, professional staff, superb locations etc is a commitment to sourcing, preparing, cooking and serving the highest of haute cuisine! Every dietary requirement will be met, the best of ingredients used and of course, all will be accompanied with carefully chosen wines keeping even the most exacting of Oenologists happy. Here are 10 of our personal favourites chosen from our choice of 98 super luxurious ski chalets available.
Chalet Domain Toit du Monde – James Bond style ski chalet in Val d'Isere with proper boys' toys
This is one of the oldest buildings in Val d'Isere, a point, you can't fail to miss as you enter through the very same doors as the Monks did back in 1632. As you walk into the chandelier-lit entrance hall you are left in no doubt that you are entering a very special mountain home.
Owners of Luxury chalets such as this seem to love chalet toys – this one puts even the best of James bond type mountain hideaways to shame! How about a secret pool, or 2 secret pools! Why secret? – the floor can be raised, or lowered to any depth, so if you have young children and want a 20cm deep pool, that's just what you get. You don't want a pool, simply raise it fully and the pool is gone. Just imagine the pool parties at this chalet, whatever the weather, with the water heated to 33 degrees!
This is the ski chalet to book when it's important your guests are impressed. The service is of course 5* with the chef most likely having trained and worked for a leading Michelin starred chef, so expect only the best when it comes to food, Champagne and fine wines. Any culinary preferences or dietary requirements will be catered for including, if required, bringing in a specialist chef for a truly a unique dining experience of any World Cuisine including Molecular. This chalet even has a cigar room with a wide selection from the chalet's humidor (at a supplement).
It's not uncommon for even the most simple ski chalets to offer a sauna or a hot tub these days. The Domain Toit du Monde has 8 stream rooms, 2 saunas and two treatment rooms to keep your guests pampered and happy…
At a glance
Location Val d'Isere, France
Sleeps 16 adults
Comfort level 5*
Price Range £30,000 to 90,000 depending on the week.
Best for Entertaining that has to impress
Chalet Ferme De La Corderie – don't judge this Les Gets ski chalet by its cover
This deceptive chalet may not appear to be a beauty at first sight, outwardly it presents as a rather plain, but large barn conversion. However, step inside and its true beauty unfolds, revealing a vast 6-bedroom chalet offering 475 sqm of immaculately furnished living space which is both light and spacious and an excellent location for skiing perched as it is just above the edge of Les Gets.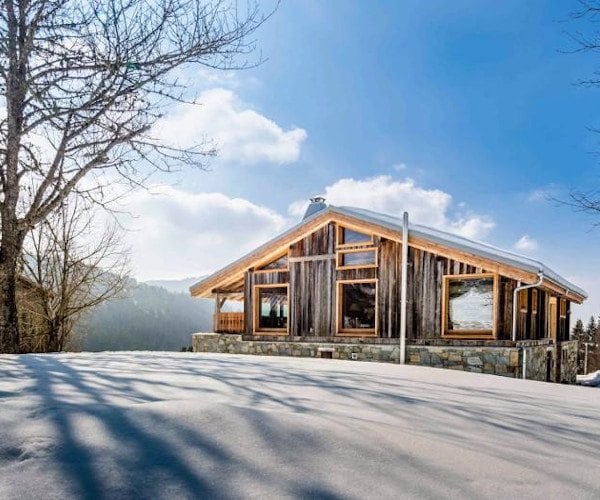 The chalet sleeps a maximum of 12 to 14 guests as one of the bedroom suites will sleep up to 6 children. Two of the bedrooms can be either twin or doubles, four rooms are only double. All have fabulous ensuite bathrooms with enough space to swing the proverbial cat should you bring one with you!
Top end chalets in the Portes du Soleil area of France are hard to find, but Chalet Ferme de la Corderie is one of the best in this, the largest international ski area in the world covering 650km of pistes straddling both France and Switzerland.
Transfer time from Geneva airport is around 60 to 90 minutes, or 15 minutes by helicopter.
The feeling of space within the chalet is quite hard to find in modern ski chalets. The lounge area is a vast being 20m long and cleverly divided to include a relaxation, cooking and dining area. Above the lounge is a mezzanine where there is a TV snug with flat-screen TV and selection of films. This is perfect for groups with young children.
The heated, South facing balcony overlooks the slopes and is an ideal venue for a few après ski drinks at the end of the day, the hot tub makes the venue all the more enjoyable.
At a glance
Location: Les Gets, France
Sleeps: 12 adults plus up to 4 children
Comfort level: 5*
Price range: £19,000 to £40,000
Best for: Families sharing a ski chalet in a family-friendly ski resort
Chalet Marco Polo – if Val d'Isere is your chosen destination, you are in for a treat!
Chalet Marco Polo is one of the best ski chalets anywhere in the world. Decorated to the owner's distinctive taste this vast ski chalet is over 1000 sqm and sleeps 10 adults and up to 4 children in 6 bedroom suites.
This is a chalet with every toy we ever dreamt of, movie rooms, fully equipped gyms, a spa and a delightfully lit swimming pool.
It goes without saying the level of service in this chalet is above and beyond what is available in the finest hotels around the world. The chalet chef will prepare whatever you desire, and the wine cellar is full of the finest wines and liquors.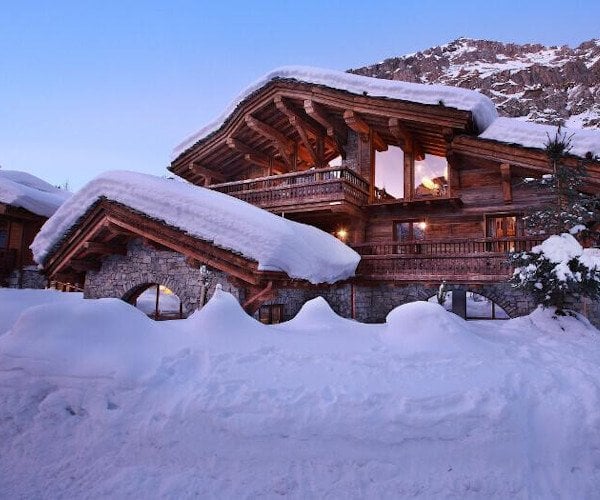 Being one of the best ski chalets to rent, it's very popular and we rarely have availability after about November. As I write, only 6 weeks are available for the 2020 ski season, so early booking is definitely recommended.
At a glance
Location: Val d'Isere, France
Sleeps: 10 adults plus up to 4 children
Comfort level: 5* even 6*
Price range: £20,000 to £70,000+
Best for: Families celebrating a big event or corporate clients looking to impress clients
Thinking of Verbier? Think Bella Coola estate
Competition in Verbier for Luxury chalets top dog is intense, so many wonderful chalets but not many match the Chalet Bella Coola Estate. This uber-chic Estate is in fact two very special chalets that combined together offer 850 sqm of luxurious internal space to provide comfort for up to 19 guests.
Every great property needs a heart, for the Bella Coola Estate, that's its spa, which offers the ultimate in-chalet spa experience.
Very few weeks are still available for the 2021 ski season and advanced bookings are now accepted for the 2022 ski season. Except to pay around £60,000 for a week's rental with staff and full chalet board.
Chalet Skyfall – living up to its 007 connection and raising the standard in St. Christophe
Skyfall penthouse is a truly outstanding home. Set over two floors, Skyfall Penthouse is literally set into the mountainside ensuring that returning skiers simply step inside off the slope. The simply gorgeous Living Room continues the Apartment's theme of rustic charm fused with contemporary decor. Guests will be drawn in by its large open fireplace and ample seating in a large L-shaped sofa or one of two elegant armchairs. The daylight pours into this room affording spectacular mountain views, but curtains drawn at night transform it into a sumptuous and cosy room in which to enjoy a glass of champagne and relive the day's adventures.
Guests at Skyfall Penthouse are offered free use of all facilities at the Hospiz Hotel, which include a full spa and swimming pool as well as childcare. This stunning hotel which is less than a five-minute stroll away, is also home to five distinct and unique restaurants, each with a different theme, giving guests considerable choice for dining options over the course of a week's stay.
If the property is taken on a catered basis a dedicated driver service is included operating from 8.30am – 1am daily operating in St Christoph and St Anton only.
The property is available catered and self-catered.
At a glance
Location: St. Christoph, Austria
Sleeps: 8+3
Comfort level: 5*
Price range: £34,000+ – £47,000+
Chalet Antoinette, St Anton – the ultimate in Alpine chic
This gorgeous Penthouse Chalet comprises the top floor of our exclusive Chalet Austria property, and is only a short walk from the Nasserein lift station. Built to the highest standards with vaulted ceilings and using old woods and natural stone. The chalet has been beautifully furnished throughout to create one of St. Anton's most outstanding properties.
The apartment is laid out over a single floor and comfortably sleeps twelve in five en-suite bedrooms. A wonderful open plan living and dining area, with a traditional Austrian fireplace, affords breath-taking views from inside and on the balconies. A separate television snug is located off the main living area. The five bedrooms, all ensuite and guest toilet open onto the long corridor which extends down the length of the property.
At a glance
Location: St Anton, Austria
Sleeps: 12
Comfort level: 5*
Price range: £23,000 – £26,000+
Suitability: Adults and/or family groups
Chalet Milou – privacy with stunning views
This chalet has an extensive balcony that runs the length of the chalet with a carefully placed, completely private Hot Tub positioned to take advantage of the stunning views. Chalet Milou has a yoga/treatment room and a steam room with private shower. There are two large sitting rooms – so plenty of space for noisy teenagers and kids to use the Wii, Apple TV and DVD library, whilst the adults can chill in peace!
At a glance
Location: Verbier, Switzerland
Sleeps: 12
Comfort level: 5*
Price range: £24,000 – £56,000
Suitability: Groups and families
Chalet Valentine – every luxury you could wish for!
This chalet boasts its very own private wellness centre and spa, integrated audio system in all communal Areas, a huge and spacious balcony with its own fire pit, and all only 100m from the Piste – what more do you need? There are seven bedrooms, all ensuite and the master suite has its own balcony.
At a glance
Location: Meribel, France
Sleeps: 14
Comfort level: 5*
Price range: £40,000 – £49,000
Chalet Peak – Matterhorn views from a 6 star location!
Your luxury stay starts from the minute you enter this chalet via its private lift and tunnel to be greeted by the staff ready to hand you a glass of Champagne – start as you mean to go on! The chalet is built in a Landmark location affording stunning views of the village, mountains and of course the Matterhorn. Panache and Style are the by-words for the decor and furnishings where no expense has been spared from the B&O cinema TV screens. There is a fully equipped gym kitted out with the latest in exercise technology and there is also a Masseuse on hand for fabulous massages for those aches and pains you can suffer from after skiing. 5 Double bedrooms, all ensuite and an entire floor devoted to the Master Suite – all with their own balconies ensure a truly memorable stay.
At a glance
Location: Zermatt, Switzerland
Comfort level: 6*
Sleeps: 10
Price range: £48,000 – £97,000
Angus Kinloch is the Managing Director at Ski Line. Ski Line specialist ski agency that provides luxury ski holidays to Europe's and North America's most popular ski resorts.
If you would like to be a guest blogger on A Luxury Travel Blog in order to raise your profile, please contact us.