If staring into a red-hot bubbling abyss sounds like the adventure getaway of your dreams, look no further than White Island, New Zealand. Often referred to as the world's most accessible active volcano, White Island is a living, breathing, roaring, hissing example of Nature at its most angry… A roiling mass of geothermal activity, steaming vents releasing 800°C toxic gases, bubbling pits, hot volcanic streams, and a lake of steaming acid. Even more exhilarating? You can stand on the edge of all this, right on the crater, for a view into the depths of the earth.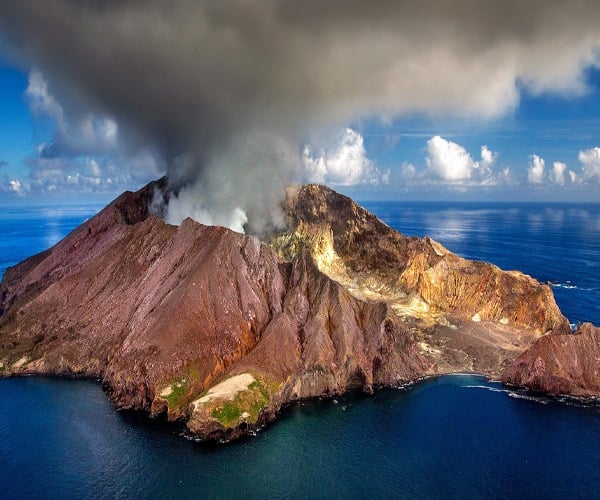 Think we're being overly dramatic? Consider this: the full Maori name for the island is 'Te Puia o Whakaari', which means 'The Dramatic Volcano'.
Situated 49km off the coast of Whakatane in the Bay of Plenty, on New Zealand's North Island, White Island is a circular volcano approximately 2km wide, 321 metres high, and, most impressively, 1.6km deep. Drawing its power all the way from the sea floor, White Island has been active for at least 150,000 years. More recently, it has had around 35 small to moderate eruptions since 1826. Most telling of its active status, however, is the fact that White Island was, effectively, in eruption from December 1975 to September 2000, the longest eruption episode in history.
Given all this seismic activity and the devastating power that lurks beneath the ocean blue, how then is it possible to get up close and personal with what can only be termed a force of nature? On an eruption scale of one to five, the island is usually on an alert level of just one or two. At most times the volcanic activity is limited to steaming fumaroles and boiling mud, with the last notable eruptions occurring in March 2000, complete with belching ash; followed by a phreatic, or steam-blast eruption in 2001.
Today, tour operators to White Island (thus named by Captain Cook on his 1769 voyage of discovery for the permanent marshmallow white cloud that engulfs the top of the crater), keep constant vigil on activity, with visits to the volcano called off at the slightest hint of danger.
If conditions are favourable, guided tours are available seven days a week from Whakatane and Tauranga either via speed boat or helicopter. In keeping with the volcano's active status, gas masks and hard hats provided on every tour. Once you have solid, if seismic, ground beneath your feet, experienced guides will lead you on a 1.5-2-hour exploration of the inner crater where you will discover volcanic and geothermal marvels, as well as the remains of a sulphur mine and factory which have survived multiple eruptions since being abandoned in the 1930s.
If you have a really special photograph you would like to share with A Luxury Travel Blog's readers, please contact us.