The Northern Lights are Scandinavia's most spectacular natural wonder and, unsurprisingly, one of its biggest draws. And, spotting the ethereal display is easier – and more luxurious – than you may think. From Finland to Norway; Sweden to Iceland; Scandinavia and the Nordics offer endless ways to witness the aurora, from heated glass igloos to treehouse hotels alongside gourmet dining and thrilling winter adventures. Discover our curated selection below.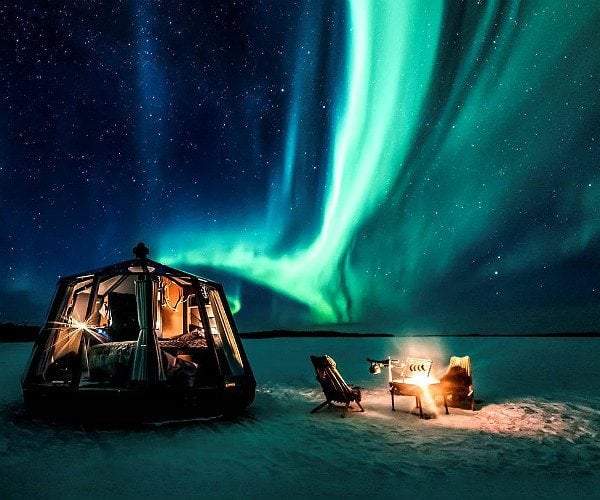 1. In a glass igloo in Finland
Finnish Lapland is a fairy-tale destination of snow-dusted forests, frozen tundras and some of the most unique luxury accommodation in Europe. And, the most iconic of the latter is surely the glass igloo, the country's design-led domes that allow for wonderful views of the celestial ballet from the comfort of your own motorised bed.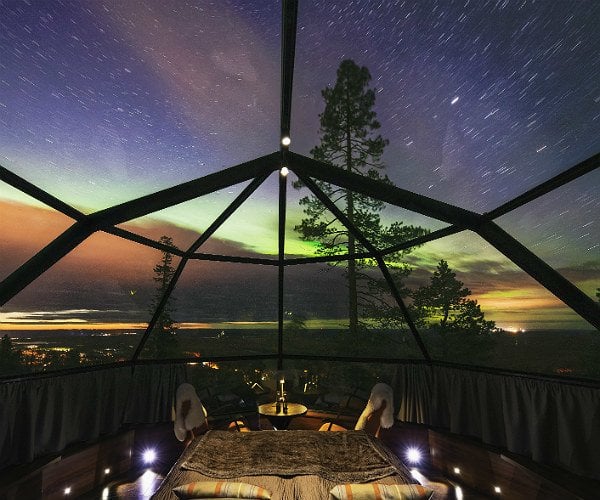 We particularly love the Arctic TreeHouse Hotel that allows you to get closer to the aurora than ever, with panoramic views from a cosy treetop chalet, while the Levin Iglut Glass Igloos allow for uninterrupted viewing throughout the night from the cosiest of vantage points. And remember, whilst winter's snow is magical, the glorious colours of autumn also make for a wonderful backdrop to a glass igloo – with the Northern Lights making their first appearance as early as August.
2. From a log cabin in the wilderness
Perhaps the quintessential winter experience, snuggling up by a roaring log fire in a log cabin after relaxing in your private sauna is made all the more magical when you step outside to view the aurora – or watch from your private hot tub. Finnish Lapland's boutique adults-only offering, Beana Laponia, offers the choice of viewing the Northern Lights from the warmth of the hotel or a more remote Sami lavvu tent beside a roaring campfire.
Sweden has its fair share, too: the Fjellborg Arctic Lodge, for private rent only, is all Scandi-chic features and fur-trimmed accents with a private outdoor hot tub – the perfect vantage point for prime Northern Lights viewing with a glass of champagne.
3. With a stay at an ICEHOTEL
Bedding down among snow and ice is a rite of passage for the winter traveller, and it's hard to beat the original: Sweden's world-famous ICEHOTEL. Here, you'll have the option to seek the lights on thrilling snowmobile tours, before returning for a drink in the ICEBAR and to sleep atop a bed carved from ice.
Be sure to keep an eye – and ear – out for the aurora alarm, signalling the appearance of the lights. Neighbouring Finland and Norway offer their own ice-clad versions, too, adding to the experience everything from snow saunas to remote ice domes.
4. On a husky sled or snowmobile
The chance to witness the lights on a husky sled or snowmobile is true bucket-list stuff. There's even chances for thrilling, unforgettable overnight husky expeditions to remote camps, watching for the aurora as you eat around a roaring campfire. It's all perhaps most spectacular, however, in Svalbard, that far-flung archipelago to the north of Norway.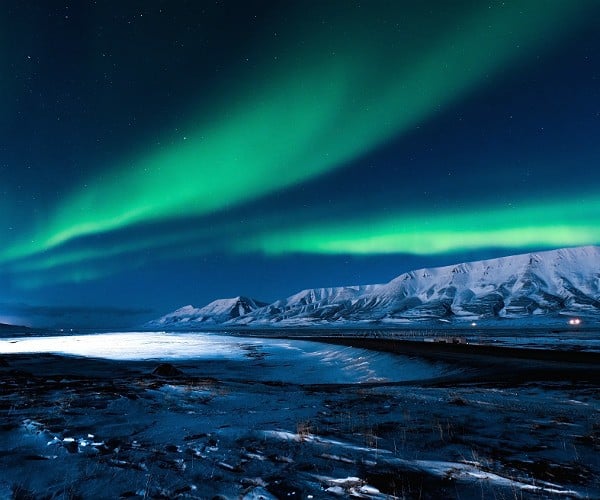 Home to polar bears and walruses, from here you can sled to the remote Camp Barentz with the help of an expert guide to view the aurora away from any light pollution. You can even witness them during the day on snowmobiling trips during Svalbard's 'polar night', when the sun never rises above the horizon for three months in an ethereal blue haze.
5. From a luxury hotel in Iceland's national parks
The land of ice and fire is filled with dramatic, wild backdrops: think spouting geysers, colossal glaciers, powerful waterfalls and sprawling lava fields. Add in its world-class Northern Lights viewing and it all makes for a truly epic adventure, with luxury hotels an excellent base from which to view the aurora in remote national parks.
The minimalist, design-led ION Adventure Hotel has a huge glass expanse in its spectacular Northern Lights bar for world-class viewing of the star-spangled sky, or one up still is Deplar Farm, the ultimate wild retreat. Here, stylish features and a luxe spa lie alongside snowmobiles and off-road vehicles for the chance to see the aurora in almost total solitude.
6. From the treetops
There are a vast number of experiences to be had in Sweden, but if you're chasing the Northern Lights, northern Sweden lies under the auroral oval, making it one of the best places for viewing the display on a clear night.
There can be little more special – or romantic – than seeing the lights from a treetop cabin with your loved one; it's especially perfect for a honeymoon. Sweden's Treehotel offers seven treetop rooms with their own distinct styles and designs, as well as the chance to picnic in the snow under the stars and, with luck, Northern Lights.
7. On a city break
It may surprise you to know that you can in fact view the aurora without venturing too far from the beaten path. Tromso, known as the Northern Lights capital of the world, offers world-class aurora viewing from the comfort of a city, with chances to head out on husky sledding and distillery tours alongside its roaring bar scene.
Over in Sweden, the frozen city of Lulea has a gorgeous Old Town as well as completely frozen surrounds that create a 'sea of ice' for sledding, ice skating and more – all lit up by the Northern Lights for six months of the year.
8. On a Santa break
One that children and adults alike will remember forever, there's nothing much more special at Christmas than visiting Santa in his true Finnish Lapland home. Both Harriniva and Rovaniemi offer Santa experiences, where you can husky sled, feed reindeer and, of course, meet the man himself.
There's even more magic at the end of the day as you step out of your cabin or glass igloo to catch sight of the magical aurora. Whilst it's Christmas that's the main event, Rovaniemi's Santa's Village is open everyday of the year, so you don't have to wait until December to meet the famous man in red.
Dave Warne is Product Director at The Luxury Holiday Company. The Luxury Holiday Company offers completely bespoke holidays designed to deliver unrivalled luxury, arranged by specialists who have more than 200 years of collective travel experience.
If you would like to be a guest blogger on A Luxury Travel Blog in order to raise your profile, please contact us.