By
James Jayasundera
on Jan 18, 2020 in
Adventure Travel
,
Air Travel
,
Asia
,
Attractions
,
Going Out
,
Leisure Travel
,
Nepal
,
Regions
,
Restaurants
,
Speciality Travel
Nepal is the ultimate mountain country; home to the magnificent 8,848-metre-high Mt. Everest, breathtaking Himalayan scenery and high-octane paths – it's difficult to match Nepal for dramatic scenery. But with seven UNESCO World Heritage Sites in the Kathmandu Valley alone, from ancient temples to stunning palace complexes, and epic wildlife and bird spotting opportunities, there's much more to Nepal than mountaineering. Nepal's government has placed special emphasis on encouraging travellers to visit Nepal in 2020, promoting it as a destination for adventure, luxury and wildlife. While any year is a good time to visit Nepal, here are our top 21 reasons to visit Nepal in 2020:
A gastronomic journey through Nepal at Krishnarpan, Dwarika's Hotel, Kathmandu
Krishnarpan is Dwarika's Hotel fine dining restaurant and serves up delectable tasting menus ranging from 6-22 courses. Each course is utterly delicious, and the experience is designed to take diners through a journey of Nepal's many and varied regions. From Samaya Bajee which are served during religious ceremonies to Mo-Mos (dumplings) that are found in the mountainous regions of both Nepal and China, the whole meal is an education. Meat eaters and vegetarians are catered for with aplomb and the courses can be washed down with Everest Beer and rice wine – a true local delicacy. Pre-booking is required at Krishnarpan.
White water rafting down the Karnali River 
The Karnali is one of the tributaries that leads to the mighty Ganges river and is one of the biggest rivers in Nepal. White water rafting is not only an eco-conscious way of travelling through Nepal, but it allows visitors to see this remote western region from a totally new perspective. Trips can extend from a few days, to at least a week as you camp on the side of the river, travelling downstream with most of your kit strapped onto your raft – support vans with tents and cooking equipment can be provided to increase comfort! Switch off from the outside world and experience Nepal at its most wild.
Helicopter flight over Mount Everest 
Experience the wonder of the highest mountain and a panoramic view of the most impressive mountain range in the world by flight. Board your private helicopter in Kathmandu, fly over the populated Kathmandu valley and then east into the Khumbu region where Mt. Everest resides. As you climb in altitude, snow-capped peaks will appear, and your breath will be taken away by the astounding beauty of the Himalayas. On a clear day, the range will stretch for miles and the true scale of this natural wonder will become real. This truly is 'luxury in the experience'.  
'Hunt' for tigers in Bardiya National Park 
Go in search of these elusive wild cats in the dense forest of Bardiya in western Nepal. Whilst staying at Tiger Top's Karnali Lodge jump into safari vehicles that were bought from the British Army in the 60's, arm yourself with binoculars and cameras and go on a hunt for one of the 87 resident tigers. Skittish and secretive, and despite being orange, tigers are a demon to spot – making it all the more exciting. Sightings of their 'beds' (worn down grass patches), scat and footprints can send heart rates through the roof. On seeing one of these incredible animals, return to Karnali Lodge and celebrate with a well-earned gin and tonic and a 5-star meal.
Walk in the footsteps of Tenzing Norgay and Edmund Hillary 
The foothills to the sky are impressive to say the least and hiking to Everest Base Camp gives access to the elusive world of mountaineering and a slice of world history. After a mountain flight to Lukla Airport (also known as the Tenzing-Hillary Airport), the trek begins, winding through the forest paths and then breaking the tree line at 4,000 metres before 'summiting' Base Camp at just over 5,000 metres. For amateur mountaineers the trek takes around 12 days. It also offers the opportunity to view the summit on a clear day, and if you're lucky, some of the mountaineers attempting to reach the sky.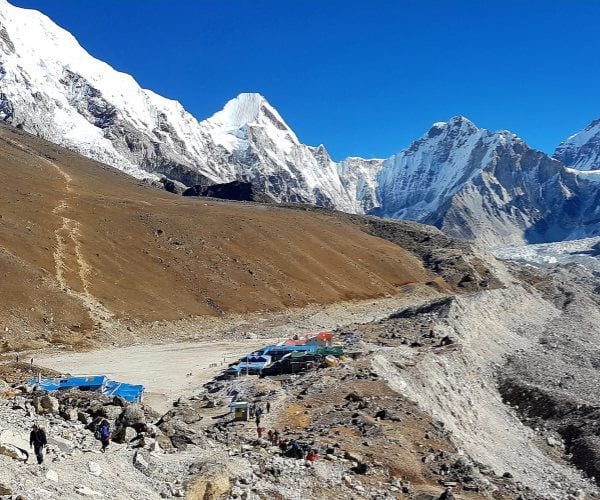 Walk with elephants at Tiger Tops Tharu Lodge  
Chitwan National Park provides fantastic viewing of Asian one-horned rhino and there is no better way to spot these secretive mammals than by walking with three of Tiger Top's elephants who escort you deep into the forest. The elephants mask the smell of humans, so being flanked by these beautiful animals allows you to get as close as 20-feet away from rhinos and perhaps even a tiger. Seeing the relationship between the elephants themselves is also a treat, as each elephant plays its own role in the jungle walk. Walks can last as short as an hour, or as long as a whole day.
Visit the birthplace of Buddha 
Not as well known, but equally as important as Sarnath in India, Lumbini in west Nepal is the birthplace of Buddha, meaning it is a popular pilgrimage sight for Buddhists, but remains largely unknown to the outside world. Lumbini celebrates Buddha with a sprawling temple complex comprising of 42 temples funded by various Buddhist groups from around the world. Each temple reflects the architecture and style of its founding nation. From brightly coloured Tibetan temples adorned with gold gilded statues of Buddha, to white marble behemoths from Thailand, the complex is a fascinating display of the differing faces of Buddhism. The birthplace itself is in a quiet park with numerous pilgrims meditating, offering donations and being blessed by monks in bright orange robes.
Indulge in a massage at Dwarika's Kathmandu
Dwarika's Hotel in Kathmandu is one of Nepal's finest luxury hotels and the perfect place to begin or end a trip. The Pancha Kosha Himalayan Spa offers a range of Ayurveda based treatments and the ever-popular massages are a great way to ease the stiffness post-flight and post-trek, or even just an indulgent way to end a day of sightseeing. Warm oil and gentle Buddhist chanting calm the senses and the exceptionally well-trained masseuses will knead out the toughest of knots. If massages don't tempt you, then the Hot Stone Therapy and reflexology therapies are top notch. Treat yourself.
Trek the Annapurna Circuit  
Often described as the most beautiful of the Himalayan massifs, Annapurna has a wide range of treks suiting a variety of abilities. The Annapurna Circuit is frequently associated with steps as many of its paths consist entirely of them rather than gradual inclines! The circuit passes through many typical Gurung villages, giving walkers the chance to see authentic Nepali life as part and parcel of their treks; Buddhist and Hindu ceremonies, drying chillies, orange marigolds, Himalayan butterflies, laden donkeys taking supplies to the remoter corners. Life in the Himalayas is markedly different to that in the cities of Pokhara and Kathmandu and this region is also where the Gurka Regiment of the British Army recruit their soldiers from. Panoramic views of the range are not uncommon, it is worth rising early to see the sunrise over this majestic massif.
Shop for Nepali cashmere in Pokhara 
Like diamonds are from India, cashmere is from Nepal, and there is no better place to buy this Koh-i-Noor of fabrics. It is both ridiculously affordable and fantastic quality. Festooned with cashmere shops, Pokhara is every retail therapy addicts dream. From natural colours such as greys, browns and beiges to royal blues and emerald greens, there is a cashmere scarf waiting for everyone. Hand embroidered pashminas hark to Nepal's trade routes with Central Asia and Persia while heavy woven jumpers are perfect for a post-trek warmer. Suitcases will return home laden with luxurious cashmere and you may well wish you had bought more.
Visit the Monkey Temple 
Or, Swayambhunath Maha Chaitya as it is known for locals, is an ancient Buddhist site in the west of the Kathmandu Valley, near the old hippy district of Thamel. The temple complex consists of an enormous white stupa (very similar to the Boudha Stupa in central Kathmandu) along with monasteries and smaller pagodas. It is common to see young monks in training running around between lessons. It is called the Monkey Temple because of the resident population of monkeys who can be both a charm and a nuisance! For Tibetan Buddhists, this sight is very auspicious, second only to Buddha himself.
Cocktails in Fusion Bar 
Tucked away in a corner of the courtyard at Dwarika's Kathmandu is Fusion Bar. Reminiscent of a bygone era, adorned with black and white images of grand Nepalis dressed like Maharajas, the bar serves up a range of whiskeys, local beers and elegant cocktails. Open fires are lit in the colder months and live Nepali music is played on special occasions. It has a wonderfully cosy atmosphere and adventurous guests can be overheard discussing their summiting of some of Nepal's highest peaks. After a long day of sightseeing in the capital, head here for a post-mortem of the day's delights, washed down with a whiskey sour.   
Spin Buddhist prayer wheels at Boudha Stupa
Despite being the only official Hindu state in the world, Nepal is home to many Buddhists, amongst them, a fair few Tibetan Buddhists who have fled China. Prayer wheels are a common sight, particularly in the Himalayas, where they are found not just outside temples but at important junctions. Passing with the wheels on your right making them spin clockwise is thought to keep you safe and bring health and prosperity. The Boudha Stupa in Kathmandu is surrounded by prayer wheels and walking around the stupa to the sound of the spinning wheels is very atmospheric.
Dine at Pavilions Himalayas: The Farm, Pokhara 
Tapas is not commonly associated with Nepali cuisine but at Pavilions Himalayas, The Farm the team have created some delicious Spanish-inspired options and they are not to be missed when staying here. Crispy fried mushrooms with a soy glaze is followed by slow roasted chicken bites in a ratatouille-esque sauce. Pavilions Himalayas, The Farm, unsurprisingly has its own organic kitchen garden on-sight. Everything, and they mean everything, is conjured up from the garden; organic Himalayan bananas become banana pancakes topped by fresh yoghurt, free range eggs are served up as spicy shakshuka for breakfast. The meals are thoroughly enjoyable, and the quality never wavers.
Birder's Paradise, Chitwan National Park 
In the buffer zone of Chitwan National Park alone 399 bird species have been counted and there are over 600 in the entire park. It is an exceptionally dense area for avian species and will delight even the most elementary of ornithologists. Picking out the individual bird calls with your tracker is akin to deciphering the soundtrack of the forest. From the end of October – May is the best time to visit Chitwan for the birds because it benefits from having the migratory species before they head to Siberia for the summer months. From Dracula-looking cinereous vultures to characterful kingfishers, Chitwan is a true birder's paradise.
Dine at Chez Caroline 
Tucked away in the restored Rana Palace (Babar Mahal Revisited) is Chez Caroline, Kathmandu's finest restaurant. Serving French-inspired cuisine it is a slice of Paris in the sprawling north Asian metropolis. Expect to find imported Reblochon, onion soup, quiche Lorraine and tarte-tartin on the menu. Open from morning 'til night you can pop in for a cup of tea and a slice of tarte or settle in for supper and treat yourself to Mouton grille. After your meal, take a wander through the Baber Mahal Revisited shopping arcade which houses a handful of boutiques selling luxury cashmere and cotton, jewellery and some gorgeous home interiors.
Witness a cremation ceremony at Pashaputinath 
Cremation is an important element of Hindu religion, so for those more adventurous travellers, seeing this final stage of life on this earth is utterly fascinating.  Pashaputinath is a temple complex and cremation area on the outskirts of Kathmandu where the recently deceased are brought to be washed in the holy river (the stream that runs through the complex eventually becomes a tributary that leads to the Ganges) and cremated so that they can enter the next stage of life. What it lacks in the grandeur of the likes of Varanasi, Pashsputinath makes up for in character. The entrance promenade is flanked by priests offering advice to paying believers and almost naked Sadhus (holy men) who rely on donations to survive. There are of course the daily worshippers queuing to enter the temple dedicated to Shiva.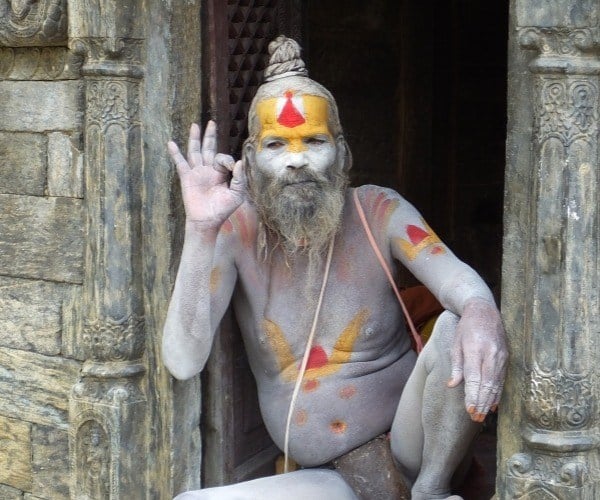 Enjoy a wellness retreat at Dwarika's Dhulikhel  
The Dwarika's Group has a fabulous new addition, the Dwarika's Shangri-La Resort which is high up in the hills of Dhulikhel looking over the Kathmandu valley. Centred around Vedic philosophy and Buddhist medicine, the entirety of the resort from the wellness programmes to the luxurious toiletries in the palatial bathrooms puts strong emphasis on one's wellbeing. The resort has a Himalayan rock salt room, chakra chambers, a crystal house and all the usual spa facilities. The difference here is that the connection with nature, particularly the Himalayas is paramount, and the wellness programmes reflect the power of the natural beauty that Nepal is so well known for. Spending a week here on a fully personalised programme indulging in Ayurvedic treatments, meditation and yoga practices would be simply divine.
Tour Medieval Kathmandu 
Prior to unification, Nepal consisted of smaller kingdoms and the Kathmandu valley was divided into three waring Newar kingdoms: Kathmandu, Bhaktapur and Patan. Each kingdom had its central main square, a Durbar Square where all life, from paupers to royals was played out. All three are now UNSECO World Heritage sites as some of the finest examples of Newari architecture. The Kathmandu Durbar Square suffered in the 2015 earthquake and although many of the pagodas are held up by scaffolding, the hustle and bustle of Kathmandu life continues, with people making their daily prayers at shrines, traders selling kilos of dried fish and resident cows doing their rounds. Seeing all three of the valley's Durbar Squares gives you a historical insight into the culture of medieval Kathmandu – so much of which is still alive today.
Blessing at a Buddhist Monastery 
Buddhist monasteries in Nepal are often ornately decorated with colourful pagodas and hand painted murals, very similar to their original counterparts in Tibet. A visit to a monastery is an education and a privilege. They provide more than just a pathway to religious enlightenment; they are often a way of securing an education for boys from less privileged backgrounds. The intricacy of the paintings is astounding and seeing young monks practising their ceremonial duties is endearing. Being blessed by a senior monk provides an insight into the workings of Buddhism. Mountaineers, both foreign and domestic, tend to have their blessing before a trek to ensure a safe ascent.
Champagne Breakfast with a view of Mount Everest 
For true luxury and indulgence take a private helicopter from Kathmandu to Namche Bazaar in the Khumbu region. Namche is the largest settlement in the Khumbu – the region of Mt. Everest. It is known for its German bakeries and quaint market shops selling woven Nepali knick-knacks. A short hike from Namche, on a clear day, it is possible to see the mighty mountain itself. Breakfast in style, with champagne and continental options served to you as you take in the epic views of the most famous mountain range in the world.
James Jayasundera is Founder and Managing Director of Ampersand Travel. Ampersand Travel create bespoke and luxurious travel experiences to Asia, the British Isles and Southern Africa.
If you would like to be a guest blogger on A Luxury Travel Blog in order to raise your profile, please contact us.