23 things to do in Myanmar
Myanmar is a cultural gold mine: the plains Bagan which are strewn with thousands of temple ruins; Mandalay and Yangon are heaving with colonial buildings and glittering stupas; Inle Lake is a place of heart-stopping beauty; the golden sands of Ngapali provide a quirky Myanmar beach holiday; the remote islands of the Mergui Archipelago are little-known gems to escape to. Rudyard Kipling wrote that Myanmar is 'quite unlike any land you know about', and this still very much applies today and luxury tailor-made holidays to Myanmar can be hugely rewarding. Read on to discover our top 23 Things to Do in Myanmar:
Shwedagon Pagoda
Myanmar's most sacred Buddhist site is the famed Shwedagon Pagoda, a glittering 2,000-year-old pagoda, in the heart of Yangon. Visit the pagoda at sunset when its gold-leafed surface is emblazoned by the setting sun and the complex comes alive with local people from the city and tourists from afar. There are usually many offerings and blessings with special costumes happening around the stunning, circular stupa too, which are interesting to witness.
Exploring Yangon
Whilst exploring Yangon, base yourself at Belmond Governor's Residence, a firm tourist favourite, and spend the afternoons relaxing by the reflective pool with a refreshing cocktail and a good book.
See the Temples
Bagan is a truly astonishing landscape with over 4,000 ancient temples and stupas scattered across the jungle laden plains. Climb a viewpoint at sunset, and the temple-strewn landscapes are guaranteed to fill you both with awe and spiritual calm.
The Reclining Buddha
Visit the graceful and most revered reclining Buddha whilst in Yangon. The astonishing size – this Buddha is over 269 metres long – is really a sight worth marvelling at.
The Irrawaddy River
Hop aboard the RV Paukan and journey up the Irrawaddy River. This spacious, boutique boat is a wonderful way to take in the river, as you float past rural riverside villages, and with over 30 crew members to take care of you, you can be sure you'll have a fantastic time.
Ride a Hot Air Balloon
Enjoy a sunrise hot air balloon journey over the temples of Bagan, with extraordinary views over thousands of ancient ruins and pagodas which peek out from this remote jungle. The dawn sun brings Bagan to life, picking out details on the intricate stupas and temples – no two of which are the same. It's a truly unforgettable experience when you first set eyes on these ancient temples in their multitude, stretching all the way to the banks of the Irrawaddy River. This, in our opinion, is the best way to appreciate this archaeological wonder.
Take a Burmese taxi
Hail a taxi Burmese style! Get to grips with an unusual method of transport in Mingun, where a bullock and bamboo cart taxi waits to take you to your next destination.
Check out the Mingun Pagoda
Head ten kilometres up the Irrawaddy River and be rewarded with the arresting sight of the breathtaking white Mingun pagoda, with its unusual wave-like terraces.
See the Mingun Paya
Admire the remains of what would have been the world's largest religious monument, Mingun Paya. Work was halted on this enormous structure in 1838 by a devasting earthquake.
The Inle Lake
Inle Lake is a place of heart-stopping beauty… Stay at a hotel on the banks, like Sanctum Inle Resort or Inle Princess, and glide through the water on a long-tail boat, observing the unique method of rowing with one leg used by the Inle fisher-folk.
Stay at the Inle Princess
Admire the reflections in the crystal-clear waters of Inle Lake from the privacy of your balcony in a Lake House at the charming Inle Princess. Not only does the Inle Princess provide stunning views over the lake, the chalets are more that comfortable too, with spacious bedrooms and private terraces.
Discover the customs
Learn about the fascinating traditional customs in a local home on the shores of Inle Lake, and learn how to roll a cheroot style cigar, made from crushed tobacco and wrapped in tree leaves.
Meet the locals
Be welcomed by warm and friendly locals at every turn and discover more about the little-known minority villages that bank on the shore of Inle Lake, particularly the tribeswomen who add rings to their necks to give the impression of 'long-neck ladies'.
The New Moon Festival
The New Moon Festival is an exciting time to visit and is celebrated in Myanmar (usually in November) with traditional clothing, processions and offerings. If you're lucky enough to witness a festival in Myanmar, you'll notice the towns get very busy and the Burmese are in a playful mood!
The Marionette Show
If you get a chance, watch a traditional Marionette show using hand-made puppets, a customary age-old entertainment in Myanmar.
Discover Burmese schools
Visit a school for nuns in Amarapura, which is a fascinating experience. Myanmar is absolutely packed with novice monks and nuns who are completely focused on their studies of ancient Buddhist scripture. The discipline and faith of the Burmese people is really very touching.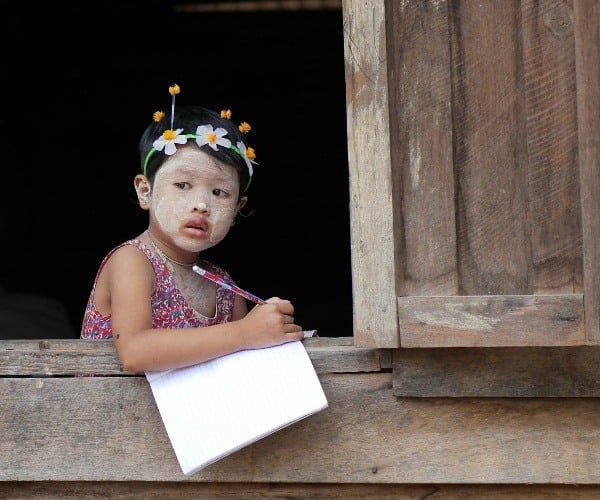 Sail around the islands
The Mergui Archipelago, a group of 800 islands scattered in the Andaman Sea off the western shore of Myanmar's remote south, is one of the last untouched and unspoilt tropical destinations left on earth. Sail around the little-known archipelago in style, on the sleek and sexy catamaran, Meltimi.
Visit the Royal Palace
A visit to the vast Royal Palace whilst staying in Mandalay is highly recommended. Wander through these ornate moat walls to discover the 'Forbidden City' which contains teak palaces, throne halls and pavilions.
Try an eco retreat
Stay at Wa Ale, the sexy new eco-luxe retreat. Tucked away on a 9,000-acre privately-owned island in the Lampi Marine National Park, Wa Ale is intimate and truly remote, with a strong focus on responsible and
sustainable tourism
. Surrounded by beaches with pristine white sand, lapped by clear, calm waters Wa Ale is the ideal setting to relax and explore the wilderness. With such a keen focus on conservation, a percentage of Wa Ale's profits is designated for various conservation efforts in the Lampi Marine National Park, including Sea Turtle Conservation and Coral Protection as well as charitable donations to education and medical programs for the local community.
Head to the beach
Visit Ngapali, Myanmar's long-standing beach resort, with a wide and inviting stretch of golden sand. It's the perfect place to unwind after a busy schedule of temple tours and even better, you still won't find too many tourists here.
Travel to Kalaw
Escape the heat of the coast and travel to Kalaw, a cool and charming colonial hill station, and admire the wide range of vegetables and flora grown in this luscious and fertile climate. Whilst in Kalaw visit the Green Hill Valley Elephant Camp, where working elephants are retired and cared for.
Learn about Myanmar history
Discover the delights of Pyin Oo Lwin, a scenic hill town in the centre of rural Myanmar. Learn more of its colonial past from buildings that still exist from the British colonial rule in Myanmar.
Visit the Botanical Gardens
Take a horse and cart, unique to Pyin Oo Lwin, and visit the beautiful Botanical Gardens which thrive in this cool climate.
James Jayasundera is Founder and Managing Director of Ampersand Travel. Ampersand Travel create bespoke and luxurious travel experiences to Asia, the British Isles and Southern Africa.
If you would like to be a guest blogger on A Luxury Travel Blog in order to raise your profile, please contact us.
Did you enjoy this article?
Receive similar content direct to your inbox.