From the twinkling blue sea to the blissfully relaxed pace of island life, the Saronic Islands of Greece are, quite simply, very special. Enjoy a warm welcome at whitewashed tavernas, stroll endless beaches and relish the calm. For history fans, this is a treasure trove of incredible ancient culture, where alluring ruins exude spellbinding appeal. Mythology and legend thrive in this extraordinary region where your imagination can run wild. There is no better way to explore the glorious clusters of velvet beaches, clear seas and secluded coves than by yacht; wherever you sail, the Saronic delivers an intoxicating blend of fascinating lifestyle and seductive exploration that will result in an unforgettable experience.
Embark in Athens, one of the most renowned Mediterranean harbours and an ideal destination to begin a yacht charter. Take a leisurely cruise to nearby Salamina, an unassuming and wholeheartedly authentic location formed from a small suburb of Athens that broke away into the sea many years ago. Not offering commerical shops or busy tours, it is merely dotted with quaint summer cottages, traditional tavernas and stunning beaches. As there are few hotels, Salamina's secluded bays are filled with idyllic, sheltered anchorages providing complete tranquillity for yachts to drop anchor. Adventurous explorers will enjoy visiting the Cave of Euripedes, located near Peristeria Beach, featuring 10 cavernous sections that have been used through a range of eras. In August, the Byzantine monastery of Panagia Faneromeni holds an enormous feast in honour of the Virgin Mary – a social event celebrated by locals and visitors alike, featuring plenty of food, wine and entertainment.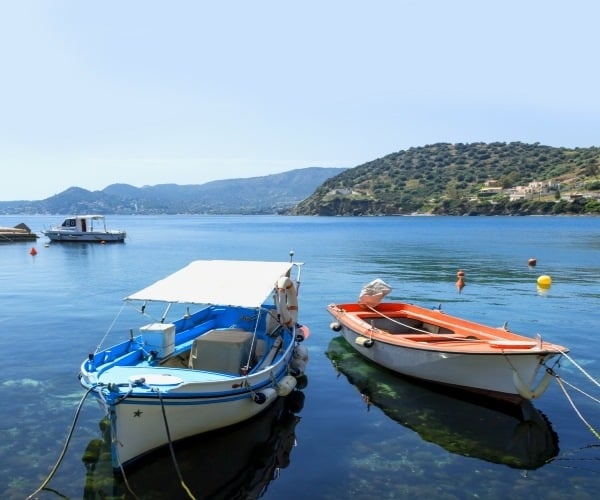 In the charming isle of Aegina, immerse your senses in every aspect of typically Greek life. Cruise into the bustling port of Aegina Town, bordered by the small white church of Saint Nikolas, and soak up the view. The amphitheatrically shaped harbour is dotted with colourful fishing boats, fruit filled caiques and glamorous yachts that sit alongside each other. Take your pick of beaches to suit the mood; the east-coast resort of Agia Marina has a popular beach that is ideal for families, while tranquil sandy spots, such as Marathonas, are found coast-side between Aegina Town and Perdika. History aficionados must visit the most famous archaeological site on Aegina – the Temple of Aphaea. Perched majestically on the pine-clad hill above the seaside resort of Aghia Marina, it also affords a mighty view of the seascape.
Nearby Poros is a highly popular sailing destination: hardly surprising with so much here to experience. Paired islands of Sferiá (Póros Town) and larger Kalávria (meaning 'gentle breeze') connect by a bridge over a channel, thereby creating the island of Poros; translated as "the narrow strait". This is undoubtedly one of the most beautiful yacht entries to a Greek island and in turn provides extensive and convenient mooring. The waterfront atmosphere is contagious; a picture-perfect spot to sip a casual cocktail whilst the famous swathes of golden sand nearby bustle with life. Poros is great for beaches, nightlife, shopping and restaurants plus a smattering of cultural finds. Built into the hillside, fine examples of neoclassical architecture are set amongst slender Aegean streets, speckled with effervescent bougainvillea and great for a stroll.
One of the most romantic destinations in the country, often dubbed the St Tropez of Greece, Hydra is home to a fabulously charismatic port. The crescent-shaped waterfront is lined with bustling boutiques and vibrant restaurants while a mix of traditional mansions are backed by rows of red roof-topped houses with blue windows and doors. Either side of the harbour, cannons from days gone by face to sea and statues of the heroes of independence give a nod to history. Hydra is the only town on the island – motorbikes and cars, even bicycles, are forbidden, and instead, transport is by donkey. Expect warm hospitality from the residents who gather harbourside in the early evening, casually sipping espresso freddo's and cold Mythos beers as they peacefully indulge in the fascinating pastime of people-watching.
One of the Saronic Gulf's best kept secrets is the Methana peninsula, surrounded by the Aegean Sea and connected to the mainland by a narrow road. The steep slopes here are formed from an underwater volcano where today the pretty landscape is packed with dense vegetation, scenic hiking trails and rustic coastal villages. Providing good shelter from any prevailing winds, the Methana peninsula provides an easily accessible harbour pier, able to accommodate large superyachts, together with a great choice of deserted bays in which to anchor and enjoy watersports equipment at leisure. In 1870 Methana became a celebrated spa town, with a popular hot spring's spa complex and volcanic beaches; today these still pack an exclusive punch. Take your pick from rejuvenating sulphur pools, tonic mud baths and volcanic rock massages.
A short coastal cruise takes you to Palaia Epidavros (meaning Old Epidavros), located on the north eastern side of the Peloponnese, in the Argolis region. This small fishing village is superbly picturesque, strewn with olive and orange groves, while in port gleaming yachts bob alongside colourful fishing boats. Revered in ancient days as a place of miraculous healing, the Sanctuary of Asclepius attracted those needing ailments cured. Modern-day guests are now drawn to the World Heritage amphitheatre where the first performances were given some 2000 years ago. The 4th century BC limestone theatre at Palea Epidavros is an epic highlight. One of the best preserved Classical Greek structures in existence today, it is still used for performances during the Hellenic Festival and is renowned for its amazing acoustics – if a coin is dropped centre stage, this can be heard from up high.
Exuding simplistic Greek charm and graceful beauty is the serene paradise of Agistri, festooned with lush vegetation where pine trees tumble hillside to the translucent waters. Some of the most pristine beaches in Greece are found here with warm, shallow waters while the fragrance of locally grown herbs is carried on the gentle sea breeze. Choose your own azure cove: secluded Aponissos has a small offshore island plus an excellent taverna. Limenaria beach is rich with deep green waters perfect for diving and local shops selling handmade fabrics and olive oil. Alternatively, total privacy can be found at Xekofti beach, exceptionally remote and ideally accessed by yacht – one to claim as your own and bathe in the serenity.
Take a leisurely cruise back to Athens, passing the tiny island of Nisida Kyra close to Agistri, with small bays offering pretty anchorages. Disembark your yacht in Athens to meet onward transport or take the opportunity to explore this fascinating ancient city in greater detail.
Nicholas Dean is Managing Partner of Ocean Independence. Ocean Independence is a global leader in luxury yachting, providing a bespoke experience across yacht charter, sales and management.
If you would like to be a guest blogger on A Luxury Travel Blog in order to raise your profile, please contact us.