Cities tend to have a vibe about them, a sense that something might be happening just around the corner. Cities hold an energy that is infectious; and oh boy, is that true of New Zealand cities.
A passion for art, street wall murals, live music, comedy, food markets, coffee, restaurants and bars make New Zealand cities and towns a great place to visit. This statement is underpinned by the premise that our cities are much smaller in size than bigger country cities, but ours offer a vibe that will wrap you up and take you in. Our cities offer eclectic, unique, authentic, heritage experiences that suit most any taste.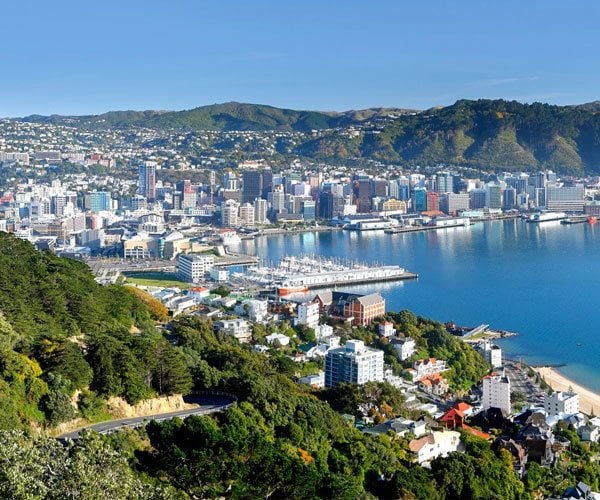 Auckland
As the largest city in New Zealand, Auckland is the vibrant economic heart of the country. This is where international flights land, it is where most of the international businesses host their head-offices and as such is a major contributor to the economic wealth of New Zealand. But there is more to this vibrant city than hosting head-offices and a healthy economy.  There is a plethora of gorgeous restaurants, artisan coffee shops, galleries and designer boutiques.
There are opportunities for fun around every corner; whether that is sailing out of Waitemata harbour on a chartered fishing boat or hopping aboard a dolphin and whale watching cruise. The city is unique in that it connects two coasts, the calm Pacific Ocean with its white sandy beaches on the east coast and the wild Tasman Sea with black sand and untamed wilderness to the west.
There are a number of islands scattered along its coastline, one of the most famous is Waiheke, the island of wine. The island is tiny but its climate is perfect for the 30 odd vineyards nestled in the rolling hills. So, if island hopping is on the cards, then sign up for a trip across the Hauraki Gulf.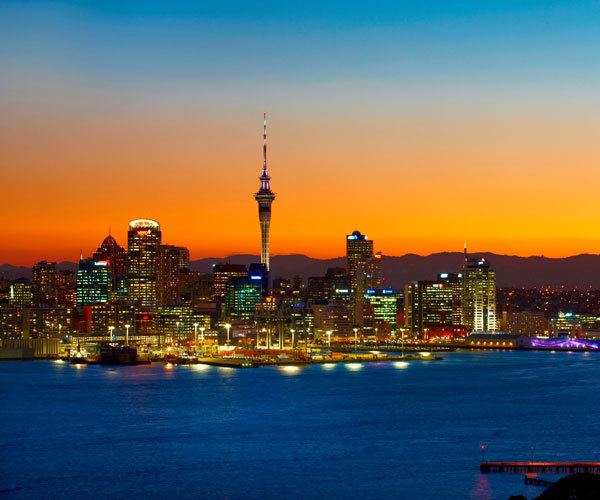 Cambridge
A true nature lovers haven, known as the "town of trees and champions." It is a small town with a big reputation for producing champion horses in racing and show-jumping, so much so that it has earned the reputation as the equine capital of New Zealand. But that is not its only notable accolade; in 2019 it was given the most beautiful large town award.
With a curious and charming village feel, this quaint town is a gateway to multiple tourism must-dos. Rotorua, renowned for its geothermal activity, Maori culture and redwood forests, only an hours' drive from Cambridge.
The Hobbiton movie set, only 30 minutes away and a really magical experience. This was the noteworthy location used for the Lord of the Rings film trilogy. With daily tours through the "shire", you can immerse yourself in the smells, sights, and sounds of this incredible movie-set.
Waitomo town, also a short one-hour drive from Cambridge is known for its extensive underground cave system which is home to thousands of glow-worms. Known as one of New Zealand's best environmental attractions; a magical boat-ride through the grotto to view this natural light display will leave you awestruck by this unique wonder of mother nature.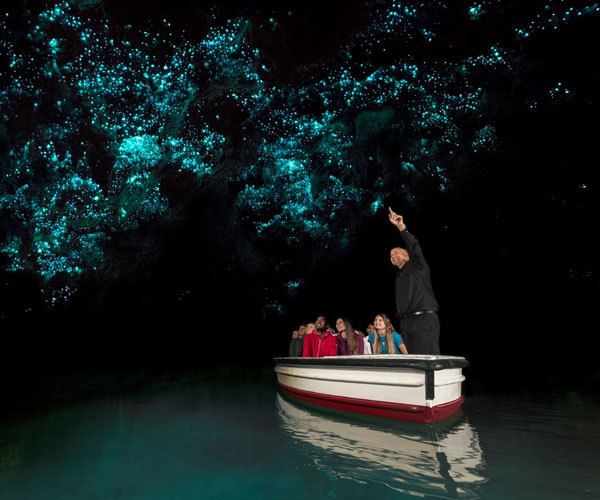 Wellington
The vibrant harbour city of Wellington lies on the south coast of the North Island, known as the Cook Strait. The strait essentially separates the North and South Islands. It connects the Tasman Sea on the northwest with the South Pacific Ocean on the southeast.
As the second-largest city in New Zealand, it is known as the culinary capital. Wellington is celebrated for its unusual cafes, distinctive bars, stunning coffee, and award-winning restaurants.
Wellington houses Te Papa, New Zealand's national museum, which came about as a result of the national museum and national art gallery merging. This is an incredible space, with world-leading displays and exhibitions.
Gallipoli, it's the current exhibition, is an outstanding and ground-breaking activation that tells the story of a WW1 scene in Gallipoli through the 'voices' of eight ordinary New Zealanders. The haunting commentary as one moves through giant-sized sculptures, 3D maps, and interactive experiences bring the reality of war to life in an unusual and memorable way.
Nelson
Nelson is a city on the South Island of New Zealand, facing the Tasman Bay. It's known for local arts and crafts, great coffee, restaurants and galleries. It is also the doorway to some of the most beautiful alpine and coastal landscapes, incredibly beautiful bays and mountain ranges. There are three national parks on its doorstep, each with a diverse range of sightseeing and exploration opportunities.
Established by English settlers in 1841, the city's history is showcased at Founders Heritage Park, a living museum with a vintage railway. Also, to be found at the park is the Miyazu gardens, named after its Japanese sister city.
It's a popular base for nearby caving sites, cycle tracks, vineyards and easily accessible via ferry from the North Island or local airports in the South Island. A city with the most recorded sun-shine hours is hard to beat, clearly!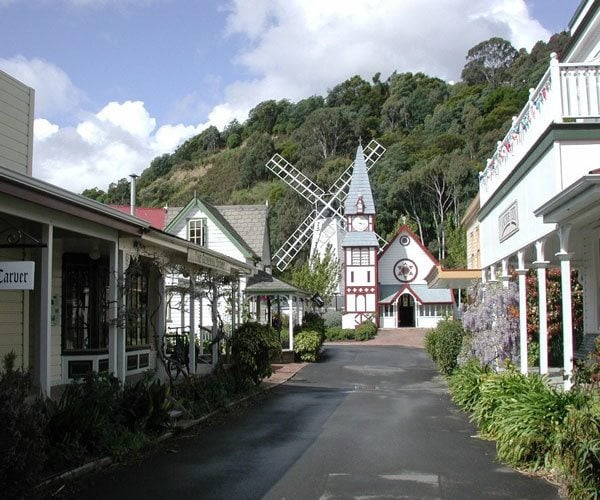 Christchurch
Known as the garden city with an English heritage, Christchurch is located on the east coast of New Zealand's South Island. The city was destroyed by two earthquakes, one in 2010, the next came in 2011. It has grown back into a thriving, creative city, with friendly people, delicious gourmet food trucks, speak-easy bars and the ever-present coffee outlets. By now you may have realised that coffee is a common thread through New Zealand culture?
The city centre offers a trail of street art, an opportunity to take a flat-bottomed punt to glide down the Avon River, cycling paths and the green expanse of Hagley Park and Christchurch Botanic Gardens with the Arts Centre on the outer border. The Art centre is a Christchurch landmark, home to galleries, museums, cinemas, boutiques and artisan eateries and well worth a visit any time of the year.
Christchurch lies within the Canterbury region, and as such is also the basecamp for adventures, exploration and scenic trips. The TranzAlpine train offers a splendid opportunity to enjoy some of the most spectacular scenery, with large reclined seats and huge panoramic windows. The train traverses through the open Canterbury plains, through rugged gorges and valleys and then ascends into the majestic Southern Alps.
With little to interrupt your journey, this may be an opportunity of a lifetime to see the beautiful vastness of the South Islands' interior landscape.
Dunedin
Situated at the head of Otago Harbour, Dunedin is on the South Island's southeast coast. It's known for its Scottish and Maori heritage as well as Victorian and Edwardian architecture. And much like the other towns featured here, this one is just as promising in terms of coffee, boutiques, eclectic eateries and bars.
Dunedin's Public Art Gallery, established in 1884 is renowned for being home to a selection of the country's finest collections, showcasing pieces from New Zealand, Japan, Britain, Europe and more.
Street art is something that New Zealand cities are embracing with a passion, and recently, Dunedin joined the call; bringing in local and international mural artists to colour blank-walled canvases. A walk around town is certain to unearth some amazing creative treasures.
The name "Dunedin" comes from the Gaelic word for "Edinburgh," and Dunedin is commonly called the "Edinburgh of the South". True to this Scottish heritage, Dunedin's whisky production is recognised as being some of the best in the world.
Hiking and cycling trails traverse the dramatic landscape of the adjoining Otago Peninsula, which is where the only mainland breeding colony of Northern Royal albatross can be found. The Peninsula is also home to the endangered Hookers Sea Lion, who are one of the rarest sea lion species in the world.
Taking a wildlife tour through the peninsula may also offer the opportunity to view the endemic and rare yellow-eyed penguins, where around 500 breeding pairs nest and live.
Finally, whatever your trip intentions are, there is something for everyone, whether traveling as a single person, a family or a group of friends, you can rest assured that this is no shortage of activities to suit all tastes.
New Zealand cities offer the visitor a broad range of city-life fundamentals, in so far as food, boutiques, galleries, bakeries, bars and restaurants is concerned. And more than that, our cities are the gateway to so much more. They are the spring board to untold natural wonders and delights, which can be explored by foot, bicycle, train, boat or car.
Launch yourself into the amazing Aotearoa, New Zealand, let us welcome you here. Kia ora.
Veronika Vermeulen is Director of Aroha New Zealand Tours Ltd. Aroha New Zealand Tours Ltd. has been offering 100% tailored journeys and private guided luxury experiences in New Zealand since 2000.
If you would like to be a guest blogger on A Luxury Travel Blog in order to raise your profile, please contact us.