Although it is the biggest National Park in East Africa, Ruaha in the South of Tanzania is unheard of by most. The Ngorongoro Crater and the Serengeti in the North of the country are the headline stealers due to their popularity and the presence of the Great Migration and their Big 5 density, but down in the South of Tanzania, Ruaha largely remains a hidden gem with an abundance of wildlife and a rugged landscape that is waiting to be explored.
The wildlife
Although it isn't home to the Great Migration, Ruaha has a huge density of different wildlife. The variety in habitat makes it an ideal place for a mixture of different fauna, from the more commonly seen elephant to the very rare aardwolf.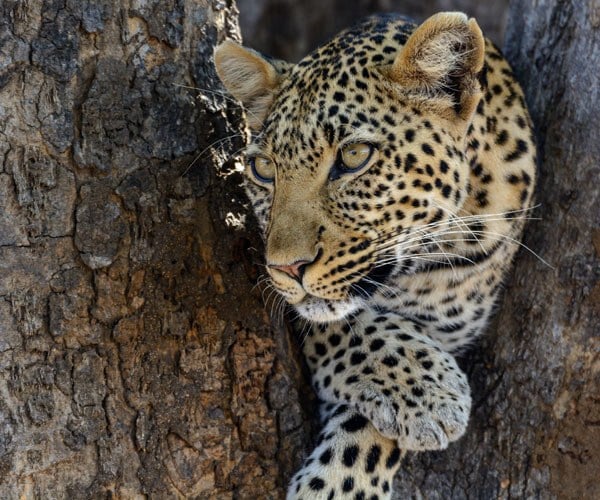 Habitats range from vast acacia woodlands to grassy plains to thick riverine shrubs, making cats (big or small) a regular appearance here. Leopards are often seen lounging amongst the branches of mighty baobab trees, whilst servals are regularly witnessed slinking through the long grass.
For those seeking rarer and shier animals, then Ruaha offers this alongside those commonly seen animals on safari. Lesser kudus and sables are some of the prized antelope sightings here and African wild cats are also regularly seen.
Documentary-worthy spectacles
Although the variety of wildlife is certainly a drawing card to Ruaha, one of the most famous aspects of this National Park is an ongoing war between two of Africa's deadliest foes. The buffalo and the lion.
As the dry season progresses, water sources in Ruaha start to dry up resulting in the congregation of thousands of the giant bovines. Stalking them however are the large lion prides of Ruaha. Ferocious battles between these two giants are played out regularly and have brought some of the best wildlife documentaries to our screens.
As the buffaloes congregate, so do the lions. With over ten percent of Africa's lions calling the park home, not only does the Park witness some brilliant battles between predator and prey, it also seems some of the most brutal and awe-inspiring skirmishes between the different lion prides. Looking to control their territories and maintain their prey availability, National Geographic's Lion Kingdom series follows the lion prides of Ruaha as they battle the buffalo and each other. There is every eventuality that you could witness a documentary-worthy scene that would go down in history.
Wild, untamed and great value for money
Ruaha is one of the least commercialised National Parks in Africa and with only a handful of lodges in an area that is larger than Israel. The beauty of this means that lodges are secluded, intimate and it is rare to see other vehicles on game drives.
One camp in particular optimises this exclusivity and seclusion: Jongomero. Situated on the banks of a meandering dry riverbed, Jongomero is located alone in the South of Ruaha. More than a two hour drive away from any other camp, intimacy and privacy is the key here. The camp is a luxury tented camp, each one of the eight rooms comes with its own private deck overlooking the gorgeous riverbed and the thatched roofs keep the rooms cool during the heat of the day. Facilities such as a swimming pool and a main bar and deck area also make spending time in between game drives a serene and calm experience. The food here is also some of the best on safari in East Africa and when the dinners are served by candlelight in the riverbed in front of camp, it makes the perfect setting.
The seclusion of Jongomero also makes it ideal for fly-camping. This is the ultimate adventure-seeker's activity. It allows you to access some of the park's unseen areas on foot before spending a night or two under the stars – a must if you have enough time here, and with their 4for3 offer, why wouldn't you?
An abundance of lodge choice
Although there are only a handful of lodges in Ruaha, the range of luxury and price make it a perfect destination for everyone.
If you enjoy a rustic and authentic safari experience, then Old Mdonya River Camp is certainly worth considering. This tented camp is for those who aren't a fan of frills and enjoy a lodge that is simple, yet elegant. Run mostly off solar power, Mdonya delivers a safari experience that is back to basics and allows you to reconnect with nature.
On the contrary, Ikuka is sumptuous and opulent, but also excellent value for money. Built on the top of one of Ruaha's vast escarpments, Ikuka provides unparallel views across the National Park's rugged landscape. Each of the camps seven rooms are open, airy and also offer this beautiful view of Ruaha. The main lodge is comprised of a well-stocked bar, a beautiful library and an open dining area all of which are perfect for relaxing and unwinding after a day of excellent game-viewing.
Arguably Ruaha's most luxurious and lavish camp is Asilia's Jabali Ridge. Perched around a rocky outcrop, Jabali's eight suites are spacious, modern and filled with every amenity one could ask for. Intertwined with Ruaha's landscape, Jabali delivers excellently on service, hospitality and maintains a sophisticated atmosphere. For those travelling as a larger group or as a family, their Private House is perfect. Built around three giant baobab trees and equipped with its own private pool, this is an excellent destination if you want exclusivity and privacy as a group. Days can be tailor made as you wish with your own private guide, chef and butler who will plan the day around your needs.
It's the perfect combination with Selous
One of the reasons why the South of Tanzania is such a wonderful destination is because of its value for money. Whilst the lodges are generally cheaper than those found in the North of Tanzania, the luxury you get for your money is also generally higher. The accessibility from Dar es Salaam also makes it cheaper and quicker to get to, meaning you spend more time in camp rather than travelling.
A game reserve in the South of Tanzania called Selous is a lush and green environment, comprising of vein-like waterways which spread throughout the landscape.  It is the complete opposite of Ruaha's dry and rugged landscape which makes it the perfect combination.
Whilst both destinations offer wonderful vehicle and walking safaris, Selous also offers boating safaris which allow you to traverse through this watery maze and view its inhabitants such as hippos, crocodiles and the many water-based birds. The diversity between the two areas compliments each other spectacularly and makes for an all-round brilliant safari experience.
If you are photographically minded, then the array of different landscapes and animals within these environments is an unmissable opportunity.
As well as brilliant wildlife variation, the value for money in a Selous and Ruaha combination is fantastic. Mixing camps enables you to make the most of some great offers. If you enjoy the rustic and authentic safari then Lake Manze and Old Mdonya River Lodge offer a 6for5 deal across the two camps, whilst the more luxurious camps of Siwandu and Jongomero offer a 7for5 deal, making them excellent value for money.
The South of Tanzania and Ruaha in particular should definitely be on your list of places to visit.
Marc Harris is Managing Director of Tanzania Odyssey. Tanzania Odyssey is a leading tour operator that has specialised in Tanzania since 1998.
If you would like to be a guest blogger on A Luxury Travel Blog in order to raise your profile, please contact us.