By
Dave Warne
on Mar 13, 2020 in
Adventure Travel
,
Africa
,
Asia
,
Botswana
,
Canada
,
Ecuador
,
India
,
Leisure Travel
,
Namibia
,
North America
,
Regions
,
Rwanda
,
South Africa
,
South America
,
Speciality Travel
,
Tanzania
There's something extra-special about a luxury holiday that incorporates wildlife. Alongside, yes, the likes of gourmet dining and ultra-stylish lodges, there's also the chance to come face-to-face with some of the world's most iconic animals. From tracking gorillas in the jungles of Rwanda to spotting tigers on a safari in India, discover our curated list of some of the world's top wildlife experiences below.
1. Track mountain gorillas in Rwanda
Coming face-to-face with Rwanda's mountain gorillas is an experience you'll remember forever. With expert guides and trackers, you'll head through the thick jungle in Volcanoes National Park, home to some of the world's highest numbers of gorilla families. It's then time for an awe-inspiring hour watching the playing babies and massive silverbacks lounging among the shrubs, before returning to one of the region's many luxury lodges. What's more, there's also the chance to spot our closest ancestor, the chimpanzee, on tracking walks, as well as over 300 species of bird.
2. See the Great Wildebeest Migration in Tanzania
As one of the world's greatest natural spectacles, witnessing the Great Wildebeest Migration is an event that should be high on any nature enthusiast's bucket list. On game drives, bush walks, or even helicopter rides right along the path of the migration, witness thousands of wildebeest hurtling across the open plains from Tanzania's Serengeti to Kenya's Masaai Mara, hunted along the way by elusive cheetah and lion. Returning to one of Tanzania's myriad luxury lodges – think multi-course dining and all-inclusive sundowners – brings it all to a fitting conclusion.
3. Spot tigers in the jungles of India
A trip through India, coming face-to-face with the true King of the Jungle, is as much a luxury holiday as it is a transformative journey. Having risen by 33% over the past four years, India's wild tiger population is truly thriving, and seeing them in their natural habitat from the back of a safari jeep is awe-inspiring. Of course, a trip to India is also characterised by the likes of stunning temple tours and Taj Mahal-accompanied sunsets, alongside searching for those iconic big cats in Bandhavgarh, Kanha and Pench, India's national parks.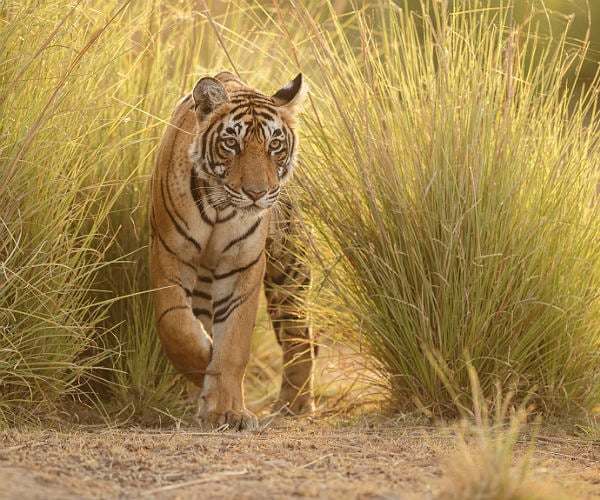 4. Road trip along Namibia's Skeleton Coast
Namibia's landscapes are nothing like the rest of the continent; its rust-orange swirls and wildlife-dotted national parks perfectly suited to an unforgettable self-drive. Search for leopards, track rhinos and see giant African elephants among the sand dunes of Etosha National Park, trace ghostly shipwrecks alongside the epic Skeleton Coast and spot desert-adapted lions among Damaraland's dramatic rocks and million-year-old fossilised trees, staying in private animal reserves and luxury lodges that are a wonderful juxtaposition to their inhospitable surrounds. End it all at Namib Desert's giant dunes and bright white salt flats, perfectly explored with everything from guided nature walks and horseback rides to hot air balloon safaris.
5. Luxury cruise in the Galápagos islands
Seeing the philosophy-inspiring wildlife of the Galápagos is on many a bucket-list – and for good reason. From either a luxury yacht or wildlife lodge, you'll explore the landscapes and wildlife often heralded as some of the world's most unique. And, from marine iguanas found nowhere else in the world to impossibly giant tortoises, seeing the Galápagos' wildlife is something everyone should experience at least once. Happily, there are a huge array of ways to explore, from wildlife walks and snorkelling trips to glass-bottom boat rides, spotting the likes of sea lions, blue-footed boobies, penguins and more.
6. Bear watching in British Columbia, Canada
The glacier-carved fjords of British Columbia are simply teeming with wildlife, in particular the Great Bear Rainforest, home to everything from grizzly and black bear to orca, humpbacks, eagles and even the ultra-rare spirit bear. Nestled among these thick forests lie luxury lodges that offer some of the world's best bear-watching opportunities, with the likes of specially-built bear viewing platforms and coves that are home to bear-favourites mussels and salmon. It's all taken in with the likes of included boat rides, kayaking and guided nature walks.
7. Safari in Botswana
A safari in Botswana is up there with the world's best. From the gorgeous green flood plains of the Okavango to the elephant-dotted Kalahari, these Big Five-rich landscapes are truly spectacular. There's everything from rhinos to big cats, spotted on the likes of canoe punts, walking safaris and indigenous tribe visits as well as, of course, thrilling game drives. Add in spa-adorned, campaign-furnished lodges and wildlife reserves overlooking private pools, gourmet dining and fine wines, and it all makes for the ultimate safari.
8. A luxury rail journey through southern Africa
Southern Africa is iconic for its wildlife-rich reserves and national parks, but go one up and see it all with a rail journey for the ultimate luxury experience. Rovos Rail, one of Africa's most luxurious trains, will see you relive the Golden Age of rail travel as it sweeps through Botswana, Zimbabwe and South Africa along giant baobab trees, desert swathes and national parks dotted with the likes of lion, leopard, buffalo and herds of antelope. Alongside gourmet dining and all-inclusive drinks in the luxury bar car, guests disembark for the likes of game drives through Zimbabwe's Hwange and Botswana's Chobe National Park, known as the 'elephant park of South Africa'. It's all culminated with a Victoria Falls visit, where everything from nature walks, canoeing and rafting bring you closer to its mighty rush.
Dave Warne is Product Director at The Luxury Holiday Company. The Luxury Holiday Company offers completely bespoke holidays designed to deliver unrivalled luxury, arranged by specialists who have more than 200 years of collective travel experience.
If you would like to be a guest blogger on A Luxury Travel Blog in order to raise your profile, please contact us.