The following post in our regular 'photograph of the week' series was scheduled to appear here many weeks ago, before the impact of the COVID-19 coronavirus was as widespread as it is now. Whilst travel around the world is not recommended right now, we leave this post here as a source of inspiration for something to look forward to once normality returns to our lives.
—
Accessible by seaplane charter, the stunning Four Seasons Seychelles Resort at Desroches Island sits among the top properties of an already impressive brand. This off the grid location ticks plenty of boxes – spacious villas, private plunge pools, pristine beaches, and sunny cabanas. There's even a tortoise sanctuary! Available by private plane transfer, how many resorts have you stayed at that have their own airstrip?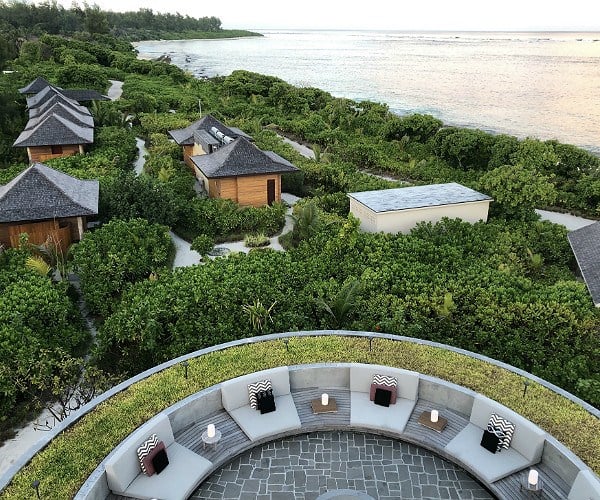 As expected, the Four Seasons offers island luxury with a relaxed approach. The friendly staff immediately greet visitors by name and have golf carts ready as guests step off the airstrip from the short flight from Mahé. There is a quick tour of the lush premises before checking out their accommodation, where any additional paperwork is finalized. Luggage is seamlessly loaded into separate golf carts and meets guests in their villa.
When possible, booking a Sunset Beach Villa is highly recommended. High ceilings (and thread counts), a bathroom that's almost as large as the bedroom, soaking tub, indoor and outdoor showers — these villas even come with a hammock and private beach access. We spy hermit crabs and other wildlife before going for a plunge in our private pool. These villas also include a second level, which is perfect for morning coffees or pre-dinner cocktails. While golf carts are always available to collect guests, bikes (which come with every room) are the primary mode of transportation.
The low number of rooms at Desroches all but ensure a feeling of seclusion. As the property only takes up a small part of the island, embrace your inner adventurer, grab a map, and explore island trails by bike. Pack your bathing suit to go for a quick swim, or jog on one of the many private beaches, all stocked with towels, bottled water, and recreational swim gear. While guests will most likely remain in the privacy of their villas, there are plenty of public spaces, including: tennis courts, an infinity edge pool, an on-site spa, a modern gym, a conservation center, and a water sports center. Diving and snorkeling can be arranged, and sports equipment is available at an additional fee.
Meals can be a romantic affair, as guests can dine beachside at The Lighthouse (but not before stopping for stunning sundowners upstairs). There is also all-day dining at Claudine, which offers a range of international selections, The Deli, which is home to a small sweets shop, as well as a The Bar. Similarly, guests can stop at the Lighthouse Lounge for a cocktail. Finally, there is a small bar at The Castaway, located near the watersports area.
For a resort of this caliber, everything seems to align with expectations. The spa takes offerings to the next level with Connection Ceremonies, Sensory Connection rituals, and visiting masters with some of the industry's leading practitioners who visit the island. Guests would need to check in advance for these visits.
Easier to access than the Maldives, Desroches Island offers levels of privacy and a sense of 'getting away from it all' rarely found in the rest of the world. With a price tag to match, this could be a once in a lifetime getaway. Even on the 'main' island of Mahe, there are very few properties that approach this level of privacy and space. The low number of rooms, stunning location and attentive but relaxed nature of the staff make this a memorable vacation destination.
A pro traveler tip – add this unique destination at the start or end of your stay in the Seychelles to start out with a bang, or end on a high note. Also, try and seek out George, the oldest tortoise on the island, over one hundred years young.
Thank you to Courtney Brandt from A to Za'atar for permission to share the photograph.
If you have a really special photograph you would like to share with A Luxury Travel Blog's readers, please contact us.