Botswana is one of the world's greatest wildlife destinations, and with over a third of the country dedicated to conservation in the form of national parks and reserves it is one of the great wilderness areas of Africa.  The country covers an area of almost 600,000 square kilometres – virtually the same size as France or Texas, but has only 2 million people living in it, compared to 67 million people in France.  Great areas are unoccupied by people and allow animals to roam and migrate naturally, and this leads to some spectacular wildlife sightings in beautiful, unspoilt settings.
It is also a real year-round destination, and whilst most visitors will travel during the May to October dry season, the green season is beautiful with stunning landscapes and plenty of wildlife, and the wetter summer months are the best time to see the zebra migration between Chobe and Makgadikgadi Pans.
These are our top 5 reasons why Botswana should be at the top of your post-lockdown travel list.
1. This is unspoilt Africa
After endless weeks stuck at home, what could be better than to get away to the wide open spaces of unspoilt Africa. Botswana is most famous for the Okavango Delta which is the world's largest inland wetland area comprising of nearly 16,000 square kilometres of lagoons, islands and channels. This great quantity of water attracts a huge variety of wildlife, and the game viewing is exceptional, especially in the May to October dry season when flood waters from Angola force wildlife to concentrate on higher ground such as Chief's Island.
Botswana has always focussed on low impact eco-tourism, and as a result the camps in the Delta tend to be fairly small (most have fewer than 10 tented suites), and are known for their exclusivity and personal service.  This means that whilst it can be fairly expensive to visit the Delta, the area is not as busy with tourists as some reserves in other countries, and this really gives those lucky enough to visit an authentic taste of unspoilt Africa at its best.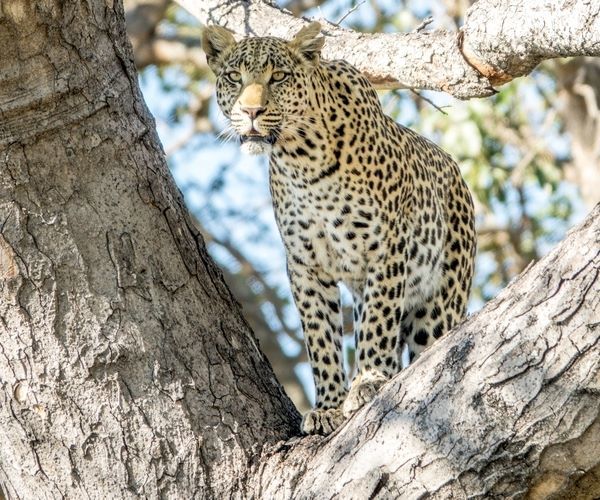 2. Mokoro trips through the the Okavango Delta
A mokoro is a traditional dug out canoe commonly used in the Okavango Delta, and is propelled through the shallow waters by standing or sitting at the back and pushing with a pole in the same manner as punting.  This is a gentle, quiet and unobtrusive way to experience Botswana's waterway wilderness, however tourists are not permitted to punt the mokoros themselves as there are many crocodiles and hippos in the waters here.
A trip with an experienced guide really gives a different perspective on this fascinating landscape, and whilst you would not generally approach larger game in a mokoro you will find that the canoe will drift up silently to birds and smaller animals without disturbing them.
The high levels of water in most areas of the Delta occur after the annual rains, so the best time for a mokoro safari is generally between May and August, although you may be lucky in March and April depending on the rains.
3. The huge elephant population of the Chobe National Park
Nestled in the far north-east of the country, lies the Chobe National Park, covering an area nearly 11,000 square kilometres and made up a variety of habitats, including waterways marshes, riverine forests and dry woodlands. Chobe has the largest elephant population on the African continent and herds of over 200 elephants at a time can be seen during game drives and river cruises.
Spending a few nights in the Chobe area will allow you the opportunity to see these magnificent animals in abundance, especially in the water, from your boat, which is a rare and magical experience. Chobe is also home to a variety of plains game and larger wildlife.
4. Botswana's zebra migration
Whilst many people will be familiar with the great wildebeest migration in Kenya's Masai Mara and Tanzania's Serengeti, the zebra migration in Botswana is far less well known.  The migration occurs between the Chobe National park in the far north of the country, and the Makgadikgadi Pans National Park around 150 miles further south.
Thousands of zebra migrate down to the Makgadikgadi Pans area as the rains start in December and January  bringing an incredible transformation as the normally dry salt pans become lush with nutrient-rich grasses. The herds will stay in this area until around March or April when the rains stop and the grasses start to die, and at this time the zebra will start the long trek back to Chobe and the edges of the Okavango Delta in search of fresh grass again.
During these summer months in the Makgadikgadi, the zebra are joining the resident herds of oryx, springbok and impala, and unsurprisingly predators such as lion, leopard, wild dog and cheetah are also found in large numbers.
5. It's easy to combine Botswana and its neighbours
Whilst there is certainly plenty to do in Botswana to fill your whole vacation, it is also fantastically easy to combine a week or 10 days here with some time in one of  the neighbouring countries.
South Africa is the main transport hub for Southern Africa, so it is likely that your travel arrangements might take you through here in any event.  This could be a wonderful chance to add a few nights in beautiful Cape Town or the spectacular Kruger National Park to your African adventure.
The other popular combination takes advantage of the fact that the main entrance point to the Chobe National Park is very close to the borders with Zambia, Zimbabwe and Namibia.
There are a number of house boats that cruise on the Chobe River and moor overnight on the Namibian side – these offer indulgent, lazy days of gentle sailing and game viewing on the water from your view of your bed.
Alternatively, Victoria Falls spans the border of Zambia and Zimbabwe and can be reached as a day trip from Chobe if you do not wish to overnight at the Falls…although with the range of activities on offer around the Falls, a stay of a couple of nights would be highly recommended.
Paul Campbell is a Co-founder and Managing Director at Travel Butlers. Travel Butlers are specialists in tailor-made safari and beach holidays to Africa and the Indian Ocean.
If you would like to be a guest blogger on A Luxury Travel Blog in order to raise your profile, please contact us.