The pandemic has left each and every one of us adventure-less, but that doesn't mean we cannot explore, discover and learn more about the beauties this world has to offer. After all this is over, all you need to do is plan your next trip to make the dream of adventure a reality.
Egypt has a lot of the hidden treasures that only few people know about. Our target is to reveal them because they are worthy of being seen at least once in a lifetime. One of these treasures is the White Desert, known for its cream color, holding massive chalk rock formations created as a result of sandstorms taking place in the area.
This geographic attraction is located north of the town of Farafra, and also around 500 kilometers away from Cairo. The White Desert is a protected national park stretching out for 300 square kilometers. The sand in the White Desert is filled with a variety of deep-black iron pyrites and other fossils. Discover the inselbergs, which are chalk towers emerging from the desert floor into a beautiful white canyon. Grand boulevards of sand run through those canyons and all of this is located on the west side of Farafra. One of the main attractions in the White Desert is the Twin Peaks which are two flat mountains with a magnificent view from the top. They are one of the most photographed sights in the desert and a popular destination.
At the very end of the White Desert, counting as the main passage into and out of Farafra depression is the Naqb As Sillim. Another few kilometers away, you can see the desert floor changing in color due to being littered with quartz crystals. Many of the rock formations are made of crystal. One of the most famous formations there is the Crystal Mountain, made entirely of quartz crystals.
Beauty found in Farafra
The White Desert is a desolate lunar landscape mesmerizing in every way. The White Desert is a result of microscopic sea creatures living there around 80 million years ago. What you can see now after the disappearance of the sea is a flat valley, interrupted by isolated conical hills due to wind erosions. You might also find fossils, including clams and sea urchins, which is an indication of the habitat it once was.
You can witness different shades and hues depending on the time of your visit. It is recommended you spend either sunset or sunrise to witness a noticeable change in color which is a magnificent sight to see. Check out the arctic appearance under a full moon as well as beauty in a star-lit night sky.
White Desert safari and camping
The White Desert is a spacious area covered in totally white soft sand, and that's precisely why you can go on plenty of activities, including sand boarding, biking and safaris. Rovers go up and down at great speed on high dunes where the cars are going down a slope of almost 90 degrees. You can also ride your mountain bike up and down the soft dunes, but be careful with the speed.
You can also plan a camping trip to the desert, which can easily be incorporated in your tour. Spend the night in your sleeping bag on the soft sand, drink Bedouin tea with the locals and gaze at an unforgettable view of the stars, with a sure chance of seeing shooting stars all through the night. In addition to that, the silence at dusk will make all your worries and stress of day fade away.
Bahariya Oasis hot springs
At the end of your trip, don't forget to visit some of the dozens of hot springs found in Bahariya Oasis, including the famous Valley of El Haize hot spring. The oasis is surrounded by palm trees which you can pick delicious dates from. You can take a swim in the natural springs, but be careful as there is some sedimentation on the floors that may stain your clothes, hands, and feet. It's advised to bring some extra clothes with you when you're there.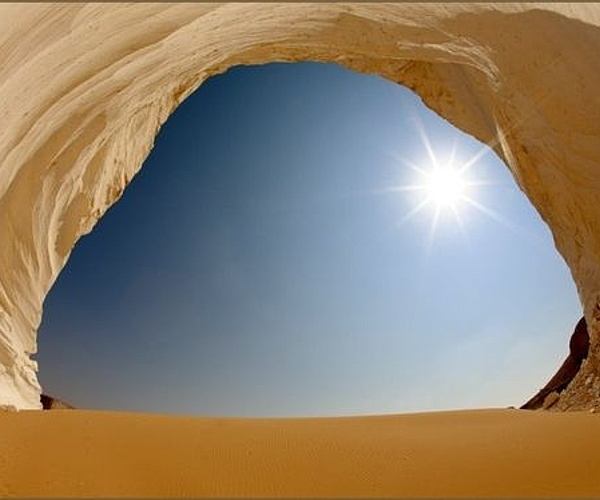 If you choose to visit Valley of the Haize, make sure to pay a visit to El Heiz Water Education Center. This small agricultural village is a space designed to educate engineers, farmers, youth and teachers about reducing water consumption and how to reuse it to produce food. There are many workshops and classes are held free of cost. You will surely leave having learned something new and valuable.
This trip of unforgettable sights and landscapes is waiting for you to discover it. Plan your trip to Egypt and find the beauty which lies in its wide deserts.
Sherif Khalil is Owner of Dunes & Beyond. Dunes & Beyond offers luxury tours, Nile cruises and desert safaris in Egypt.
If you would like to be a guest blogger on A Luxury Travel Blog in order to raise your profile, please contact us.