At the very southern tip of Bali, along the fringes of the Bukit Peninsula, is a landscape whose marvels obscure the boundaries between reality and cathartic dreams. Uluwatu, as the place is called, literally translates "land's end rock". This area is a vast stretch of coastal limestone cliffs, rising up to 230 feet above the majestic waters of the Indian Ocean.
Precarious as the setting may seem, dotting its very edges are some of Bali's most iconic cultural sites and most coveted luxury resorts and private villas. Discover our list of the most spectacular clifftop vacation homes on the most dramatic side of Bali:
Villa Ambar
First on our list of clifftop Bali villas is the resplendent Villa Ambar. This 5-bedroom property is one built to evoke a feeling of royalty with its marble-white floors, intricate woodcarvings, and stone works. Accompanying its classic decorum are modern luxuries for its guests including a stylish media room and built-in sound system.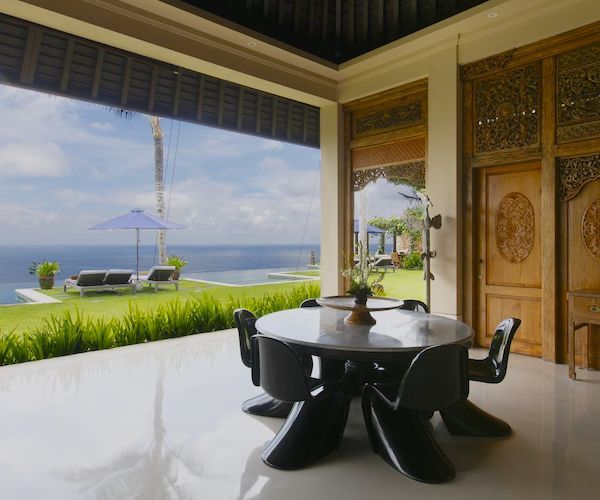 A crystalline 18-meter long infinity pool forms the cliff edge of the property offering occupants a breathtaking view of the vast ocean and the waves crashing into Uluwatu's cliff face. Verdant gardens and outdoor baths fill the exterior space while the master bedroom features a spacious terrace that comes with an outdoor bed.
Villa Pawana
From its traditional Balinese front entrance, Villa Pawana takes its guest into a central walkway surrounded by tropical vegetation. Rather than a singular structure, the property is laid out as a cluster of bungalows housing dining and living areas, a media room, and five ensuite bedrooms all featuring its a private outdoor garden bath. The master bedroom comes with the extra pleasures of an ocean view and a private pool.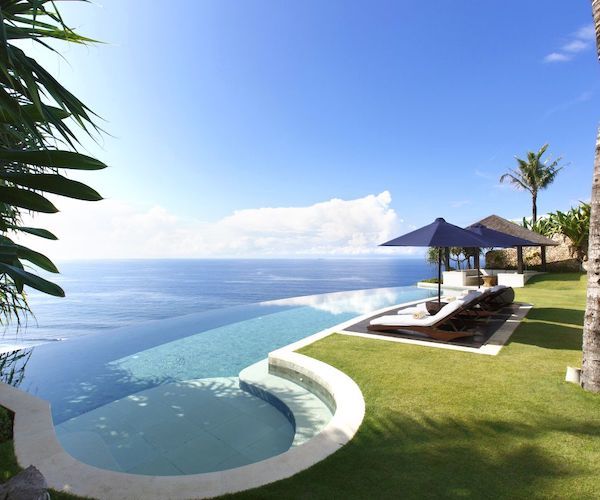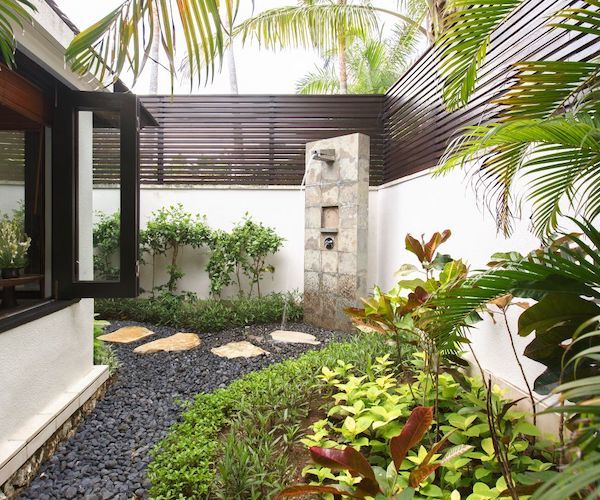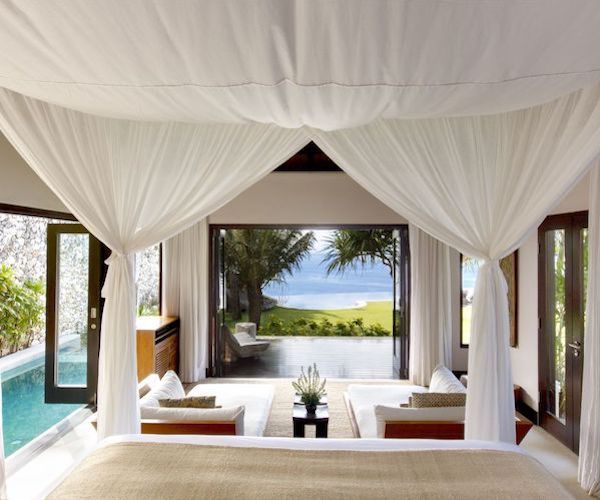 At the very end of the aisle path, greenery gives way for a magical explosion of blue. A curving infinity-edge swimming pool blurs the boundary between its waters and the glimmering ocean, and above its horizon, the sky blankets the entire scenery in a vibrant azure.
Villa Jamadara
Like many vacation homes in Bali, Villa Jamadara offers a generous provision of open spaces. Manicured gardens cover most of its land area while its interiors blend elegant white surfaces and handsome dark wood. The majority of its walls open completely, allowing guests to fully savor the tropical outdoors.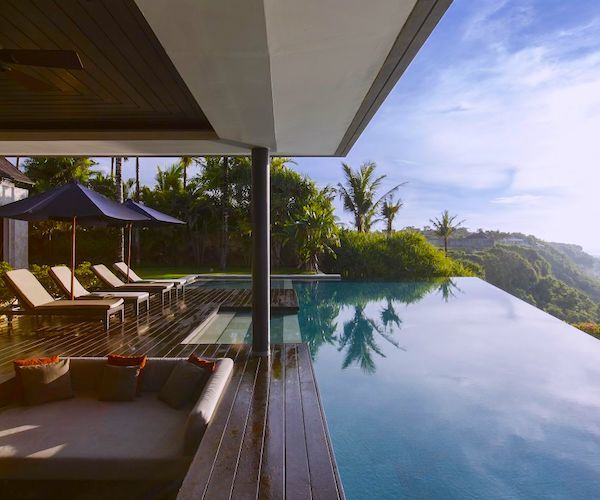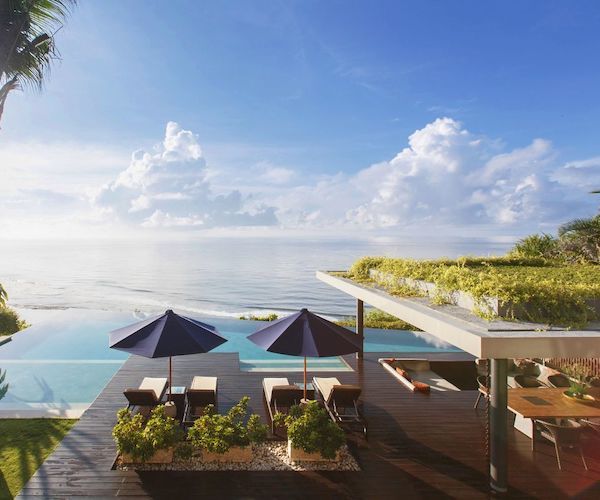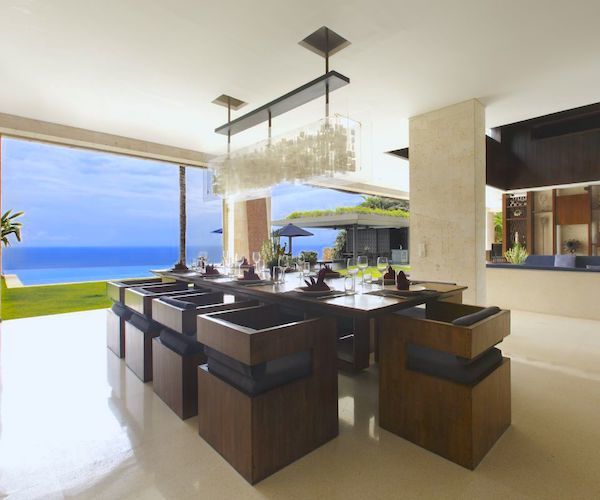 The central area is built as an open-plan pavilion gazing straight into the waters of the Indian Ocean and the distant forested limestone cliffs. A separate poolside dining area with sunken lounge areas present a perfect venue for al fresco dining. And right beside it, the villa's infinity pool spreads out covering most of the property's entire width.
Villa Chintamani
No other property in our list is as expansive as the mesmerizing Villa Chintamani. Covered in lush gardens with a brook flowing through the very land, this villa is 1,400 square meters of sheer Balinese paradise. The very edge of the property, where the brook water flows into, is a cliff edge leading down to the ocean.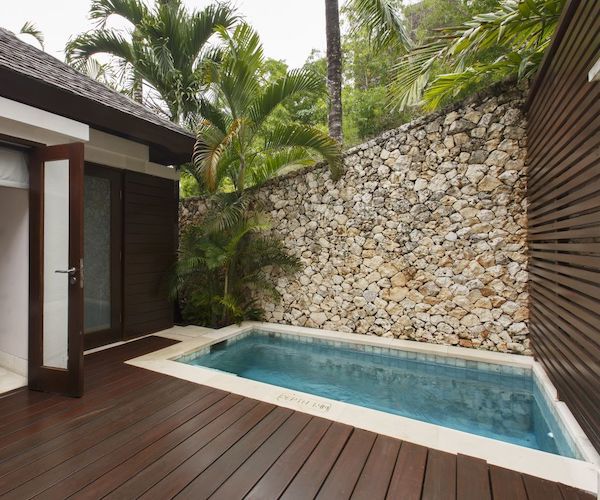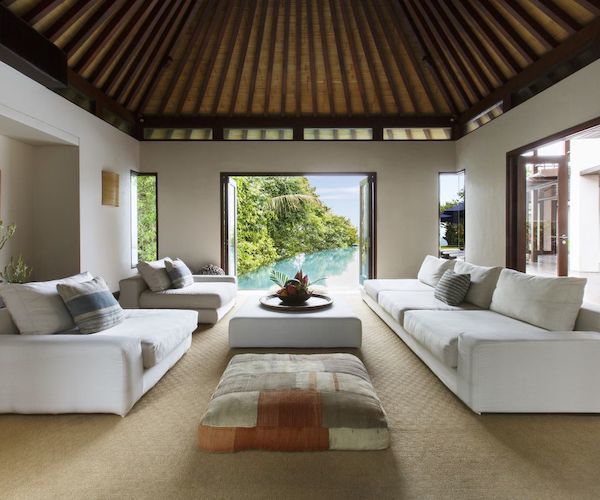 This villa complex is a collection of bungalow units, five of which are lavish bedroom suites all featuring their very own bathtubs and outdoor plunge pools. In addition to these privately enjoyed luxuries, Villa Chintamani also comes with a bar, a media room, and a study room. A 22-meter long infinity pool runs lengthwise across the property with one side providing a picturesque view of Bali's southern skies.
Villa Tamarama
Villa Tamarama offers a distinctly different charm with its Caribbean-colonial design yet with the same scenic spectacle. From its vaulted wooden ceilings and European style windows to its diagonal cross porch railings; this vacation home is a true statement of rustic luxury. Facilities include an entertainment room, a media room, and a gorgeous swimming pool area complete with a poolside lounge and an elevated open-air dining deck.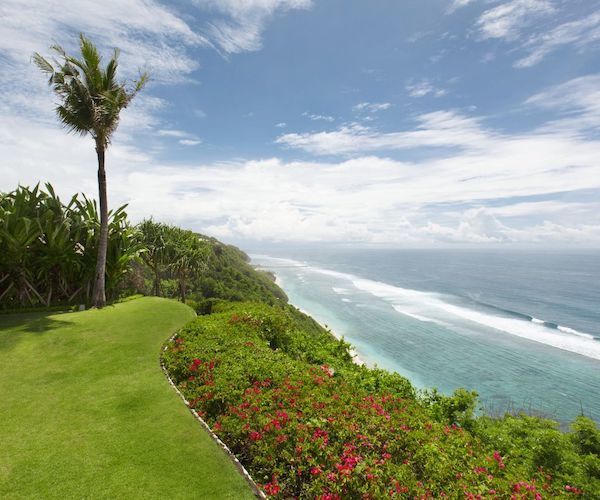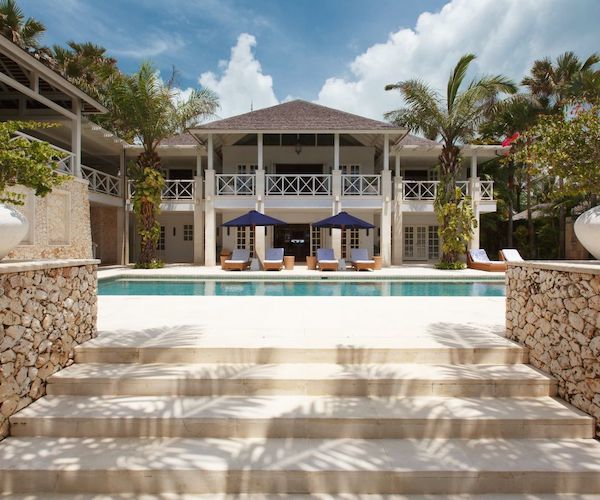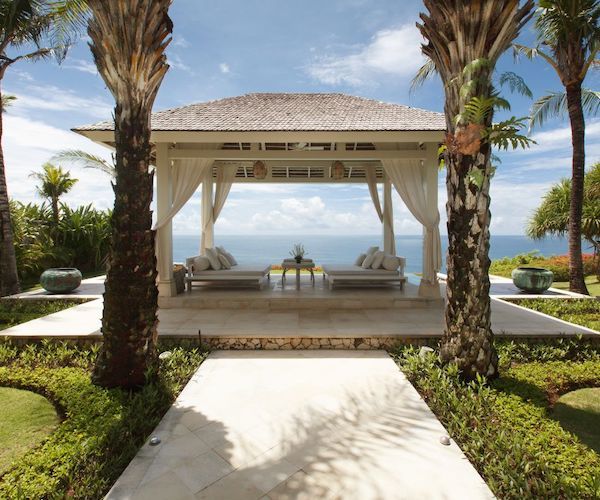 Five individual bedroom suites provide accommodation to guests, all built with outdoor garden showers and private bathtubs. At the oceanfront of the villa is a separate pool pavilion presenting a romantic backdrop for villa weddings, looking out into the endlessness of the ocean waters.
Villa Santai Sorga
The hacienda-inspired Villa Santai Sorga is another clifftop mansion that embraces guests in an atmosphere of classic opulence. Contrasting hues of dark antique wood and clean white elements define its interiors. Fascinating pieces of cultural artistry adorn the entire villa with floor to ceiling windows framing the lively colors of the surrounding gardens.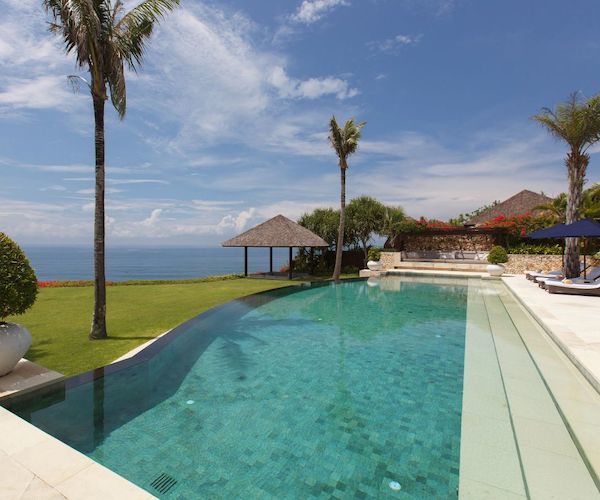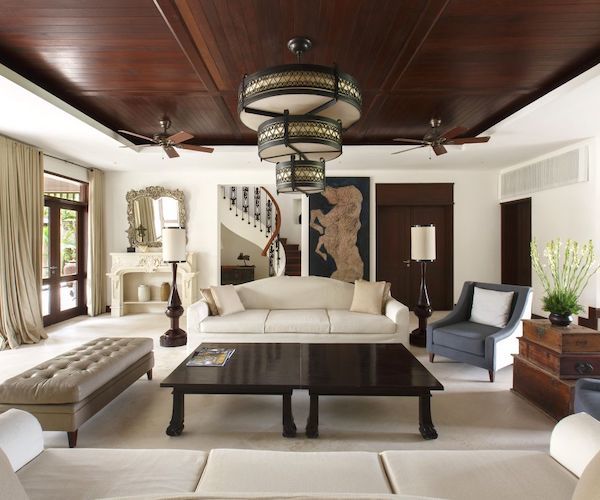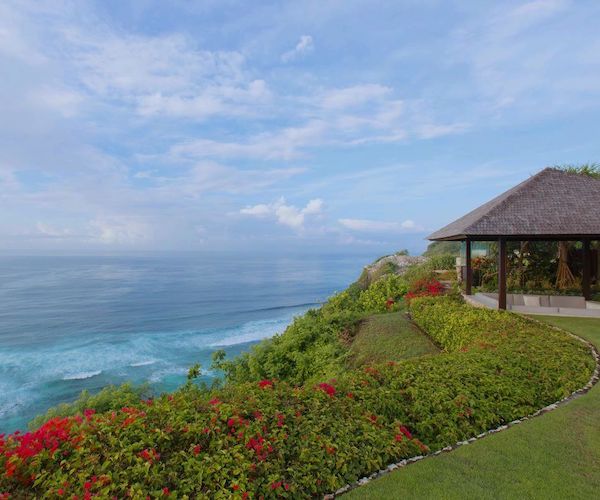 Santai Sorga's highlight is its D-shape infinity pool built alongside an open-air dining pavilion and bar. A spacious lawn extends from the pool to the cliff edge. And on one corner, a sunken lounge bale stands on the clifftop, a place for gatherings while breathing in the view of the stunning oceanfront.
Villa Nora
Last on our list is a villa that harmoniously blends various building elements and sophisticated details to create a vacation haven of diverse beauty. Villa Nora is an orchestrated patchwork of wood deckings, stone walls and pavements, luxuriant gardens, and water features.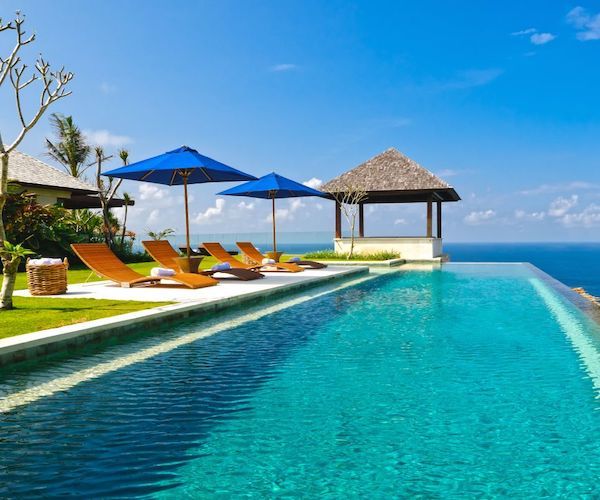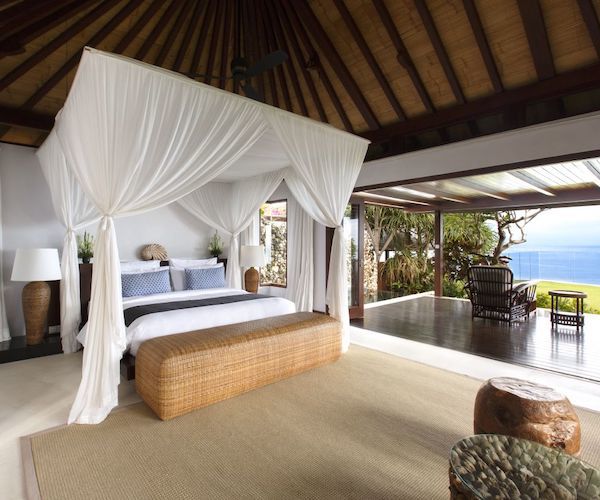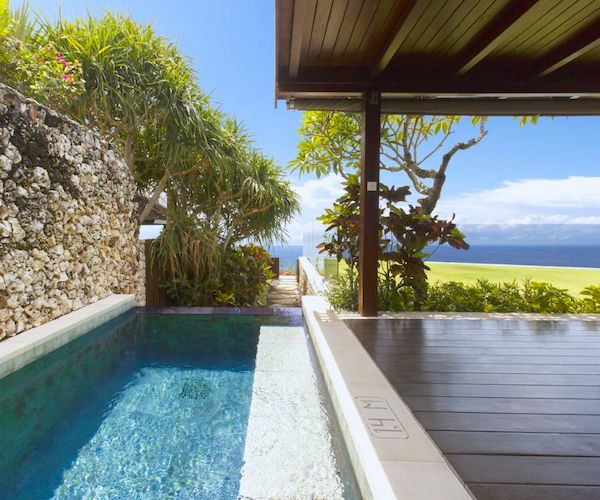 Accommodations come in five well-appointed bungalow bedrooms all having their own private gardens, ensuite bathtubs, and iconic Balinese-style four-poster beds. Guests also enjoy in-villa facilities including a theater room, a bar, garden baths, a plunge pool, and a 24-meter infinity pool all the while basking in the awe-inspiring clifftop panorama of Uluwatu.
Silvan Kitma is General Manager of The Private World. The Private World is a villa rentals company offering some the most top-rated luxury vacation home rentals in the world's top tourist destinations.
If you would like to be a guest blogger on A Luxury Travel Blog in order to raise your profile, please contact us.