On the north western coast of Croatia, the Istrian Riviera is an exceptional region sprinkled with charming villages and national parks where a blend of rich history and vibrant culture thrive. As Croatia remained relatively unaffected by the Coronavirus crisis and has been one of the first countries to reopen to yachting and international travel, this lesser-visited peninsula is an ideal location to discover the natural delights of secluded anchorages and hidden coves on a relaxed and fascinating yacht charter.
Umag
Known as the Croatian gate to Europe, and just 10km from the Slovenian border, westernmost Umag is dotted with ancient architecture, such as the 10th century town walls and ornate Venetian villas. History enthusiasts will enjoy St Mary's Church with its baroque façade and bell tower, while the town museum, a former defence tower, displays a variety of Roman amphorae and lamps. On the coast, visit Saint Pelegrin Church, first mentioned in 1106 where folk tales state that Saint Pellagio walked here, and his steps can be seen in stone when the tide is low.
Umag town itself is backed by verdant hills delivering magnificent views over the sprawling marina where moored yachts are ringed by a long sea wall constructed in the 1800's. Take time to wander the narrow, cobbled streets of the compact old town at ease, strewn with friendly restaurants and shops selling regional olive oil and wine. A water sports haven, the clear waters here are perfect for scuba diving, kayaking and fishing. In neighbouring Savudrija, visit the oldest lighthouse in the Adriatic or snorkel off the beach at Zambratija to view a shipwreck teeming with corals and crabs.
Novigrad
Retaining the intimate and irresistible charm of a typically peaceful Mediterranean fishing town, Novigrad is an enchanting destination, known locally as Cittanova. On the eastern side of the bay is the well-equipped Marina Nautica, offering easy yacht berthing to enjoy the delights ashore. Situated on the north side of the Mirna River, Novigrad is filled with historical sights, rich cultural heritage and preserved natural beauty. It is also a top Istrian gourmet destination offering excellent cuisine, most notably delicious fresh fish. Novigrad old town is dominated by the bell tower at St Pelagio and St Maxim's Church, modelled on St Mark's campanile in Venice. This exceptional three-naval basilica, with the only early Roman crypt in Istria, is set in the main square and hosts a variety of regional festivities and ceremonies. Nearby, pebbly and secluded Karpinjan Beach is bordered by Mediterranean pines in a beautiful setting, while the sandy beach at Lanterna is popular with families.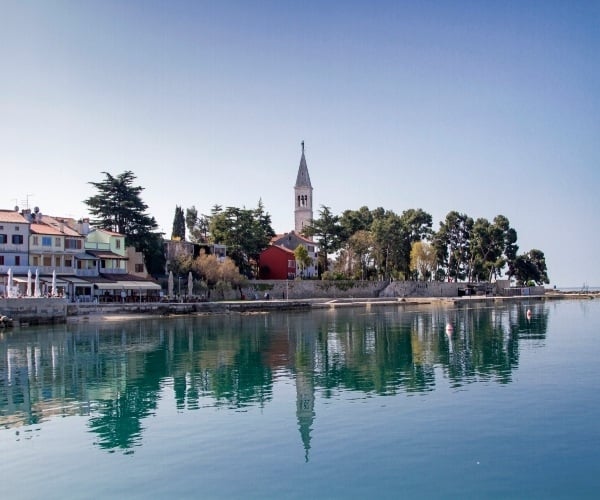 Poreč
A truly authentic Croatian town, Poreč features a tranquil harbour, protected by the island of Saint Nicholas. Home to the stunning 6th century Euphrasian Basilica, a UNESCO World Heritage site, the town's vibrant heritage is reflected amongst the varied architecture with examples of Roman, Byzantine, and Venetian structures. Poreč's maze of narrow, cobbled streets is a car-free zone, dotted with quaint shops, churches and restaurants, a lovely place for a relaxed stroll.
The two large bays south of the main town are Zelena and Playa Laguna, each offering a host of activities, scenery and entertainment. With a mostly rocky coastline, beaches here are generally pebbly, however, some have been artificially converted to sand for visitors' comfort. Watersports are popular, with many bays offering idyllic spots for yachts to drop anchor and enjoy water-skiing or jet skiing, and the countryside surrounding Poreč offers thrilling bike trails and gorgeous scenery. Take a short trip to the nearby Baredine Caves, home to a breath-taking display of stalagmites, stalactites and an underground lake.
Vrsar
Made famous by Casanova's legendary adventures in the 18th century, as he stated that Vrsar was the "town of good wine and beautiful women", this former fishing village once became a summer residence for the bishops of Porec in the Middle Ages and now plays host to those looking for tranquil relaxation amidst natural beauty. Set hillside and surrounded by beautiful islets, Vrsar boasts legendary sunset views. Explore the atmospheric old town with winding streets and old stone houses, then take in the timeless charm of the seafront promenade and pretty marina.
Visit the entirely fascinating Dzamonja Sculpture Park, follow seaside cycle paths towards scenic Lim Bay with its stunning fjord or dive the 20+ fascinating underwater reefs off the coast. The small airport here provides the unique opportunity to take a panoramic flight over the area and admire the splendour of this region from above; alternatively, there are options for skydiving.
Rovinj
Charming and colourful, medieval Rovinj is Istria's headline attraction, said to be one of the most romantic places in the Mediterranean. In the car-free old town, the soaring spire of St Eupehemia's Basilica rises in majestic grandeur over the sea of terracotta-tiled roofs and cobblestone streets below. Wander through the Balbi Arch into the heart of the town where a maze of winding alleyways is adorned with gothic carvings and intimate piazzas teem with rustic seafood taverns and art galleries. Surrounded by low hills dotted with stuccoed Italian-style properties, the shoreline is framed by the beautiful islands that form the Rovinj archipelago. Sail over to verdant Katarina Island, directly opposite, offering fabulous views and hidden coves, or escape to the forest park of Punta Corrente, a sanctuary of natural calm blessed with pine-fringed walks and cycle paths.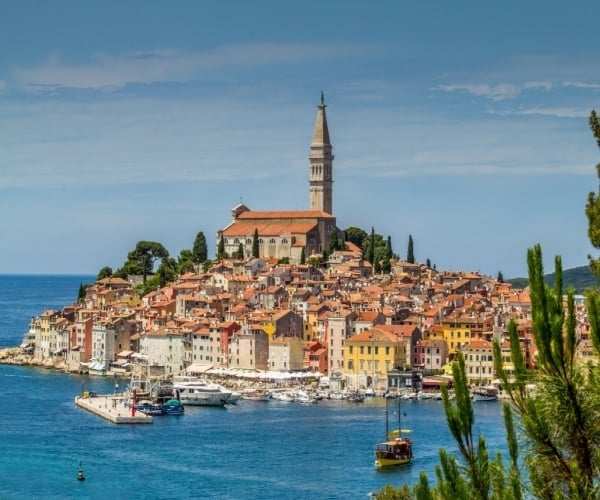 Fažana and Brijuni Islands
A pearl on the west coast, Fažana is a charming fishing village, and the starting point to access the national park of the Brijuni Islands. In the old town, the parish church of St Cosmas and Damian and St Mary of Mount Carmel are fascinating cultural visits to understand the provincial heritage. The vibrant port and seaside promenade would normally host a variety of summer festivals, the oldest and most famous is the 'Party of Mackerel' renowned for fish carrying contests, while Istrian folklore dancers bring lively entertainment during 'Fažanski Tanac'. Gastronomy is an important regional feature and restaurants serve delicious local fare, particularly fresh seafood. The neighbouring Brijuni Islands are an extraordinary blend of natural, historical and cultural beauty. This national park encompasses over a dozen magnificent islands situated across the Fažana Channel where Veliki Brijun, the largest inhabited isle, has archaeological ruins, a safari park and landscaped gardens to visit.
Pula
One of the largest Croatian towns, bathed in a wealth of ancient history, capital city Pula is located on the southern tip of the Istrian peninsula. The well-preserved UNESCO amphitheatre of Pula Arena, built in the 1st century AD, is one of the world's largest surviving roman amphitheatres, once used for gladiator fights and now the centre of city life, hosting events and festivals. There are a wide variety of beaches found around Pula, with family friendly, blue-flagged Ambrela a popular choice thanks to crystal clear shallow waters and velvet sands.
Venture further south and the pretty coves of Kamenjak Cape natural park are a yachting paradise, dotted with quiet beaches and hotspots for scuba diving, plus a myriad of excellent biking and hiking trails. Take advantage of kayaking to explore the coastline from a different perspective. Nearby the family-oriented resort of Medulin is famed for the 1km sandy stretch of Bijeca Beach, with shallow waters perfect for children.
Rabac
Blessed with picturesque coves lapped by crystal clear waters, the small town of Rabac is an oasis of peace on the easternmost Istrian Riviera. With award-winning olive oil produced by the local Belic family, not to mention the delicious labinski krafi desert, Rabac is certainly the place to linger over a meal. The waterfront promenade springs into life every evening, with seats at an array of excellent seafood restaurants being highly sought after. The area boasts no fewer than four stunning Blue Flag beaches, with the top pick being Girandella in Kvarner Bay, fringed by fragrant pine trees and with white pebbles providing a perfect spot to relax. Popular with hikers, one of the provincial trails leads walkers through pine filled forests and past the mysterious Negri's Cave to the colourful hilltop town of Labin. If you feel like getting back to nature, cruise over to explore the unspoiled delights of nearby Cres island, home the rare griffon vulture and a myriad of flora and fauna amidst spectacular trails.
Lesser known than some other areas of north and south Croatia, but certainly packing a scenic punch, it is clear to see that the Istrian Riviera has a great deal to offer. The history, gastronomy and activities that flourish in this understated locale make the peninsula a perfect summer yacht charter destination.
Nicholas Dean is Managing Partner of Ocean Independence. Ocean Independence is a global leader in luxury yachting, providing a bespoke experience across yacht charter, sales and management.
If you would like to be a guest blogger on A Luxury Travel Blog in order to raise your profile, please contact us.