By
Lisa Mallett
on Jul 11, 2020 in
Accommodation
,
Attractions
,
Canada
,
Food and Drink
,
Going Out
,
Hotels
,
North America
,
Regions
,
Restaurants
,
Travel Miscellany
I consider myself a very lucky woman to be living in one of the most beautiful places in the world in my humble opinion. I live in Niagara, Ontario, Canada and as some of you may or may not be aware this is wine country. Niagara Peninsula is the largest wine producing region in the country, with 101 wineries in the region producing around 2 million or more nine-litre cases of wine per year! The reason for this is that we have a remarkable grape-friendly microclimate and ideal soil conditions among other reasons that I will not bore you with. Suffice it to say that our wines are high quality and world renowned, and we are best known for our ice wines which are harvested during our cold Canadian winters.
As wine lovers my husband and I have explored many of these wineries and as luxury travel lovers ourselves I certainly feel somewhat qualified to offer advice on the places that I will recommend to luxury travel lovers such as us; all of which we have experienced first hand.
My first recommendation for this beautiful area is to spend a night or two right on the wine route, in this case located on the absolutely stunning Niagara Parkway. The Niagara Parkway is an incredibly scenic road running along the Niagara River from the town of Fort Erie to the town of Niagara-on-the-Lake in Ontario, Canada and I cannot emphasize enough just how stunning this ride is; in fact it is among one of the most scenic roads in the world, most especially the portion from Niagara Falls to Niagara-on-the-Lake. You will have views of the stunning Niagara River as well as multi million dollar homes that are incredibly pleasing to the eye! So without further ado let me get to my recommendations.
Riverbend Inn & Vineyard
My pick for this part of your stay is the Riverbend Inn & Vineyard. Your first glance of this Georgian Mansion surrounded by 17 acres of vineyards, manicured lawns and gardens will take your breath away; with elegant rooms and suites, an elegant restaurant serving 4 diamond cuisine and open for breakfast lunch and dinner, a patio in summer with spectacular views, a gazebo overlooking the vineyards available for a romantic dinner for 2 and an antique bar as well as wine tastings, you will never want to leave!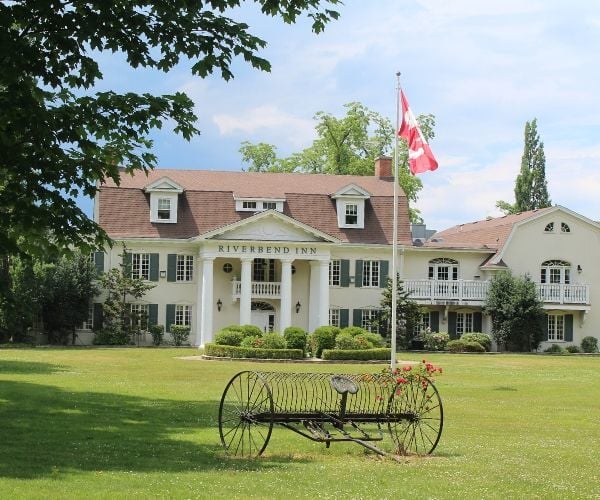 Whilst staying at Riverbend may I suggest that you visit a few wineries that are very close by; in my opinion the ones that I am going to suggest are the most beautiful in the immediate area and the wines are high quality and delicious.
Peller Estates
The first winery I am recommending is Peller Estates; a family owned Canadian company for four generations it is a spectacular winery with amazing views of the vineyards from the 5 star restaurant and outdoor grill in behind featuring vine-to-table dining and thoughtfully selected VQA wine pairings from the cellar, this one is a must see!  Something very unique about this winery is that you can take a tour of the igloo-like lounge, the 10Below Icewine Lounge.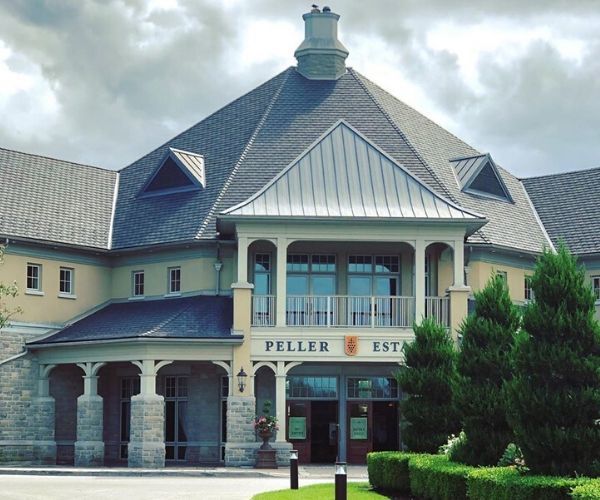 Two Sisters Vineyards
Practically right next door to Peller Estate Winery is my next recommendation and it is one of the most elegant wineries I have ever visited.  The magnificent tree lined grand driveway will give you your first feeling that you are about to discover something incredible at the end and most definitely you will not be disappointed when you arrive.  This winery is Two Sisters Vineyards, a relatively new winery that has certainly set a high standard for any other wineries; winning "Small winery of the Year" in 2018 by WineAlign's National Wine awards of Canada.  The two sisters who own this winery have certainly achieved major success in a very short time.  The property also features a beautiful restaurant with fine dining known as Kitchen 76, and I can tell you from personal experience that you will not be underwhelmed with your experience at this incredible winery!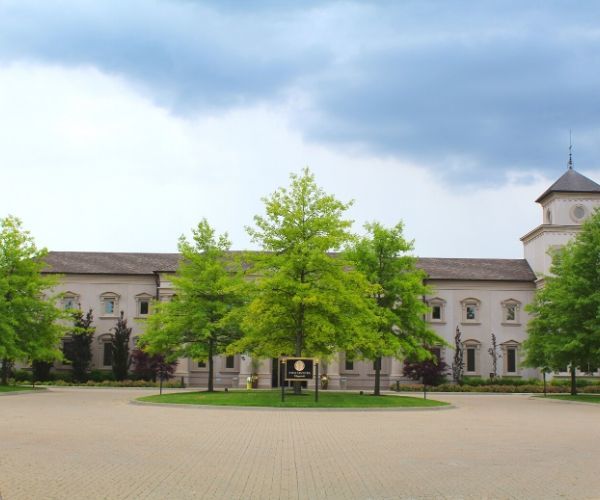 Château des Charmes
My final pick is Chateau des Charmes, a picturesque winery that always makes me think of French castles and grandeur; it was founded in 1978 by Paul Bosc, a fifth-generation French winegrower whose idea was that growing their own grapes was the best way to make fine wine.  To this day they still believe in the Estate Winery model and make their wine only from grapes they have grown themselves.  This gorgeous winery does not have a restaurant but their wine selection will certainly make up for that; it is one I recommend you include on your itinerary.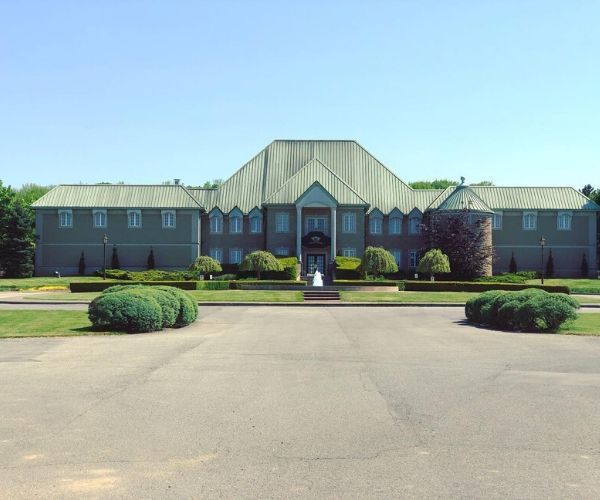 Now a visit to Niagara-on-the-Lake would not be complete without seeing and experiencing the area known to some as "old town", so my next recommendation is to spend a couple to a few days right in town.  This charming little town is set on the shores of Lake Ontario, one of the Great Lakes of North America and I believe you will fall in love with this town as so many before you have, including myself.
Prince of Wales Hotel
The property I am recommending for this is The Prince of Wales Hotel, a 4.5 star hotel that is located at the very heart of this incredibly charming town; you will be within walking distance to shops, restaurants, theatres and pubs.  The hotel itself is ornate with lavish period decor, offers a Victorian-inspired afternoon tea in the Drawing Room, a fine dining restaurant and a beautiful serene spa; you may never want to leave the hotel!  However, you must, as there is so much to discover in this pretty little town.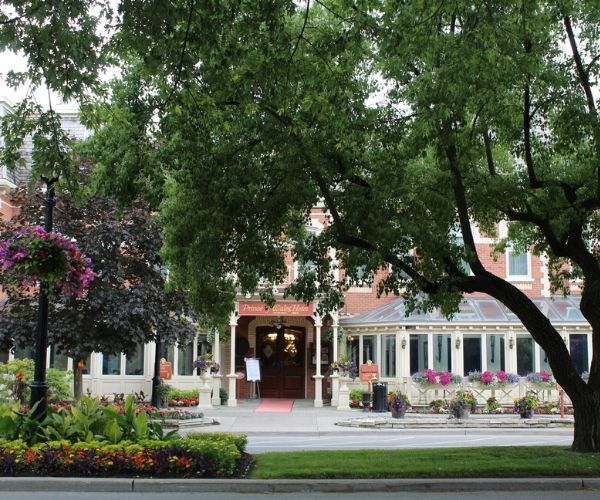 Horse and carriage ride
Your stay would not be complete if you did not take a tour on the horse and carriage that is literally parked right outside of the hotel.  You can choose a 30, 45 or 60 minute Carriage Tour and the company that offers them is Sentineal Carriages Inc.  You will get to see so much beauty on this tour and what a wonderful way to explore!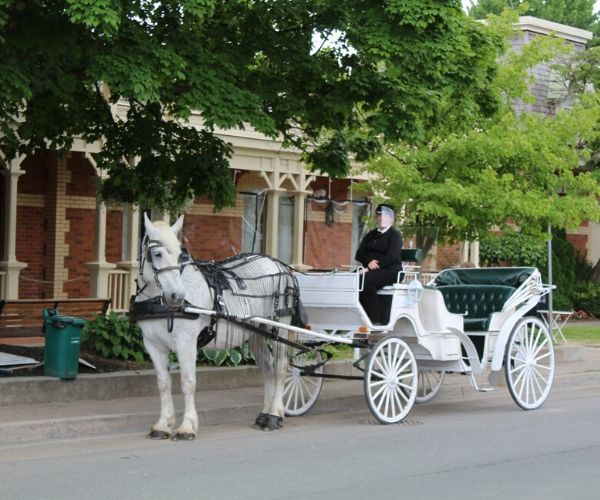 Shaw Festival Theatre
Do you enjoy Live Theatre?  If you do you are most definitely in for a treat by attending one of the performances at the Shaw Festival Theatre.  The Theatre is located just down the street from the hotel which is easily walkable.  This is a world class theatre, it is a flagship 856-seat theatre complex staging plays written & inspired by George Bernard Shaw.
Zees Grill
After the show you may be hungry and conveniently located directly across the street from the theatre is a pretty little restaurant called Zees.  It has a beautiful outdoor patio so weather permitting you can sit and enjoy a meal and beverage while people watching to your hearts content.  It is an upscale modern bistro & bar which serves New Canadian dishes, I assure you it will be amazing.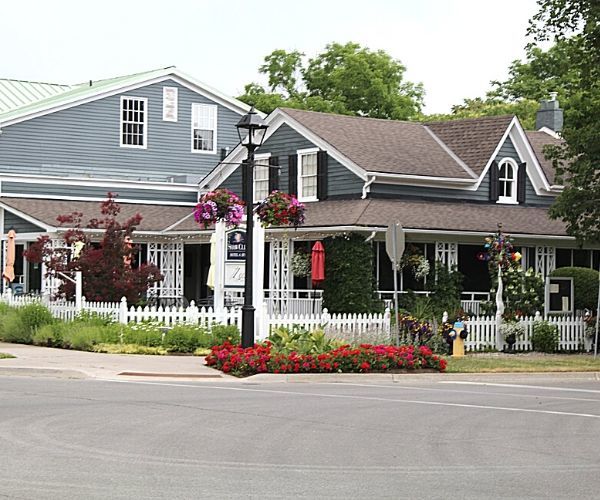 Explore Old Town Niagara-on-the-Lake
The last thing on the list for today is to make sure that you take them time to explore the town.  Step out of your hotel and take a stroll up and down the main street which cannot be missed; there is a beautiful clock tower in the middle of the beginning of the street.  Along each side you will find unique shops, restaurants, ice cream eateries, as well as some stores offering wine tasting!  I truly hope you enjoy your stay and if you have any further questions please do not hesitate to reach out with your comments; after all I am a local.