If you are on your Gran Canaria holiday, and are staying in the capital – Las Palmas – you probably want to pack in as much as possible during your city and beach break. From a golden sandy beach, to lush gardens, you can easily explore this city on foot.
Gran Canaria is one the most popular of the Spanish Canary Islands. The airport is located approximately 30 minutes from the heart of the capital, so it won't be long until you're settled in your hotel ready to explore what this destination has to offer.
There are many things to see and do on your Las Palmas holiday, but we've brought you just 5 that we believe you should not miss. Of course, with the Covid-19 situation, you may find certain restrictions in place regarding social distancing, number of people permitted in attractions, and some may even have reduced opening times.
Casa de Colon
Walk in the footsteps of Christopher Columbus. He stayed here whilst waiting for repairs to be completed on his ship during his first voyage in 1492. The house was originally built in the 15th century and later restored in the 18th century. It is now an excellent museum.
On your visit here, expect to see a life size replica of parts of the ship – la Nina. Also on show are some of this explorer's charts and navigational instruments, together with a copy of the 1494 Treaty of Tordesillas. This treaty divided the nearly discovered lands outside Europe between Spain and Portugal. You will also find references to the history of Las Palmas, and a good selection of paintings dating as far back as the 16th century.
Museo Elder
This is a wonderful science and technology museum with over 200 exhibits. Many of the exhibits are fully interactive, where touching the exhibits is encouraged. An excellent place for children and adults to learn about mathematics, biology and technology.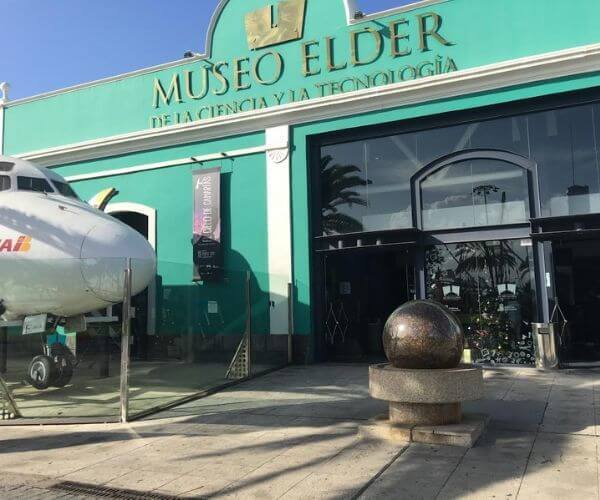 Included in the exhibits you will find a planetarium and a glass house with Canaries ecosystems. Museo Elder is open Tuesday to Sunday and is located in the central Santa Catalina Park
Parque de San Telmo
Take life at a more sedate pace, and visit this lovely park full of palms, and places to rest. A green Oasis in the middle of the city! There are plenty of opportunities to sit and watch the world go by.
The park is famous for its kiosk cafe which is decorated in Art Nouveau style with ceramic tiles. Selling hot and cold drinks together with snacks. It is also famous for its small church the Ermita de San Telmo (the patron saint of fishermen). Smaller children will enjoy the playground nearby with the normal swings and slides.
If you are visiting Las Palmas around Christmas time, then the children will undoubtedly enjoy the parks mini fun fair. The park is located next to the bus station of San Telmo, just to the north of the Catedral de Santa Ana.
Playa de las Canteras
You wouldn't really expect to be able to spend time on a beach whilst you were on a city break. However, Las Palmas is famous for its main beach – playa de las Canteras – which is 3 km long.  Beware though as the beach can become crowded during the summer months.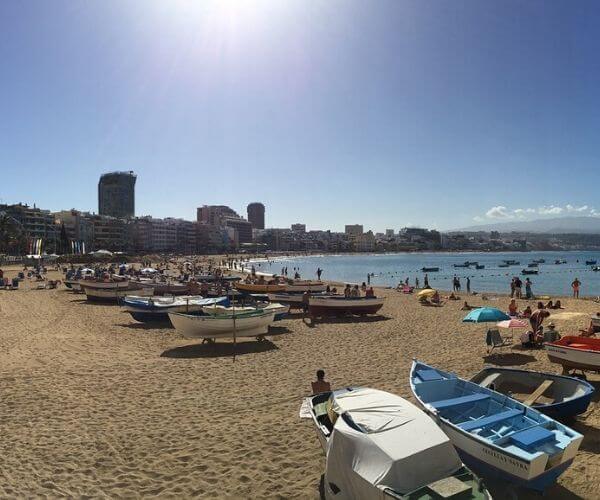 With Gran Canaria benefiting from all year good weather, you may find you spend more time on the beach than first anticipated. The promenade behind the beach is a great place to take a walk during the warm evenings. Stroll past coffee shops fresh-fish restaurants, pavement cafes and ice cream parlours. This is also a favourite place for cruise ship passengers as the ships dock just five minutes away.
Pueblo Canario
Whilst you are in the heart of the city take a stroll around Pablo Canario. This is a recreation of a traditional Canarian village. You can find live performances of Canarian folk music, including instrumental tunes, singers, and dancers in traditional costume.
All this happens every Thursday afternoon, and Sunday morning. Take advantage of the tables on the outdoor pavements, and watch the proceedings in comfort. You may even be encouraged to join in the dancing. You will need to get here early in order to get the best seating areas. Whilst here you can also visit one of Las Palma's galleries – called Museo Nestor.
Of course, during your stay in the city of Las Palmas, you will require hotel accommodation. The city does have a good number of four, and five-star hotels. Below are 3 that may be of interest to you.
Santa Catalina a Royal Hideaway Hotel : 5 Star
Located in the centre of Las Palmas with wonderful views, and surrounded by gardens. The hotel is in Doramas Park. The hotel's history dates back to 1890, and complimenting the historic features of the hotel, you will find luxurious rooms, and facilities that are second to none. For an added touch of luxury why not stay in a suite where you will benefit from access to the rooftop infinity pool. The hotel is close to the Marina, and within the immediate vicinity you will find Pueblo Canario, Museo Nestor, and of course Doramas Park – a wonderful place to relax.
The hotel has three bars including a cocktail bar, pool bar, and piano bar together with 4 restaurants serving a range of Spanish, local , and international cuisine. You will find a large outdoor swimming pool with complementary pool towels. There is also a gymnasium available to adult guests. The hotel has just over 200 dreams over 5 floors.
Design Plus Bex Hotel : 4 Star
Totally different to the Santa Catalina is the Design Plus Bex hotel. This is a stylish boutique-style hotel with designer interiors. Located within a short walking distance of Playa de las Canteras beach, this hotel is ideally situated for you to explore the city.
The hotel has a lobby bar, rooftop bar, and a buffet restaurant. There are just under 100 rooms located over 11 floors. If you are feeling active then you can use the air conditioned gym, but please note this hotel does not have a swimming pool. However, it does have a rooftop sun terrace with a small number of sun loungers.
Reina Isabel Hotel : 4 Star
This four-star hotel is also located in the heart of the city. You will be ideally located near to the Las Canteras beach, as well as a good variety of shops bars and restaurants. This hotel has a rooftop pool with panoramic views, as well as a gymnasium.
The pool area is surrounded by sun beds and parasols, as well as complimentary pool towels. The main restaurant serves breakfast and dinner. There is also a restaurant serving international cuisine for lunch and dinner located on the rooftop terrace offering wonderful views. You will find a pool bar as well as a beach bar. The hotel has 225 rooms located over 8 floors.
Of course, with all hotels during the Covid-19 situation, you may find certain facilities unavailable such as gym and spa facilities. Hotels are also tending to have social distancing measures around the pool area as well as in their bars and restaurants. You may find buffet meals are already plated for you. Hotels currently have masking procedure in place at reception, and when you enter bars and restaurants.  You may also see signage showing the flow of guests around the hotel.
Las Palmas is an ideal destination for holidaymakers seeking the best of both worlds – a city and beach break. The difficult decision is whether to stay for a long weekend break or longer.
Gail Hewitt is Owner and Director of Corona Holidays. Corona Holidays are specialists in tailor-made holidays to the Canary Islands, Balearic Islands, and European city breaks.
If you would like to be a guest blogger on A Luxury Travel Blog in order to raise your profile, please contact us.