Indonesia is one of Asia's most sought after destinations. And rightly so – with over 17,500 islands which stretch across 5,000 km (that's from Malaysia to the tip of northern Australia), the world's largest archipelago offers a greater variety of sights, sounds, cultures and customs than anywhere else on the planet. From volcanic backdrops and dramatic temple ruins, paradise beaches and world-class diving destinations, idyllic islands and beautiful wildlife, seductive hotels and luxury yachts, here are 21 unmissable sights to see on a luxury tour of Indonesia.
Quiet relaxation: Gili Meno Island, Gili Islands
If you're in search of a picture-perfect tropical island with sparkling azure waters, then a visit to the idyllic island of Gili Meno is number one on the list. Part of a three-island mini archipelago, just off the shores of Lombok, Gili Meno is the smallest and by far the most peaceful, with fewer tourists and arguably a more authentic Indonesian atmosphere that the other two islands. Whilst the landscape of this island is undeniably breathtaking, it is the underwater world offshore that remains the real gem of this archipelago. Head to Turtle Point for a chance to see sea turtles or to the southern part of the island for totally undisturbed beaches.
Buddhist pilgrimage: Borobudur, Java
The extraordinary temple complex of Borobudur is often said to be 'the Angkor Wat of Indonesia' and is the world's largest Buddhist temple. This majestic 9th Century Buddhist shrine has survived terrorist attacks, earthquakes and volcanic eruptions, and yet, this huge monument still stands with grandeur. Stay at the remarkable Amanjiwo and spend a few days exploring the region, which is known to be one of the country's most important religious and historical districts.
Sea safari: Tiger Blue, Raja Ampat Islands
Few experiences make me tingle with excitement and anticipation more than a sea voyage by luxury sailboat. With billowing sails and a sleek timber deck, Tiger Blue is a traditional phinisi yacht that glides through the waters of Indonesia's most pristine islands. This boat is perfect for a seafaring family who are seeking adventure. Raja Ampat is home to some of the world's most spectacular marine flora, fauna and living mythical creatures, with translucent waters and pristine reefs that make for some of the best snorkelling and diving in the world. Begin the day with an al fresco breakfast, fuelling you for a morning of exploring the islands. After lunch, spend the afternoon on the water – snorkelling, diving, water-skiing, fishing… End the day sipping cocktails in front of a beach bonfire as the stars emerge, and if you are really keen you might even want to slip back into the waters to discover the depths in the dark.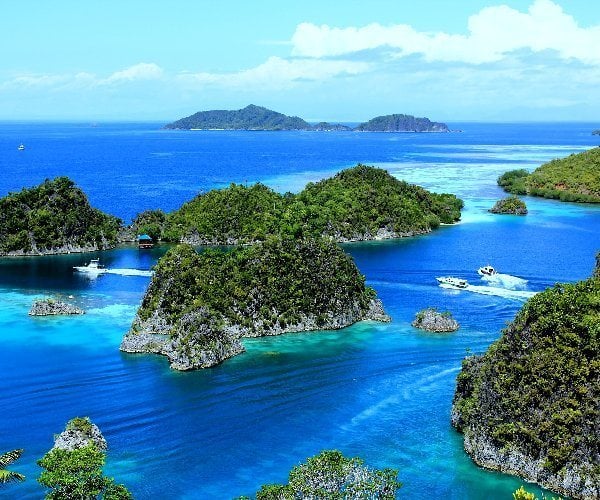 Sustainable luxury: Bawah Reserve, Anambas Islands
Indonesia's remote Anambas archipelago, 150 miles away from Singapore's shores and only reachable by seaplane, is a complete paradise. Crystal-clear waters and uninhabited islands abound, and the absolute epitome of a luxurious eco-resort – Bawah Reserve – calls it home. Safari meets the tropics at this one-of-a-kind property, as pristine marine wilderness blends seamlessly into primary forests, untamed jungles and lush mangroves, making it a prime position for adventurers and nature lovers. A destination in itself, this hotel is also heaven for those who want to relax and sunbathe on the palm-fringed beaches and take the occasional dip in the aquamarine lagoons, among tropical fish and vivid coral reefs.
Exceptional wildlife: Camp Leakey, Tanjung Puting National Park, Borneo
For those who are after a completely unique and exclusive travel experience, make time for Camp Leakey in Central Kalimantan. Tucked away in the spellbinding Tanjung Puting National Park, Camp Leakey is a rehabilitation centre for the gentle and beautiful orangutan. Established in 1971 Camp Leakey has dedicated it's time to the research and study of orangutans, and many of the endangered species living in the national park are ex-captive orangutans that are now living wild. Camp Leakey is an active research facility and welcomes day visitors with local guides, but you are not allowed to stay overnight.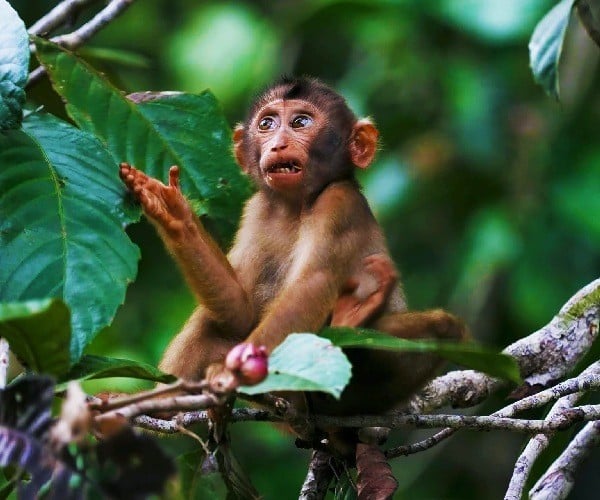 A hidden gem: Ora Beach, Seram Island
Ora Beach is a hidden paradise, tucked away on the northern coast of Seram Island. It's completely exotic and remote, and the sights beat any postcard destination with its dreamlike panoramas. As with many hidden gems Ora Beach is not easily reachable and takes some effort to get to, but in return you'll be rewarded with gin-clear waters, rich coral reefs and mountains blanketed with tropical jungle, surrounded by the sounds of nature; chirping of birds, the whispering wind and the sound of the sea lapping on the shore. Go for a stroll along the beach or a hike in the jungle, explore the wildlife below the waters and enjoy the stunning surroundings. To escape the grinds of everyday life and the relentless connectivity of technology, Ora Beach is the place to unwind and relax.
Sunrise splendours: Mount Bromo, Java
Standing at an impressive 2,329 metres above sea level, Mount Bromo really is a phenomenal sight to behold, especially at sunrise when it appears almost otherworldly. Located within Bromo Tengger Semeru National Park in East Java, this natural wonder is still very much an active volcano. Its symmetrical shape is most impressive at sunrise when seen from the rim of Mount Penanjakan: I guarantee that you'll forget all about your early morning wake-up call as soon as you're greeted by the striking views! Mesmerising vistas over the nearby volcanoes, Mount Batok and Mount Semeru, are equally unforgettable. With wisps of smoke and dramatic sounds from the smouldering craters filling the air, you are bound to be entranced by the sheer power of Mother Nature.
Eco-luxe: Nihi Sumba, Sumba Island
Wild, rugged scenery, fertile jungle and emerald paddy fields, pristine beaches and warm turquoise seas… there is so much more to explore in Indonesia than just Bali. Venture 250 miles east of Bali, and you will find the unexplored and far-flung spice island of Sumba. Here the majority of the population still follow the ways of their ancestors and is possibly Asia's dreamiest and unlikeliest beach destination – it's a world away. The seductive and fully eco-conscious Nihi Sumba has the winning dose of luxury combined with tribal edginess, and its reputation is unrivalled. Overlooking a magnificent beach where chalk-white sand meets gin-clear water, this exclusive hotel offers world-class fishing, surfing and diving right on your doorstep, not to mention unforgettable activities that are absolutely beyond compare.
Surf breaks: Kuta Beach, Bali 
For those who have come to satisfy a sense of adventure, Indonesia's beaches are amongst the best surfing locations in the world, putting it on the map for serious surfers. Kuta Beach is one of the most popular surf spots in Bali and the waves here rival some of the best beach breaks on the planet. Kuta Beach is a lively hotspot so it can get a little crowded at times but walk to the end of the beach and you should be able to find a quiet area. Surf schools are also abundant so Kuta is the ideal spot to learn to surf. With more islands and better surf than any other destination on earth, Indonesia is not to be missed for surf enthusiasts.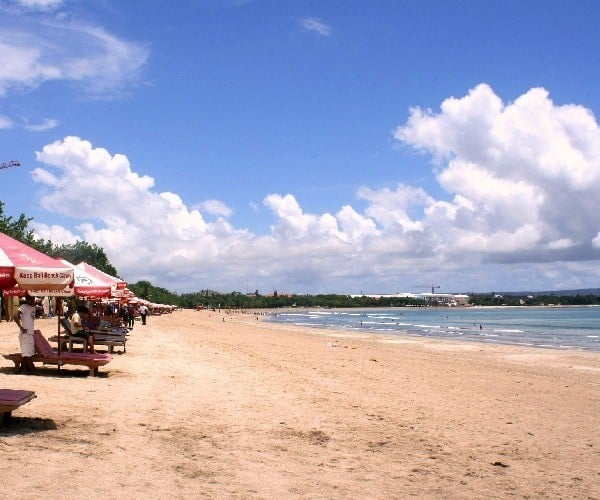 Luxury surfing: Como Uma Canggu, Bali
Surf in a whole new style at Como Uma Canggu, a breathtakingly designed luxury resort just steps away from where the waves break on one of Bali's finest surfing beaches, Echo, on the south coast. The luxury beachfront property has partnered with Tropicsurf to offer surfing experiences and lessons for guests, with an unbeatable backdrop of panoramic views of the soft volcanic sand and rolling waves. A must visit in the areas are the sea temples of Tanah Lot. Standing on tide shaped rocks, according to legend, the temples were built by a priest who communed with a poisonous sea snake. This is the place for unforgettable sunsets.
Fine dining: Teatro Gastroteque, Seminyak
Despite Bali being a relatively small island, it offers an abundance of fine dining restaurants. Elegant and masculine are two words that mark Teatro Gastroteque in Seminyak. The name Teatro is derived from the word 'theatre' and is the brainchild of Mandif Warokka, the talented chef named the Best Chef in Bali in 2011. Mandif relies on fresh ingredients and a simple presentation. All the ingredients are processed with techniques fostered from more than 10 years' experience in the culinary world. Some of the signature dishes are Smoked Peking Duck, Lambargini Lamb and Valrhona Chocolate Cake. Only ten items are featured on the menu and each are accompanied by a recommended wine to compliment the flavour of the food.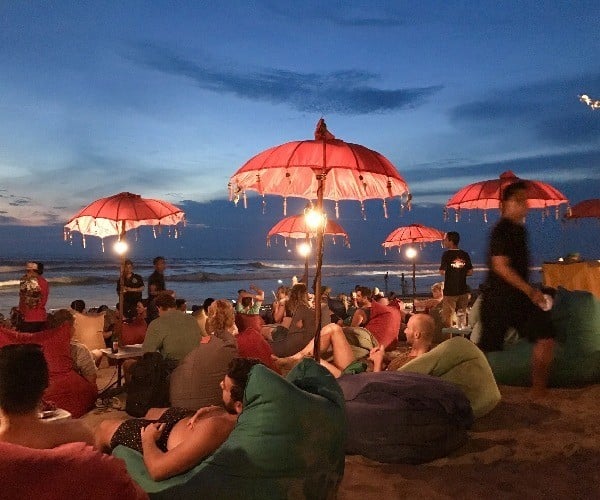 The Aman Experience: Bali, Java and Moyo Island
It's no secret that Aman hotels offer the most exclusive and luxury experiences, and for Aman-junkies, Indonesia is the perfect destination to get your fix, with four Aman properties calling Indonesia home. Amankila in Manggis, on the eastern shores of Bali, offers the most killer views; from anywhere in the hotel you can soak up the jaw-dropping 360-degree views, particularly those overlooking the deep blue sea of the Lombok Strait. For a dash of traditional culture, Amandari in Ubud is completely immersed in local life and plays an important role to the wider community. We highly recommend exploring the sprawling grounds and meeting with local people going about their daily lives. Over on Java, Amanjiwo boasts epic outdoor activities in and around the hotel. Step out and within minutes you can be exploring the incredible Borobudur, trekking up the steep flanks of Mount Merapi or rambling across rice fields and rural villages. For a completely offbeat experience, Amanwana on Moyo Island is unbeatable. Surrounded by pristine jungle, pure shores and the endless ocean of turquoise Flores Sea. There's no wonder it means 'peaceful forest'…
Nature at its finest: Sungei Sebung, Bintan Island
For a surreal experience altogether, journey to the Sungei Sebung Mangrove Forests where you will be able to get an exclusive glimpse of nature's most beautiful work. These pristine forests have been left to rewild and recover after years of being cut down for fuel and firewood. They are now unbelievably beautiful with the crystal-clear river of Sungei Sebung meandering through the centre to complete the paradise on Bintan Island. Visitors can take a boat almost to the source of the river and experience a thrilling trip into the world of tropical mangroves, rich in flora and fauna; watch monkeys, kingfishers, otters, tree snakes and even thousands of fireflies which twinkle and glow in the falling night-time.
Off the beaten track: Air Terjun Telun Berasap, Kerinci Seblat National Park
Deep within in the depths of Kerinci Seblat National Park, the largest national park on the island of Sumatra, impressive waterfalls dot the entire Kerinci Valley. The easiest to find are the Air Terjun Telun Berasap, which are just 4km north of Pelompek and easily reached from Sungai Penuh. Deep within a gloriously beautiful fern-lined ravine, you can hear the thunderous torrent of water crashing onto the rocks below before you see the falls. Other impressive falls include the 75-metre tall Pancuran Rayo, which is a three-hour hike from Sungai Penuh.
Komodo Dragons: Silolona, The Komodo Islands
The home of the legendary Komodo Dragon seems almost mythical; four rugged islands in the Flores Sea are where these rare creatures can be found. While sightings of this otherworldly animal cannot be guaranteed, they are common on both Komodo and Rinca Islands, and thanks to the dry conditions, vegetation does not obstruct views. Monkeys and a vast array of birdlife can also be spotted here. Sail around the phenomenal seascape aboard the traditional phinsi schooner, Silolona, a most relaxing and luxurious option. Exploring the vivid marine life here too is most rewarding, as the snorkelling and diving is some of the best in the world. Protected as a UNESCO World Heritage site, the nutrient-rich Flores Sea brims with a thousand species of fish and over two hundred types of immensely colourful corals as well as dolphins, manta rays and turtles.
A diver's paradise: Misool Eco Resort, Raja Ampat Island
The stunning Misool Eco Resort is situated on a remote private island in the scuba diving paradise of Raja Ampat, known to be the best in the world. Owned and operated by a passionate group of divers, conservationists and eco-enthusiasts, the resort is nestled deep in an archipelago of uninhabited islands and fringed by powder white beaches. Protected by turquoise lagoons and richly abundant reefs, this exclusive resort is in the heart of marine biodiversity. Dedicated to diving and marine conservation, the island and its scuba diving sites are surrounded by 465 square miles of Marine Protected Area, which includes a Raja Ampat shark and manta ray sanctuary, an initiative created by the hotel. The hotel itself was entirely built from reclaimed hard woods, and energy consumption and water wastage is kept to a minimum. Misool is also deeply committed to supporting the local community and educating their local staff on the importance of conservation.
Eat, Pray, Love: Ubud, Bali
Made famous by hippies, artists and prominent international writers, the inland town of Ubud is Bali's thriving cultural heart. With a rich artistic heritage, there are plenty of places to see art in Ubud, one of the best being the Neka Art Museum which is home to a whole variety of paintings and sculptures that will inspire you. In recent years, the town's spirituality has drawn in new-age hippies, digital nomads and yogi enthusiasts, and the superb natural beauty of Ubud further renders it the perfect destination for an Eat, Pray, Love-style restorative retreat. The Ubud Monkey Forest Sanctuary is a stunning Indiana Jones-style nature reserve where you can explore the temples and play with monkeys – make sure you take some bananas to give them!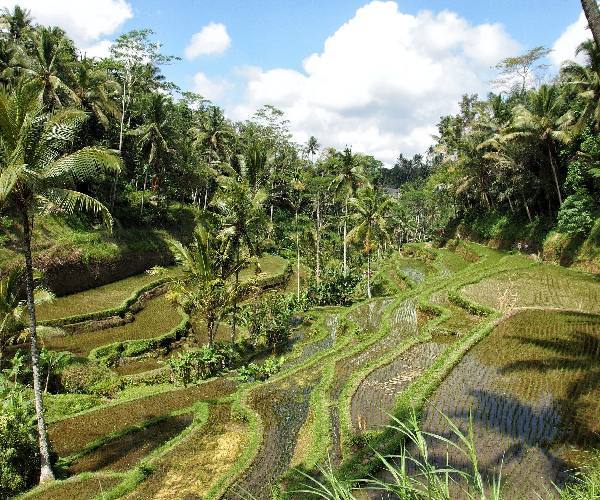 Just for two: Alexa, The Komodo Islands
This is a boat that is tailored to suit a sojourn with someone you truly love. Perfect for a honeymoon or special occasion, Alexa is the epitome of pure romance. With only one cabin, to ensure a unique sense of privacy and seclusion, generous living spaces and beautifully considered interiors, decorated with antique art and silk rugs, romance really is the point of the Alexa. The vessel adopts traditional lines and has a pure, modern look as aged teak is entwined with stainless steel and tinted glass. Alexa sails around the Komodo National Park and the Alor Archipelago – 20 pristine islands renowned for their abundant fish life, virgin coral and seasonal passage of whales. As you lie on deck and watch the white sails billow in the breeze, you will not be able to resist falling in love all over again.
Sea temple: Uluwatu, Bali
Uluwatu in the far southwestern tip of Bali is drier than the rest of the island. Still relatively undeveloped it is covered with savannah like bush that abruptly ends at dramatic and massive limestone cliffs that tower 70-metres above the foaming surf below. The views over the ocean and the serrated coastline are stunning. Uluwatu is also home to one of Bali's most important temples: Pura Luhur, a Balinese Hindu sea temple, dedicated to honouring the gods of the sea. The temple is now inhabited by cheeky monkeys so be careful! Uluwatu is also a fantastic destination to witness many of the island's other visual arts in their purest form. On any day of the week, visitors can attend traditional gamelan, Kecak dance and shadow puppet performances and if you find yourself lucky to be visiting during a Hindu festival, local temples come alive with traditional ceremonies making for an unmissable show.
Glass Lake: Lake Kaco, Kerinci Seblat National Park
An unimaginably bright blue lake, with pristine waters, surrounded by untouched forest trails, in the depths of the Sumatran rainforest; this is the setting for the exceptionally beautiful Lake Kaco. Nourished by underground springs, Lake Kaco is crystal clear, so clear in fact that its name literally translates as Glass Lake. The lake is a place of mystery, shrouded in local legend and myth; rumour has it that no one has yet been able to discover its true depth, despite numerous attempts. Make sure you spend a day exploring this wonderful natural site and bring a picnic lunch so you can enjoy it overlooking the beautiful blue waters.
Rest and restore: Como Shambhala Estate, Ubud
Surrounded by lush tropical rainforest, this beautifully manicured retreat lays claim to the stunning boutique spa at Como Shambhala Estate. Renowned for its laid-back luxury and back-to-nature approach, this leading wellness destination promises to sooth, relax, revive and nourish whilst guests are immersed in a positive healing experience. With a highly qualified team of experts, and wellness and fitness programmes from dawn to dusk, you are guaranteed a refreshing and reviving escape whilst enveloped in wall to wall luxury. From the design, facilities and activities, to the staff, treatment, food and accommodation, every aspect of the estate is designed to encourage a holistic approach to life.
If you can tick off the last 21 points on this list, you will have explored some of the best of what Indonesia has to offer.
James Jayasundera is Founder and Managing Director of Ampersand Travel. Ampersand Travel create bespoke and luxurious travel experiences to Asia, the British Isles and Southern Africa.
If you would like to be a guest blogger on A Luxury Travel Blog in order to raise your profile, please contact us.