One of the ultimate ways to explore the beautiful New Zealand coastline is by yacht, where stunning islands are scattered over azure seas and charming seaside towns are immersed in history. Here, silvery beaches line contrastingly rocky coasts, while pods of dolphins play offshore amidst a wealth of marine life. This destination delivers a wealth of experiences and the opportunity to enjoy relaxed cruising.
New Zealand's yachting epicentre lies in the "winterless north", where the legendary Bay of Islands provides a secluded escape, ideal for meandering on calm waters whilst soaking up the breath-taking scenery. Home to 144 islands, ranging from craggy islets to large inhabited isles, this area enjoys a mild climate where tropical currents travelling down from the equator ensure the water temperature is perfect for all manner of aquatic pursuits. Delivering the best Northland sailing, surfing, diving and fishing, a cruise around the Bay of Islands offers a chance to discover some remote areas with the benefits of an abundant underwater world, cultural delights and verdant forests teeming with natural wonders.
Paihia is a bustling town filled with a funky café culture and is the ideal yacht departure point, providing a gateway to the spectacular Bay of Islands. Nearby, the well-kept local secret of Sullivan's Beach offers sheltered swimming with no road access but plenty of secluded anchorages for yachts to enjoy. Easily accessible nearby is one of the most famous in the Bay of Islands, Motumaire Island, an ideal spot for sunbathing and exploring. A major archaeological site with the remains of a Māori fort, it is also a great place to enjoy a kayak tour where experienced guides can regale you with local stories as you paddle.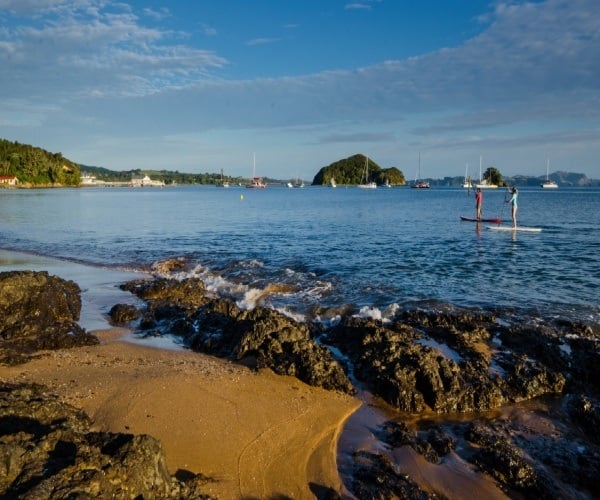 Directly opposite and a short hop across the bay, Russell is a delightful seaside town and one of the most significant locations in terms of history. This was New Zealand's very first seaport, the first European settlement and held the first capital city in nearby Okiato. With beautifully conserved colonial history, the township is like stepping back in time; a stroll down the streets will lead you to Pompallier, New Zealand's oldest surviving Roman Catholic building that has undergone award-winning restoration. Admire Christ Church, the oldest existing church in New Zealand, then hike up Maiki Hill where chief Hone Heke chopped down the British flagpole four times! This viewpoint justifies the climb with some breath-taking panoramas. The renowned Duke of Marlborough Restaurant is a prime spot, where the sunset is captivating and the wine list even more. Alternatively, sit waterfront at The Gables celebrating the best far north fare, particularly the succulent local seafood.
In Waitangi, visit the Treaty Grounds where New Zealand's founding document between the British Crown and the Māori people was signed in 1840 and learn more in the world-class visitor centre. Worth a visit are the Māori War Canoe and Carved Meeting House, offering fascinating snippets of Māori culture. It's a short walk from here to the local Haruru Falls – take the opportunity to see the small but wide waterfall where the strongest part of the Waitangi River feeds into a large lagoon that ebbs out towards Te Tii Marae and into the Bay of Islands. There are plenty of activities for adventure seekers, with Waitangi Mountain Bike Park at the top of the list. This family friendly destination provides a perfect biking introduction with scenic trails for beginners, while the cross country, downhill and jump trail networks will challenge seasoned enthusiasts looking for some adrenaline-fuelled fun. Waitangi also boasts an excellent golf course, countless opportunities for kayaking and a choice of relaxing spas for end-of-the-day indulgence.
Set in the shelter of Wairoa Bay, the small group of Te Pahi islands saw some of New Zealand's earliest contact between European visitors and the Māori people and, due to this cultural significance, are part of the Rangihoua Heritage Park in the Kerikeri Inlet. Take some leisure time kayaking around to Rangihou Bay, where the ornate and famous Marsden Cross can be viewed from the shore.
Sail to pretty Moturoa Island where anchorages are often frequented by pods of playful dolphins and the sunsets are legendary. Since the 1970's the locals have eradicated pests and encouraged endemic species to flourish, making this homegrown wildlife sanctuary a haven of beauty. Just off the isle's northeast coast are the Black Rocks, islets formed by cooling larva from volcanic eruptions over a million years ago. Forming a number of caves and tunnels where small fish thrive, these are fantastic snorkelling and diving grounds as well as great fishing for kingfish, kahawai and snapper.
Neighbouring Motuarohia Island (also known as Roberton Island) has a significant place in Māori history and provides a wide range of recreational activities, including an educational underwater trail for snorkellers where you may spot a stingray nestled on the sandy bottom. Approximately a mile long, the landscape is almost split into three by two beautiful lagoons. In 1769, Motuarohia was the site of Captain Cook's first landing on board the Endeavour, in what is now known as Cook's Cove. The island features a number of archaeological sites including terraces, pits, and gardening lines around the central lagoon area, while the four main bays – Otupoho, Waipao, Mangahawea and Waiwhapuku – all offer secluded anchorages. Walk up to the highest point for some stunning views.
Close by, Moturua Island is a scenic reserve, steeped in history and strewn with lush fauna and several stunning beaches. Follow the loop trail through stretches of coastal forest and discover some remains of former WW2 military fortifications along the way. Anchoring here for the night in Honeymoon Cove is a natural treat with only the calls of the native kiwis and the stars above to complement the peaceful atmosphere. Surrounded by a number of rocky islets, this is a fascinating area for marine enthusiasts to snorkel or dive at leisure. Explorers Captain Cook and Marion de Fresne visited this island and a bottle claiming New Zealand for the French is said to be buried somewhere on Moturua!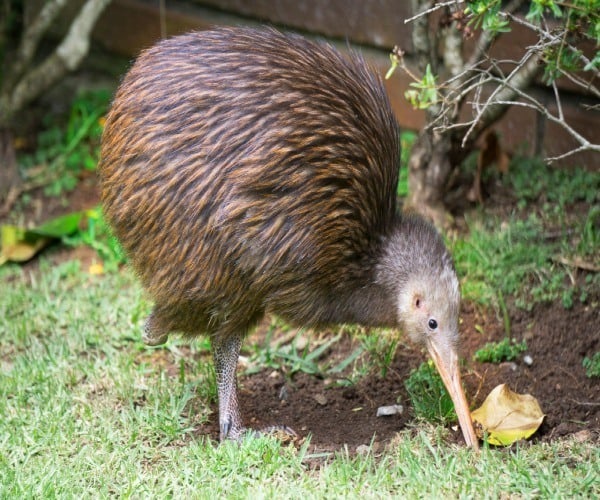 Whether you are seeking isolated beaches for complete relaxation or hiking trails amidst cultural sites, the pristine island of Waewaetorea, has them all. Found west of Cape Brett in the eastern Bay of Islands and only accessible by boat, this island was once called home by several Māori tribes. On a trek over the island you can find evidence of fortified walls, moats and palisades that the Māori built to defend themselves, together with some of the best views of Paihia, Russell and the mainland. To add to the history trail, Captain Cook dropped anchor off Waewaetorea and traded here for fresh water and food.
Boasting exquisite anchorages like Paradise Bay, Indico Bay and the famous Otehei Bay, Urupukapuka Island is the largest in the Bay of Islands, perfect for diving, fishing and kayaking, together with world-class sandy beaches. If you feel active, follow the unique island walk that covers the entire landscape, passing main archaeological sites and taking in some incredible views. During summer, the bright red flowers of the Pohutukawa forest are in full bloom, making it even more attractive. A number of rare island birds are thriving on Urupukapuka, such as the North Island saddleback (tīeke), North Island robin (toutouwai) and whitehead (pōpokotea). At Otehei Bay, there is the unique opportunity to enjoy an immersive Māori experience where you will be greeted by a friendly Pōwhiri and waiata, before enjoying cultural workshops in flax weaving, Māori remedies and Poi, then sampling traditional Māori food.
Cruise along the Rakaumangamanga Peninsula to rugged Cape Brett, where fitness enthusiasts will relish the challenging Cape Brett Walkway, an exciting eight-hour scenic hike on a track starting in Oke Bay near the charming seaside town of Rawhiti. Taking a more leisurely route, a popular yachting anchorage is close to the shoreline in sheltered Deep Water Cove inside Maunganui Bay. This protected area is renowned for spectacular marine life and superb diving. View the historic Cape Brett lighthouse perched atop the cliffs and make way to tiny Piercy or Motukōkako Island, said to be the first landing place of Tūnui-a-rangi, one of the great ocean waka that first brought the Māori to New Zealand. 150m of sheer cliffs rise majestically out the ocean with a famous 16m high hole in the southwestern tip, known as the Hole in the Rock, a natural sculpture created from sea and wind erosion and an important part of Māori culture.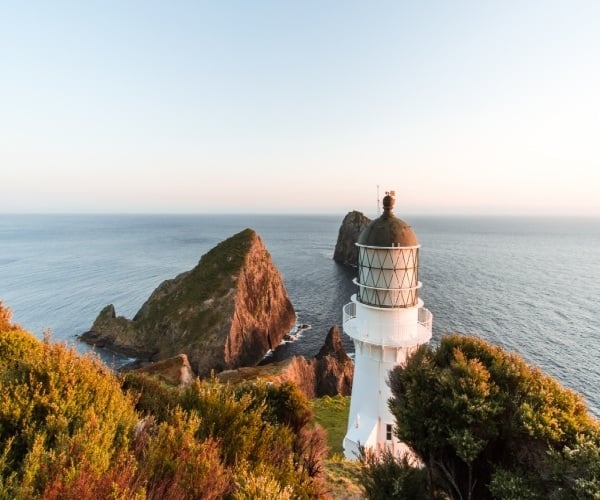 According to legend, part of the initiation ritual for Māori warriors was to climb the rock face to retrieve a feather from a native kokako bird, before bringing it safely back down to complete their rite of passage. They then would paddle through the Hole in the Rock in canoes before leaving for battle. Drops of water landing on them from the cave roof above were said to be a good omen. Nowadays, if the waters are calm and the tide is right, small boats can sail through the hole, or adventurous visitors can take a helicopter ride. Beneath Motukōkako in the underwater Cathedral Cave, you can dive down to colourful rock walls teeming with fish; at 25m there is a fascinating boulder garden, home to marlin, sunfish, dolphins and sharks.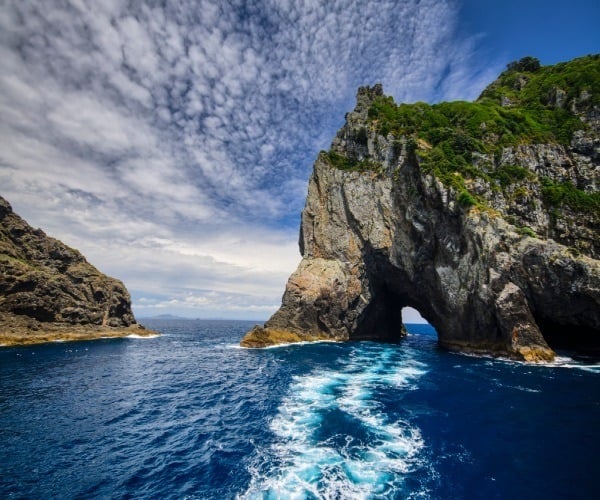 Sail to the eastern coast base of Whangamumu Harbour, once a busy whaling station where visitors can take the tender ashore to walk around the remaining structures. There is an excellent walking track leading through forest trails to a waterfall and a lookout point over picturesque Te Toroa Bay. Nearby Whangaruru is an ideal disembarkation point, offering a taste of traditional New Zealand hospitality and numerous sandy beaches on which to relax after an adventure of a lifetime.
Environmental awareness and protection are very much at the beating heart of this incredible destination in order to preserve indigenous flora and fauna. An important initiative, Project Island Song, is working to eradicate pests and plant native seedings, organised by the NZ Department of Conservation and local tribes. Six islands are part of this project: Waewaetorea, Moturua, Motukiekie, Okahu, Urupukapuka and Poroporo. From planting trees in autumn and winter, weeding introduced species, or sharing biosecurity messages in summer, volunteering for Project Island Song is also a great way to see the Bay of Islands whilst leaving a positive mark on the environment.
Nicholas Dean is Managing Partner of Ocean Independence. Ocean Independence is a global leader in luxury yachting, providing a bespoke experience across yacht charter, sales and management.
If you would like to be a guest blogger on A Luxury Travel Blog in order to raise your profile, please contact us.