You may write England off when it comes to looking for a 'holiday', but it is actually the perfect location for a luxurious break. This country is packed with amazing views, blue seas, tonnes of history and the finest cuisine; and I am not ashamed to say it, but I think England really does have it all.
Whether you want to relax and enjoy the scenery or be a culture vulture for the day, England offers up some of the best breaks around. So in a time where overseas travel is limited, I want to go through the top staycation destinations that offer a mixture of relaxation, sightseeing and adventure.
Bath
Bath is the largest city in the county of Somerset and, in 1897, was recognised as a UNESCO World Heritage Site. Since Roman times, thanks to the installation of the famous 'Roman Baths' this destination has been a hotspot for holiday-goers looking for a pleasurable and relaxing break; and I can only agree.
Bath is home to one of Britain's natural hot springs, presenting you with the unique opportunity to bathe just like the Celts and Romans did over 2,000 years ago.
Thermae Bath Spa is an award-winning natural spa where you can relax in its warm, mineral-rich waters, no matter the time of day. I recommend relaxing in the open-rooftop pool to take in the fantastic view of the city. You can also enjoy a variety of spa treatments and a stay in the wellness suite – the best spa break in Bath!
Bath is infused with restaurants, bars and independent shops, as well as the collection of museums and galleries on offer allowing you to explore the city's diverse culture, another reason why this is one of Englands' top cultural breaks.
Bath is well placed within the UK, with good connections to other incredible locations including the beautiful scenery of the Somerset countryside and outdoor attractions like Stonehenge, Avebury and Longleat Safari Park.
Oxford
The city of Oxford located in central Southern England is renowned for its prestigious University which dates back to the 12th century. There are plenty of free tours available to help you to explore the grounds of Oxford University, and there are no better tour guides then past and present students.
Oxford is also home to some fantastic museums which display some of the most incredible artwork dating back to… well let's just say a very long time ago! Some of my favourite museums to visit include the Museum of Modern Art, Museum of the History of Science, Pitt Rivers and Ashmolean Museum. The latter is a must-see, especially since its renovation which has made the building even more appealing to the eyes.
For the finest dining in Oxford, you can take a walk back in time to some of the oldest pubs in Britain that are serving up traditional pub classics! These pubs are packed full of history and can be traced back to the 13th century – some historical figures might even pop in and serve you your dinner – took me a little by surprise! There are several annual food events held within the city which attract a lot of food lovers (including myself), so if you too love trying new things, please give Oxford a visit.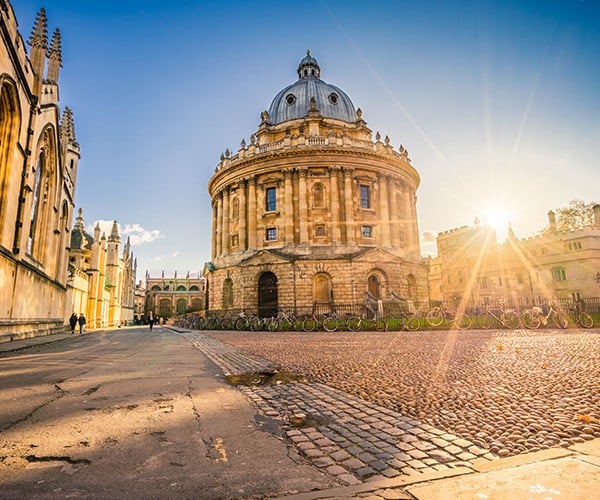 Cotswolds
With its golden stone and rolling hills, another one of my favourite locations is The Cotswolds. Taking up almost 800 square miles of land, The Cotswolds includes a number of stunning British counties including Gloucestershire, Oxfordshire, Warwickshire, Wiltshire and Worcestershire. Within its several counties, the Cotswolds contains a number of beautiful English villages, market towns, exquisite palaces, castles and country houses.
A visit to Sudeley Castle is a great way to feel like a royal for the day. Once home to Katherine Parr (the last of Henry VIII's six wives), this 15th Century castle has seen many royal visitors in its time. The beautiful gardens, large lake and incredible medieval ruins within the castle's grounds are fantastic sites for some cultural exploration.
As you can tell from the mass of land in which the Cotswolds covers, it is one of the largest areas of outstanding natural beauty and is perfect for cycling and hiking enthusiasts. Similar to where I live, this area is keen to get people outside and walking. With this in mind, they offer up many fantastic walking opportunities that enable visitors to explore the surrounds and capture some incredible photos! One of my favourite walks it the 'Walk the Cotswolds Way' which is a National Trail consisting of various scenic strolls and in my opinion is one of the best ways to take in the dramatic landscape.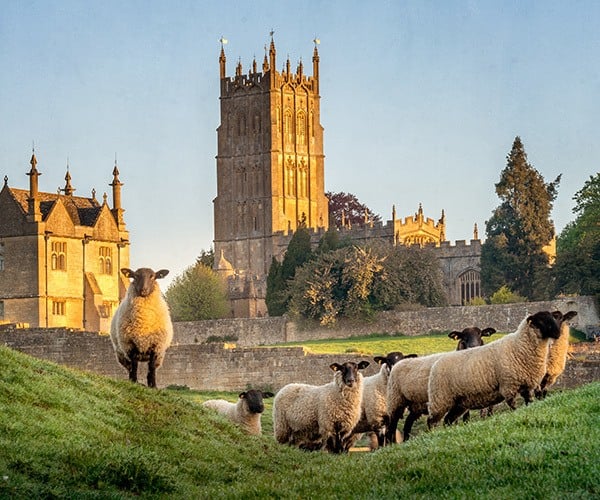 Malvern
Formerly known as a spa village, Malvern is renowned for its therapeutic qualities. Back in the Victorian era, Malvern was the prime location for the 'water cure' and is the home town of hydrotherapy. Although the 'water cure' no longer exists in Malvern, many of the original buildings in which 'water cure's' took place, such as St Ann's Well and the Holy Well are still around and open to the public.
Here's a question, are you interested in medieval architecture? Well if your answer is yes, then I recommend a trip to the Great Malvern Priory. This magnificent building stands tall with a huge east window, tiled walls and seats carved with lively designs all of which were handcrafted by its previous residents. A great representation of the true craftsmanship of the people of Malvern.
This village is perfect for anyone that is fascinated by antiques and second-hand shops. There are many new and second-hand bookshops, antique dealers and from time to time an auction takes place – gavel at the ready!
Chester
Chester's mesmerising beauty and atmosphere make this destination one of my favourite recommendations for an English escape. But why, I hear you ask?
Chester is simply packed with history, with each twist and turn of the city telling a different story. When walking on the cobbled streets, you're told the stories of when the Roman Legionnaires were marching to war and when the Norman invaders conquered the Anglo Saxons.
Continuing with the theme of history, Chester is also home to a 1000-year-old Cathedral which still has its original medieval architecture and carvings. That is pretty impressive!
To really get up close and personal with the history of Chester, you can participate in the infamous city tours by foot, bus or boat! There are a variety of tours available that all focus on different aspects of the finer things that Chester has to offer including the history, culture and picturesque views. There is no planning on your behalf, just simply book your slot, relax and enjoy the experience.
For those looking for some retail therapy or a home away from home, there is a lot on offer. Treat yourself or your family and friends and go shopping at the Rows. Sip some delicious coffee in the independent cafes, wine and dine in the finest of restaurants and even have a cosy night out in the outdoor cinema attractions.
Carl O'Neill is the Sales and Marketing Director at The Kings Ferry Group. The Kings Ferry Group offers a VIP travel service, specialising in luxury coach and executive car hire.
If you would like to be a guest blogger on A Luxury Travel Blog in order to raise your profile, please contact us.