The Duncombe Arms shows just how far The Great British Pub has travelled.
Gourmet pub classics have brought a Michelin Bib Gourmand, two AA rosettes and foodies from afar. This is no longer just a place where only locals drop by for a pint and a bite.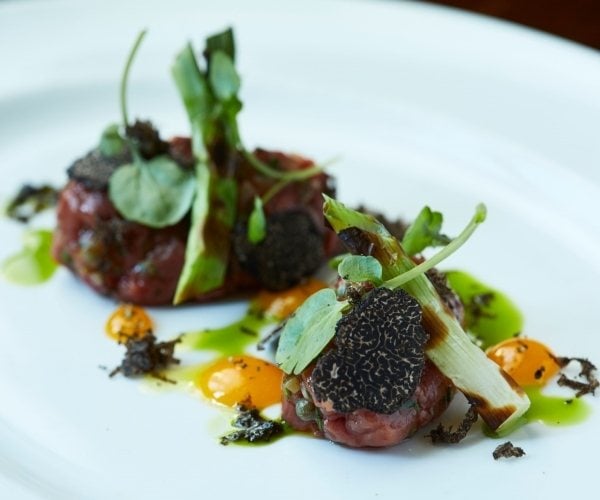 Ten rooms in Walnut House, every one, with picture window views across the Dove Valley, have the look of a photo-shoot for an interior design magazine. Laura Greenall's design has elevated The Duncombe Arms way beyond "The Pub with Rooms" categorisation.
Just a decade ago, The Duncombe Arms, a village pub originally opened in the 1850s, was derelict and boarded. Local couple, Johnny and Laura Greenall, decided to mount a rescue operation. Rejuvenated, restored and revived the Duncombe Arms opened its doors in 2012.
The welcome
Park by one of the free two charging points if you've travelled by electric car. One of the friendly serving staff, smartly dressed in navy apron, adorned by the Duncombe family crest, and white blouse, will greet you.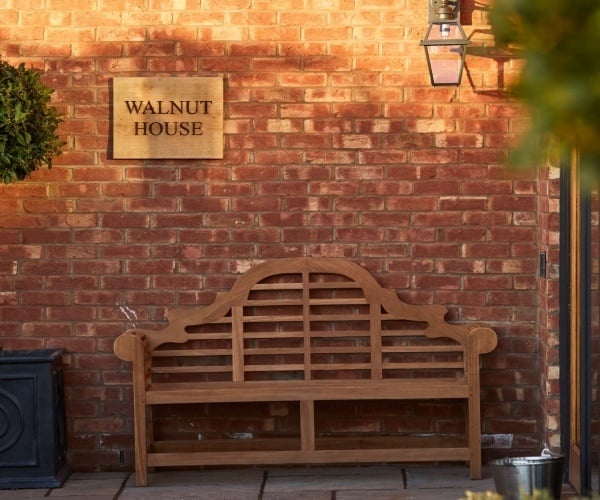 We were half-an-hour early and served tea in a garden that overlooks the gentle green valley of Dovedale and it's bleating sheep.
The room
Walnut House, adjacent but quietly detached from the pub by the walnut tree that gives its name, has recently been built in the country-chic style of a grand barn extension. Ten room names reveal themes and the colour of the decor, such as Ashbourne blue, hops, game birds and peony. Every room is a lesson in bold but tasteful interior design.
Green, our room, is a restful cocoon of a palette of greens: an emerald green geometric pattern on the designer wallpaper, hunter green tweedy textured curtains, a gentle pistachio green border on the oatmeal rug and green-themed artwork hung on the walls. These are colours that naturally flow through the Juliet balcony into Dovedale.
Temporarily, the collection of green cushions that resided on top of the luxurious Egyptian thread bed linen, have been removed as a precaution against Covid – 19.
Air conditioning, a coffee-maker and a large wall-mounted television add the modern luxuries.
The bath room
An intelligent floor-level spotlight welcomes you to a spacious bathroom decorated with Fired Earth tiles.
A deep bath and a shower are combined. Bamford toiletries with the aroma of geranium, lavender and peppermint are provided.
Facilities
Chef Jake Boyce's food, which inspired the award of the Michelin Bib Gourmand, draws diners from the village and beyond.
Boyce is constantly in touch with his suppliers as he devises and develops his menus. A rarely seen Golden Beetroot, from a small Ashbourne grower, introducing a mellow flavour to a starter of torched mackerel, epitomises the care over ingredients.
Looking ahead to the autumn menu, a meat supplier has been instructed to rub prime beef with Himalyan salt and then hang for 36 days. Crabs from Cornwall are on order and soon grouse will be appearing on the menu too.
Boyce's dozen years of experience in London and as a consultant in Australia encourage him to take the pub classics loved by Duncombe's clientele – a beef burger, haddock, a veal chop and corn-feed chicken – and develop them further. So the veal chop is seasoned with black pepper, garlic and thyme. The torched mackerel rests on a bed of samphire with sea rosemary and oyster leaf.
Location
Staffordshire is an underrated county which provides a base for further exploration. For collectors there are the antique shops of Ashbourne whilst at the heart of the Derbyshire Dales sits the famous Bakewell Pudding Shop. Further to the east lies stately Chatsworth House.
From the gate in The Duncombe Arms' car-park guests can stroll through the fields to the River Dove. For serious walkers, Ellastone is just six miles south of The Peak District National Park.
Many families use The Duncombe Arms to recharge for days at nearby Alton Towers, also it is just a short drive to the steam trains of the Churnet Valley Railway.
Slightly further away is the National Arboretum at Alrewas with its 150 acres, 25,000 trees and 330 memorials.
Other nice touches
Guests are given a map of the grounds of Wootton Hall's Woodland Gardens. Currently it is the home of Johnny and Laura Greenall but back in the 1760s the previous hall was lived in by Jean Jacques Rousseau. As well as being a philosopher he was a keen botanist and founded the garden. By 1860 there were 15 gardeners at work on the grounds.
Two centuries on there is an air of The Lost Gardens of Heligan to the place. Johnny Greenall, an enthusiastic dendrologist, takes great pride in the rare trees. Currently his white-flowering Eucryphia, usually found in the Southern Hemisphere, is his "tree of the moment".
Walnut House is an art gallery too. Many years ago, Laura shared a London flat with Robin Light who went on to work for the Kalman Crane Gallery. With more art than he can display on the London walls, Light provides pieces for Walnut House. If a piece takes your fancy, Laura will put you in touch with him.
The cost
Rooms begin at £170, including breakfast. In the restaurant starters are in the £6 – £9 range with main meals around the £14 to £28 mark.
The best bit
"It's an extension of our house," says Laura Greenall who has brought over black-and-white racing photos, some of her family, Johnny was a jump jockey, to display above the fire-places. Then there are bold farmyard portraits of cows, sheep and pigs that feature on the exposed brickwork.
As Johnny Greenall learnt his trade in the family brewery, a company sign-writer commemorated his 21st birthday with a sizeable chunk of timber which is now displayed in one of the warren of dining rooms.
Another legacy of that brewery training is a selection of over 100 wines, many available by the glass, and Duncombe's very own ale too.
The final verdict
Come for the food but stay days for the uber-stylish rooms that invite guests to make the most of Staffordshire's many charms.
Return home to cook in your own kitchen enthused by Jake Boyce's inspirational ways with pub classics. Also head home to rejuvenate your own home with ideas from Laura's sophisticated decoration of Walnut House.
Disclosure: Our stay was sponsored by The Duncombe Arms.