Koh Samui is Thailand's quintessential embodiment of a laid-back tropical holiday. This peaceful island offers the experiences that to us seem so familiar, and yet at the moment, somewhat strangely dream-like: bare-foot fantasies on sun-warmed white sands, being serenaded by the ocean waves, all the while admiring the endlessness of the sea and sky.
Though there are certain areas where young folks groove and woofers vibrate, Samui is much beloved for its prevailing quiet, island-village charm. This alluring sense of tranquility makes it an ideal setting for many private villas. Having relatively less land development along its coasts means an abundance of beachfront properties. Its diverse topography also creates spectacular villa settings on elevated seafront locations gazing out into the Thailand Gulf.
Let's step inside some of the most luxurious, most unique, and most beloved villas in this less-explored Thai vacation haven:
Villa Anavaya
The first on our list is considered one of the most coveted in all of Koh Samui: the awe-inspiring Villa Anavaya. Resting on the highest point in the area for several kilometers in all directions, it literally looks down on the entire landscape including the entire North East coast of the island. To many, the view is simply irresistible.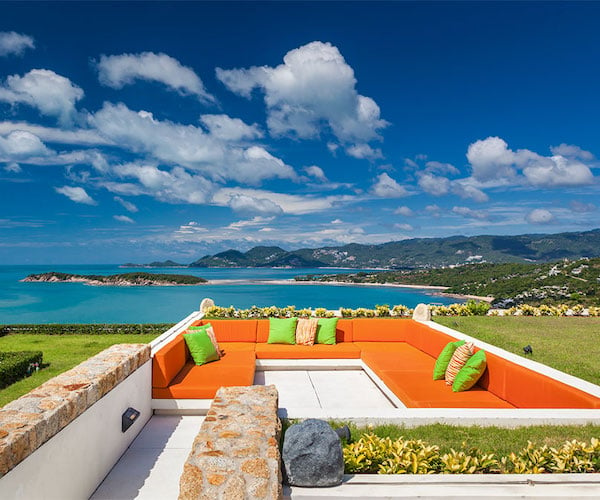 The 6-bedroom property comes with an L-shaped infinity pool complete with an in-pool whirlpool and a poolside bar. There is also a private gym, a custom-designed cinema, and a breathtaking rooftop deck with a 360-degree view.
Villa Akatsuki
Far from the more popular beach areas of the island is a stretch of white sand less visited by tourists, yet considered by many as the most beautiful in Samui. The peaceful Lipa Noi beach hosts no bars or clubs, but is home to several luxury villas including the resplendent Villa Akatsuki.
This property is filled with the delightful luxuries of modern living featuring facilities such as a gym, a basketball court, kayaks, a ping pong table, and a cascading infinity pool with a kids pool. And yet, it portrays the gracefulness and artistry of a lavish Japanese home – from its bespoke services to the very details of its architecture. Even its very name comes from the Japanese word, "dawn", foretelling the beauty of how the sun blankets the property every morning together with the rest of Lipa Noi and the entire East side of Samui.
Villa Sangkachai
Built on a coastal hillside, Villa Sangkachai extends as a spacious terrace structure with its edges forming a fabulous L-shaped infinity pool. Upon entering the property, there is an apparent atmosphere of serenity and stillness. The soothing sound of flowing water plays. Decors are finely balanced with intricate stone figurines and clean minimalist surfaces. A verdant courtyard spreads at the center, where a lone Plumeria generously blossoms in fragrance, giving occupants the feeling of being casted into a secret garden.
But enter the lower level and the villa changes its personality quite radically and with much excitement. A red-carpeted hallway with vintage movie posters hanging from the walls will lead you to a fancy gentleman's-club-style entertainment area complete with casino-grade billiard table and a state-of-the-art cinema.
Villa Hin
Koh Samui, as well as many parts of Thailand, possess fascinating natural landforms – its coasts are dotted with colossal rocks shaped with uneven terrains covered by tropical woodlands. Our next villa truly embraces this particular character of the island.
Villa Hin is a one-of-a-kind architectural masterpiece. Founded on a massive rock formation, the property was carefully designed to coexist with its natural environment without changing the landscape itself. The result is a 5-bedroom home that features a towering boulder right by an infinity pool, open courtyards, and a garden rooftop adorned by charming greenery and impressive water features.
Villa Praana
Moving inland from the coast and into the Samui's woodland hills, our next villa finds itself on a different side of the island. Villa Praana is one opulent retreat covering 4,500 square meters and surrounded by mountainous tropical forest. Yet with its hilltop location, the villa also affords picturesque views of the distant Bophut beach area.
Remote as it may seem, the villa is unquestionably one of the grandest in this Koh Samui. Within its palatial dwellings is a multitude of facilities that include 2 infinity pools, a whirlpool, a gym, a private night club, a sauna and spa, a kid's playroom, a cinema, a Thai boxing ring, and a tennis court.
Villa Malabar
The southern end side of Samui is one of the least frequented areas by tourists, making it a favored choice for those in search of tranquil seclusion. Villa Malabar, right along Laem Sor beach, presents a high-end villa accommodation right within this peaceful refuge.
Smart, modern, elegant – the property is a fine example of contemporary luxury with a tasteful rustic touch. Open and enclosed spaces are harmoniously orchestrated, allowing occupants to bask in the vibrant outdoors and at the same enjoy the comforts of the villa's interior. Preexisting boulders and palm trees lay scattered, blending with manicured gardens, clean white payments, and wooden deckings. The facilities are equally impressive with a fitness room, TV rooms, an infinity pool, and a poolside sunken sala with a barbecue grill. And filling the silence, the waters of the gulf washes up rhythmically on the shore, just a stone's throw away.
Silvan Kitma is General Manager of The Private World. The Private World is a villa rentals company offering some the most top-rated luxury vacation home rentals in the world's top tourist destinations.
If you would like to be a guest blogger on A Luxury Travel Blog in order to raise your profile, please contact us.