There are many ways to see the world. Each mode of transportation has pros and cons. On a cruise, you'll enjoy the humbling experience of having the infinite ocean laid out before you and not having to move from hotel to hotel, but you won't experience much more of the country past the commercialized ports of call and touristy activities. Train travel can be efficient and relaxing, but you're confined to a vehicle with limited activities and beholden to the train schedule. Car rentals allow the freedom and flexibility to go where you want and when but come with the anxiety of getting lost and deciphering signs in foreign languages.
Then there's the option to spend much of your time outdoors, exploring on foot. Rather than hopping from site to site on a bus, a hiking or walking tour allows a more immersive experience in the country or region, from seeing how people live in rural areas to stopping at an artist's studio or cheesemaker—you might even happen across a local football match and stop to watch a bit. You'll notice the details—the wildflowers, rock formations, and wildlife—and the views will leave an imprint in your mind. Of course, there's the added benefits of exercise and being nature—good for both your mind and body. But if you've never been on an active trip, you might have some concerns if this type of travel is right for you and if you'll enjoy it.
Active trips tend to attract two types of people: those who want to complete a challenge (such as walking the Camino de Santiago, trekking in the Himalayas, hiking the Tour du Mont Blanc) and those who are curious about delving deeper into a destination by going beyond the main tourist sites and stepping out into the beautiful landscapes. Those two motivations are often combined, although active trips don't have to mean long, hard treks. The range is vast and includes easier walking trips in places like Iceland and Italy's Puglia region, cultural touring in Bhutan or Vietnam, moderate hiking trips in New Zealand and Argentina, and more rugged treks in Peru and Nepal. Maybe you don't even want to walk very much, but you'd like to do other activities? Try snorkeling and kayaking in Palau or ziplining and rafting in Costa Rica.
There are two important things to be aware of when thinking about an active tour. First, being active doesn't mean roughing it. On the contrary, some of the most incredible hotels are in very remote places—think glass-roofed aurora cabins with ensuite saunas in Finland, luxuriously-converted monasteries in Portugal and Spain, and 5-star Aman hotels in Bhutan. Second, active itineraries offer some flexibility most days (with the exception of many inn-to-inn treks when you must reach the next stop). Hikes and walks can usually be tailored to how the group is feeling as a whole, and guests can certainly opt out of an activity, either staying behind to explore the town or village or sitting in a scenic spot with a book or sketchpad to wait the group's return.
A typical day on a walking or hiking tour starts with a delicious breakfast between 8 and 9 before you head out for the morning activity (maybe a hike, maybe a visit to a local market). Lunch could be a gourmet trailside picnic or at a family-owned café. The afternoon excursion might be another hike, a tour of a historical site, or at your leisure to relax or meander in town. You're usually back at the hotel by late afternoon with time to freshen up before dinner. While labeled "active," it's best not to cram too much into each day. People don't want to return home feeling like they need a vacation after their vacation!
When looking at and considering an active itinerary, make sure to be realistic with yourself. If you love the idea of an active trip, but aren't in the best shape, reserve your trip with enough time to up your exercise routine. Not only will you have a goal to work towards, but the more prepared you are, the more enjoyable the trip will be. If you know you won't have the time to commit to that, choose an easier trip, one that involves more cultural touring and short walks rather than hiking on mountain trails. Also be realistic with the level of luxury you are expecting. While the mountain lodges on Peru's Salkantay trek are beautiful, well-appointed, and comfortable with delicious cuisine and incredible views, they are not 5-star resorts. Yet, what you may sacrifice in a few amenities, you more than make up for during the rest of the experience hiking in the remote Andes. If 5-star luxuries are what you're after, opt for a private trip, so you the adventure can be tailored to exactly what you want, from the day-to-day itinerary to where you lay your head!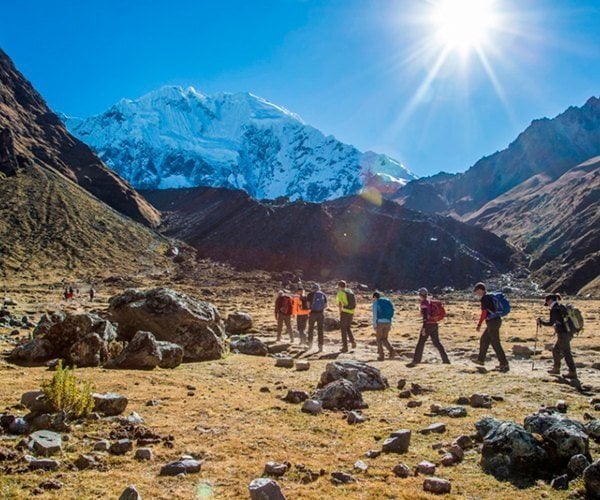 Matt Holmes is the Founder & President of Boundless Journeys. Boundless Journeys is an award-winning tour operator that goes off the beaten path for immersive and authentic travel experiences.
If you would like to be a guest blogger on A Luxury Travel Blog in order to raise your profile, please contact us.