Ecuador and its legendary Galapagos Islands have been gradually — yet carefully — opening their doors to international travelers since this summer, when the first international flights began arriving in the country with passengers. Prudently applied protocols allow anyone who wants to travel to Ecuador to do so in an environment that's quite safe, since the country's most popular attractions are for small groups and individual travelers seeking direct contact with nature.
For adventurous travelers, Ecuador's mainland is more than just the obligatory jumping-off point the country's famed Galapagos Islands. On continental Ecuador itself, you can discover a wonderland of must-experience adventure activities and wildlife safaris, only five which we highlight here:
1. Jungle safaris in the Ecuadorian Amazon
When thinking of visiting the mighty Amazon – the world's greatest tropical jungle on the planet – what usually comes to mind are Brazil or Peru as the places to experience this rainforest region. However, Ecuador enjoys a huge swathe of this magnificent jungle itself (in fact, six of the country's provinces are in the Amazon), and there are many different reserves and national parks in the country offering something different each time.
In Ecuador's Yasuni National Reserve, for example, you can find a greater range of living organisms in just two acres of the rainforest than in all of Europe! Then too, there's the Cuyabeno Reserve, a lesser-known corner of the Amazon whose the wet season lasts for around two-thirds of the year, meaning that its rivers, lakes, and lagoons become plentiful and attract fascinating species like Pink river dolphins, manatees, herons, caimans and more. So expect canoe safaris aplenty.
2. Mountain biking: Antisana, Mindo & Pichincha
The undulating landscapes surrounding Quito are the perfect playground for true mountain biking adventures in Ecuador. Making things even more attractive is the fact that you can spend either a half or a full day riding down a volcano and later return to your luxury Quito hotel afterwards! The ride usually starts at a high altitude and can range between thrilling one of these downward slopes and a more challenging uphill ascents. On the Antisana Volcano cycling route, the terrain is a combination of the two, plus easy riding through the Andean highlands and past La Mica Lake.
On the other hand, biking excursion from Quito's Pichincha Volcano to the Mindo cloud forest will take you through quaint highland towns like Nono, as well as the Bellavista cloud forest, before reaching Mindo itself. Not only will you pass flocks of grazing sheep and perhaps even llamas, you'll enter the cloud forest world populated by vibrantly colored bird-life such as hummingbirds, parrots, toucans, and caciques.
3. Horseback riding across pristine highlands
Both Cotopaxi and Antisana National Parks are astounding areas of natural beauty that add to the portfolio of Ecuador mainland adventures. Such awe-inspiring splendor of these and other Ecuadorian parks make them total delights for exploring on horseback; and rather than undertaking this in the western style, the practice here is to don traditional ponchos and chaps, just like the original Andean chagras (Ecuadorian cowhands). This makes the experience all the more fun, authentic and exciting! The scenery of pristine highlands is simply stunning, as your mountain steed saunters, trots or canters through these national parks, accompanied by the spectacular backdrop of glaciated cones and rocky buttresses.
That's not all though; Antisana and Cotopaxi are great for hiking and mountain biking too, surrounded by jagged peaks, narrow canyons, and glacial lakes. Plus, you can also enjoy a spot of wildlife watching with resident birds fluttering around, including the endangered Black-faced Ibis, Brow speckled teal, and Andean lapwings.
4. Hiking and ziplining in the Mindo Cloud Forest
Simply stunning, the Mindo Cloud Forest lies just an 1-1/2 hour's drive from Quito, making it all too easy to swap out vibrant urban life for breathtaking natural treasures – and Mindo possesses such riches in spades. The reserve is home to bewildering biodiversity, so gentle treks through the cloud forest bring chances to spot all manner of brightly colored birds – in particular, a host of hummingbird species. Also, you can take the Cascada Nambillo Trail if exploring Mindo waterfalls is on your must-do list!
If you're looking for even more Ecuador mainland adventures, Mindo is ideal, with opportunities for biking, white-water tubing, and ziplining over the forest canopy – another utterly breathtaking experience.
5. Trekking Quilotoa Crater Lake
The effervescent Quilotoa Crater Lake is an astonishing sight to behold, glistening like a jewel in the middle of the western Andes. Hiking here is a privilege, with snowcapped volcanoes dominating the sky as you walk for around two hours before stopping on the lake's extended shores – the perfect spot to reward yourself with a delicious picnic.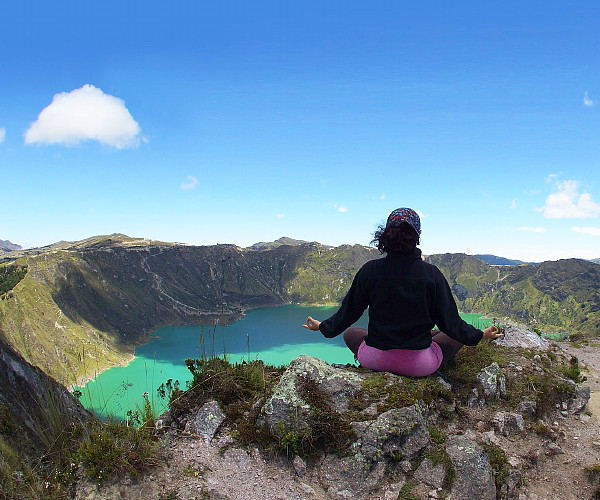 This particular hike is a great way to break up the journey when traveling from Cotopaxi National Park south to Riobamba, and just goes to show how Ecuador really is packed with immense natural scenery. Just don't forget your camera!
In short, Ecuador wildlife and nature vacations make for some of the best in South America – if not the world. With its mesmerizing mix of lowland jungle, highland forests, and pristine coastline, all condensed into one small but amazing country, a trip to mainland Ecuador is not to be overlooked, bringing with it the chance to get up close to an astounding array of exotic creatures, truly breathtaking scenery, and exhilarating adventure activities that you'll not soon forget.
Alfonso Tandazo is President and CEO at Surtrek Tour Operator. Surtrek Tour Operator is a well-established firm, specializing in custom-designed luxury tours in Ecuador, the Galapagos and throughout the rest of South America.
If you would like to be a guest blogger on A Luxury Travel Blog in order to raise your profile, please contact us.