Why it's the perfect time to visit Southern Africa right now
This pandemic has really thrown us a curveball and I doubt if many had seen it coming a year ago. Then again, tourism is an industry that has been through some tough times before, and I'm sure it will come out stronger once again as it has shown in the past. However, there are still a lot of places that are closed off for most of us. Luckily several countries in Southern Africa have opened up their borders recently in order to start the tourism renaissance, albeit slowly. Of course, covid isn't gone yet, and strict regulations are put in place, both by the governments but also by the lodges and hotels too. Nobody wants to end up with a positive case in their property and it's in their own interest (and that of the guests) to keep it that way. So why is it the perfect time then? Well, first of all, a lot of the lodges and hotels have lowered their prices considerably, or have some amazing packages which will give you some amazing return for the money you'll spend. Secondly, a lot of these properties have taken this pandemic by the horns and used it to do some refurbishments which would otherwise hinder a lot of guests, or which were due later but put forward to limit the disturbance for their clients once the borders opened up again. And who doesn't want to be among the first to experience some new interiors or extensions to a property? Another great advantage right now is the low number of visitors. Southern Africa is a hotspot for safari lovers but also for those who love great food, weather and wines. And having that low occupancy comes with another benefit, namely that fact that you're almost certain to find space in some of the most exclusive places. I've had it many times before where you plan a whole trip and there's just that one lodge which doesn't have any availability at the specific time you're there. Frustrating, let me tell you. Lastly there's the advantage you have when it comes to social distance and wide open spaces. Safaris are just perfect to keep your distance and to minimise the contact with others. Now, let me give you a few examples of places which you should consider visiting right now (obviously for different reasons but nonetheless all open and ready to give you an experience of a lifetime).
&beyond Sossusvlei desert lodge, Namibia
Why would anyone want to fly with SpaceX when there's this unique lodge in a location which feels the same as the moon, is as vast as space itself and will most certainly be more comfortable to stay at? It's also very remote, which is another thing it has in common with travelling in space. While the refurb was recently done before the pandemic hit, the result is still as amazing as it was before. Here, in the desert of Namibia you will be able to see the most amazing night sky and as a result &beyond Sossusvlei not only has a magnificent telescope, they also have a resident astronomer who's able to tell you more about the all those far away galaxies and planets.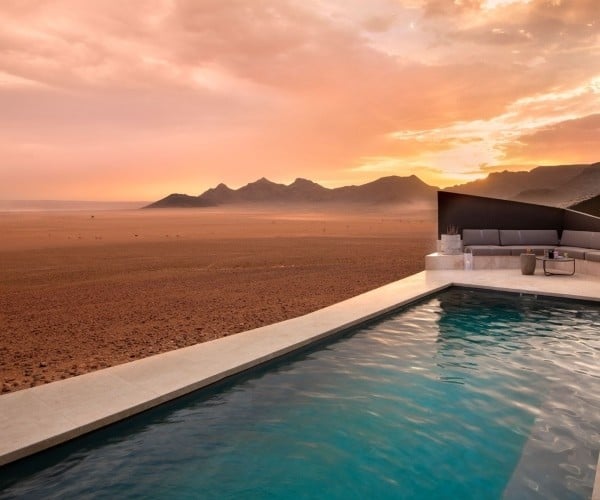 Or what about a walk in the dunes, or a scenic helicopter ride that can will give you another perspective of this ancient landscape. There's so much to do, even if at first sight you would think otherwise. The beauty of the lodge is in perfect contrast with the monotone colours you'll find in this bone-dry area of Africa.  The most stunning detail of it all? The huge glass window right above your bed, so you can stare at the night sky with all its beautiful bright stars. Pure bliss.
Tswalu Kalahari, South Africa
Probably one of the properties in South Africa with the most repeat guest, simply due to the amazing location in the south of the Kalahari and the top notch service you'll experience here. It is so far out that you need to fly in on one of their own planes. Yes, they have a fleet of planes, just to give you an idea of the level of service that's waiting for you. But Tswalu is much more than just fancy planes and luxurious accommodation. It is about restoring the southern part of the Kalahari into its former glory. While doing so, their conservation program is one of the best on the continent and researchers flock in to experience all the rare and different creatures you'll find here.
One of the research programs is about pangolins and the chance of seeing one of these rare and endangered animals over here is huge. Each room comes with its own guide, tracker and vehicle so it's perfect for social distance and the game drives are completely customised to the guests wishes. Tswalu has  2 properties, The Motse which had a refurb a little over a year ago and had about 9 villas, and then there's Tarkuni, a private villa with space for 10 guest which used to be the residence of the owners of Tswalu and which received a refurb during lockdown. Both are stunning and while your are there it is hard to imagine you're in the middle of nowhere.
Jao, Botswana
Jao is a hidden secret, situated in one of the best parts of the famous Okavango Delta. Secret might be a big word, but while it's part of one of the best luxury
ecotourism
companies in Africa, I'm still surprised so many people I spoke with never heard of it. Hopefully this blog will change that ever so slightly, even if it is just to stroke my ego. The Okavango Delta is a rather exclusive place where most lodges are high-end and mass tourism is something unknown. Joa is one of those high-end lodges, but with some very special features which make it stand out. I mean, how many lodges do you know have a beautiful gallery and museum with at full size skeleton of a giraffe as the showstopper?
And that's just the start, cause the traditional way to discover the Okavango is in a mokoro, which is a local canoe made our of a tree trunk. And while you can enjoy the traditional mokoros, Jao introduced the glass-bottomed mokoro, giving its guests a view both above and under the water. Right now the rains have just arrived in the Angola highlands and they will make their way to the delta in the coming months. Meanwhile the abundance of wildlife remains the highlight of your visit to the delta, however, when staying at Jao you might be reluctant to leave the luxury and comfort of the lodge. Then again, plenty of animals wander right in front of it so you might not even have to go on a game drive to see all of them.
Birkenhead House, South Africa
The Royal Portfolio's seaside retreat has always been a favourite among many, and rightfully so. It has arguably the best views in Hermanus (a coastal town which is world famous for its whale sightings) and combined with the unique and splendid interiors which were all done by the owner Liz Biden, you can expect to fully relax in this retreat. The atmosphere is intimate and it does feel like coming home when you walk in. The fact that everything is included in the rates adds to that feeling. It's like you walk into your own wine cellar and pick a bottle you wanted to taste for a long time.
Speaking of which, the Hemel-en-Aarde Valley is just around the corner and for me personally one of the best wine valleys in South Africa. Perfect to visit when the whales are not around, or when you are tired of watching the ocean (is there even such a thing?). And when it comes to whale watching, there is no better place than Birkenhead house. The views from their terrace, pool and some of the rooms are simply stunning and from the end of April (if you're lucky, otherwise it's the end of May) till late December/early January you'll see southern right whales passing in front of you. Unreal when you are having breakfast outside, or taking a quick dip in the pool while watching these gracious creatures on their way to new places. Truly an experience of a lifetime.
Ellerman House, South Africa
Last but by no means least, there's Ellerman House, which is known far and wide as one of the best hotels in the Western Cape and beyond. This beautiful boutique hotel has only 13 rooms and suites and another 2 villas, all of which come with a bucketload of inclusions. The one I really like is the art tour, which will be done by their in-house art guide. You see…Ellerman House is still in private hands and the owner is somewhat of  an art collector to put it mildly. Hence why you will find one of the most impressive and important art collection of South Africa inside this stately home. But that's just a small part of the overall experience you'll get when you stay over here.
Many are unaware of the quality of food and wine you can find in the Western Cape, yet those who've experienced it will gladly testify that it feels like you are eating in the garden of Eden on a daily basis. Older homes like the on Ellerman House is located in do need some love an care from time to time, and during the lockdown they used the opportunity to refurbish some parts but also to extend some facilities like the gym for example. Last month they also took ownership of a unique and one-of-a-kind BMW 7 series which will drive you to and from the airport, but also to town and other places while being surrounded by an interior that has been redone by yet another famous South African artist, just  because they can. It's just another link in an endless chain of personalised experiences. And while often it is hard to find availability, these days you might get lucky to squeeze it in your itinerary. As you see, the southern part of Africa is ready to receive guests again, and treat them to an unforgettable experience which was already special a year ago, but after all we've witnessed in the last 12 months I doubt if anyone will take anything for granted anymore.
Did you enjoy this article?
Receive similar content direct to your inbox.