India captivates all your senses, with vibrant hues of traditional clothing and breathtaking architecture, enticing aromas of saffron and jasmine from roadside stalls, and mouth-watering dishes served by every street food vendor. India is a dream destination for many, but with such an overwhelming choice of incredible experiences, it can be difficult to know how to go about planning your trip. Fear not: We have prepared the ultimate guide for you, featuring a rundown of the must-visit places in India, including accommodation, amazing food experiences and the ideal time to spend in each place, so you can make the most of this adventure of a lifetime.
Jaipur, Rajasthan
For stunning rose-tinted sandstone architecture, visit the 'Pink City' of Jaipur, where buildings such as the Amber Fort, with its fascinating blend of architectural styles, and the striking Hawa Mahal will take your breath away. Shop to your heart's content at the lively Johari Bazaar, where you'll find a magnificent array of precious gems and sparkling jewellery, including the intricate handiwork of local silver carvers. For an authentic street food experience, make sure you sample kachori, a traditional Rajasthani fried pastry stuffed with spicy lentils. The best meal to order at any restaurant is the royal thali, a large, indulgent plate of different dals, curries, flatbreads, rice, and sweets.
When to go and how long to stay: The most pleasant time to visit is between October and March to avoid the blazing heat of the summer, which lasts from April to June. Two days are just right for Jaipur.
Kerala
The palm-lined beaches and lush greenery make Kerala, nicknamed "God's own country", the tropical paradise of the south. Rent a luxury houseboat and cruise through the region's picturesque backwaters, a network of lagoons and canals that run parallel to the ocean all along Kerala's coastline, dotted with atmospheric villages. For the adventurers out there, take a trip to Wayanad, where you can try your hand at bamboo rafting, kayaking, and other water activities. For a shopping hotspot, head to the fragrant Old Bazaar in Kochi, a city of eclectic architecture influenced by Portuguese, Dutch, Arabian, and Indian styles.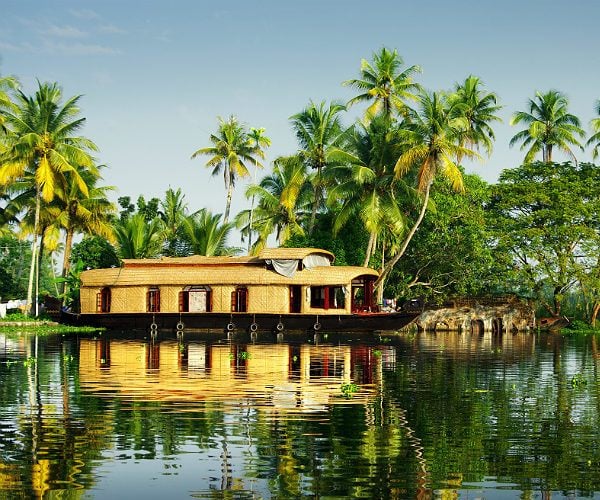 Kerala offers some of India's best seafood, enhanced by delicate coconut flavors. For an extra authentic meal, make sure to eat your food on a banana leaf like the locals do. The religious diversity of Kerala, with large populations of Christians, Jews and Hindus has led to some unique dishes, such as the famous beef fry and parotta, a spiced curry and flaky flatbread.
When to go and how long to stay: The tropical climate makes the winter (November to February) the best season for visiting Kerala, and two to three days is perfect, with an optional couple of nights to explore Fort Kochi.
Jodhpur, Rajasthan
Perfect for architecture and history buffs, the 'Blue City' of Jodhpur, with it's indigo topped buildings, is home to the majestic Mehrangarh Fort. Inside, there's a museum where you can learn about the rich history of royals who once lived here, or stroll through the marbled courtyard and soak up the timeless regal ambiance. After exploring the Fort, fall in love with the vivid locally handcrafted textiles in Sadar Market, where you can find anything from intricately embroidered bed sheets to the ornate leather sandals unique to this area. For a street-side snack bursting with flavor, try some Jodhpuri mirchi pakora—large red chillies covered in batter and fried.
When to go and how long to stay: The city offers the most pleasant climate from October to March, and a two-day stay is perfect to explore all the city has to offer.
Varanasi
For Hindus, Varanasi is a spiritually important city, where you can see worshippers submerge themselves in the holy waters on a magical riverboat ride along the Ganges, and take part in an evening aarti, or prayer. Take a private walking tour to explore the bazaar-filled streets, admiring the beautiful architecture of the havelis, temples, and ghats (steps leading down to the river). The magic of the north Indian state of Uttar Pradesh, where Varanasi is located, doesn't stop here—stay at the Ananda Spa Retreat and take a trip to Rishikesh, spiritual city and the world capital of yoga, where you can meditate as the sun rises over the mountains, or take a raft along the peaceful river.
When to go and how long to stay: October to March offers a pleasant climate and the city is more peaceful. We would recommend taking two days to explore Varanasi and a day for Rishikesh.
Shimla, Himachal Pradesh
Explore the unique and diverse blend of Nepali, Indian, Buddhist, and Hindu cultures in Himachal Pradesh. For active adventures, this region brings you closer to the stunning natural environment of the mighty Himalayas, where you can hike, raft, rock climb, and much more. Lose yourself in the picturesque city of Shimla, where you can hike through the Mashobra Valley and marvel at the breathtaking scenery. The cold climate of this mountainous region will have you craving delicious hot Tibetan street food, such as steaming momos (Nepali dumplings) giving you the energy to trek towards the snow-capped peaks. Visit beautiful Buddhist temples and learn about the history of exiled Tibetans on a trip to Dharamshala, the home of the Dalai Lama.
When to go and how long to stay: With one of the coolest climates in India, Himachal Pradesh can be visited from April to June, when the sunshine makes the emerald landscapes sparkle, and in the winter (December to February), when the mercury can hit zero and everything is covered in a blanket of snow. Shimla is a small town which can be covered in less than a day, but we'd recommend staying for a few days to explore the mountains.
Udaipur, Rajasthan
Enchanting Udaipur is nicknamed the Venice of India, owing to its magnificent lakes that reflect the glimmering lights of the city's palaces. Tour the colossal City Palace, where you can appreciate the diverse blend of architectural styles, and stunning scenes from Hindu mythology created in the 17th century by the Rajput warrior class from this region. Dine in a rooftop restaurant around Lake Pichola for a spectacular view of the glistening water reflecting the city's stunning architecture, or indulge in a cooking class and learn how to master those delicious traditional Rajasthani flavors.
When to go and how long to stay: October to March is the best time to visit to avoid the scorching heat of the summer. Two days would be perfect for a trip to Udaipur.
Delhi
Delhi is a city of two sides, where different influences blend to create a culturally rich region like no other. Old Delhi is characterized by ancient Mughal architecture and bustling markets like Chandni Chowk (Moonlight Square), one of the oldest and busiest markets in the city. New Delhi is home to more modern buildings, as well as the British colonial architecture of Connaught Place. The tantalising street food of Delhi is likely one of the best street food cuisines found in India, with traditional dishes such as chole bhature, paranthas and the famous Aslam butter chicken. From Delhi, take a three-and-a-half hour road trip to visit the glorious Taj Mahal, with its intricate Indian, Persian, and Arabic architecture.
When to go and how long to stay: Fall (October and November) and spring (February and March) provide a temperate climate and we'd recommend three days to explore all Delhi has to offer.
Mumbai
People from all over the country have made their mark on Mumbai, resulting in a diverse and vibrant city. The stunning skyline can be admired while sitting on Marine Drive, where the soothing soundtrack of the waves crashing against the rocks and the cool breeze will calm your senses. If you want to leave India with some beautiful traditional jewellery or vibrant cultural outfits, Colaba Causeway or Natraj Market will spoil you for choice.
A standout part of the city is its food scene, and there's an ongoing battle between Mumbai and Delhi about who does it best. Street food like pani puri, small crispy filled balls of dough which you dunk in spiced water, or vada pav, which is like a Indian potato burger bursting with flavor, can be found around any corner, while the city's fine dining is also spectacular. You'll find a plethora of innovative restaurants in the upmarket neighbourhoods of BKC and Lower Parel, located in west and south Mumbai respectively – we recommend Nara Thai, Papaya, or Bayroute for a fusion of Indian and international cuisine. We'd recommend staying in South Mumbai, for example at the Taj Hotel, where you'll receive impeccable service, and proximity to the historic Kala Ghoda area and Victoria Terminus train station, a stunning example of Indo-Saracenic architecture, which was favored by the British during the 19th century and incorporates Islamic and Hindu design elements.
When to go and how long to stay: The most pleasant time to go to Mumbai is winter, though the monsoon season has a distinct charm to it. We'd recommend three days in Mumbai to experience all the city has to offer.
Ranthambore and Jawai, Rajasthan
Wildlife lovers should spend a day exploring Ranthambore National Park, the perfect place to spot a whole variety of biodiversity, such as tigers, deer, and the native sloth bears, as well as the majestic cobalt tones of a peacock spreading its feathers—Rajasthan's unofficial icon. For a truly unforgettable experience, discover the remote beauty of Jawai, a safari camp amid the vibrant, unique culture of surrounding villages. Spend two nights at the Sujan Lodge in one of their spacious luxury tents, and relax amongst the beauty of the marvellous Jawai hills and lakes while looking out for elusive leopards.
When to go and how long to stay: The best months for tiger spotting at Ranthambore are between April and June, though for a cooler climate and still with the opportunity to spot tigers, January to March are ideal. October to March offers a pleasant climate for a stay at Jawai. We'd recommend a full day for Ranthambore Park and two nights at Jawai Safari Camp.
West Bengal and the North East
From the culturally rich city of Kolkata to the breathtaking Darjeeling, whose natural beauty can be viewed from the Himalayan Railway Train, India's eastern areas are underrated and should definitely be on your itinerary. Step out to explore a tea farm and learn about the wonders of this globally-loved tea cultivating region.
The northeast of India consists of seven regions, called the 'Seven Sisters', each with their own distinct qualities. All are blessed with magnificent natural beauty, whether it's the snow capped mountains of Sikkim or the Kaziranga National Park in Assam, home to the single horn rhino, the Bengal tiger, and a huge range of other flora and fauna in a wild habitat. The local delicacies in the northeast are all focused on traditional recipes and ingredients, with much influence from neighbouring Nepal and Myanmar, such as hot bamboo shoot curry found in Sikkim. For a luxurious stay, the Glenburn Penthouse in Kolkata lives up to its reputation, while a stay at a tea garden in Darjeeling such as the sister property Glenburn Tea Estate will be an unforgettable experience. Kolkata's beauty can be explored in a few days, we recommend a two day trip to Darjeeling so you have time to explore the town, as well as the Tea Estate. For the North East, our suggestion would be to focus on Sikkim, one of the seven regions, and the best accommodation and experience is Shakti Sikkim Village Walk hotel.
When to go and how long to stay: The weather of this region is tropical, but is best enjoyed between October and April. We'd recommend two days in Kolkata, two days to explore Darjeeling, and two days in Sikkim.
Anna Mascaro is Founder of Terracotta Travel. Terracotta Travel is a boutique travel agency that caters for luxury travellers who want to go beyond the guidebook and behind the scenes in every corner of the world.
If you would like to be a guest blogger on A Luxury Travel Blog in order to raise your profile, please contact us.