Scattered around the snow-covered slopes and valleys of the French Alps lies a bounty of holiday homes, each with a remarkable story to tell.
In the quaint skiing villages of Courchevel, one will delight in the multitude of pistes and the majestic beauty of the alpine wilderness. Michelin-starred restaurants offer stellar dining experiences and high-end shops line its charming streets.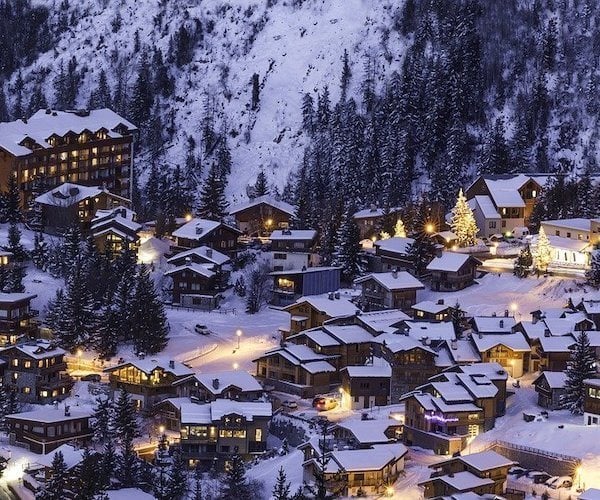 But to those with a taste for absolute luxury, the place to be is in the highest point of the village resort, the illustrious Courchevel 1850, home to the region's most lavish accommodations, including its splendid collection of luxury chalets.
When seen from the outside, these cabin houses all wear a rustic, traditional appearance that seem ubiquitous among the buildings in the area. Their fine presentation of timber frame architecture is nonetheless impressive. But concealed within walls of natural wood and stone are a surprising array of modern day luxuries built to provide a truly opulent accommodation experience.
Chalet Aurora
Like graceful waterfalls, velvet red curtains flow down the soaring glass windows of Chalet Aurora. Classy furniture occupy its floors and fancy lighting evokes a feel of sophistication. This daring house possesses a fine dose of elegance, vibrancy, and glamour. In-chalet offerings go beyond expectations including its own private nightclub and bar, a custom-built cinema, as well as an indoor pool and jacuzzi. Wellness facilities are also provided with a gym, sauna, and spa room.
A glass wall elevator allows easy passage across the mansion's seven different storeys. Aside from its leisure areas, there are seven bedrooms all ensuite and able to accommodate up to 14 guests. The living area is built with a parallel terrace and an enormous pentagonal glass window that offers mesmerizing views of the Alps.
Chalet Perce Neige
A step inside the interior of Chalet Perce Neige is enough to bedazzle any visitor. Extra long curtains hang from double storey high glass walls while a glass-encased fireplace embers at the middle of the room. High class furniture, decors, and chandeliers complete the look, giving a clear statement of unadulterated luxury.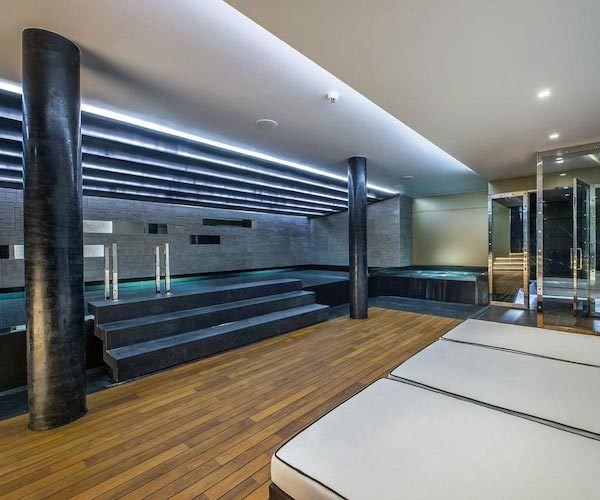 The facilities are equally as sumptuous. Within walls of pine wood and stone, Perce Neige conceals a 10-meter indoor pool, a jacuzzi, a sauna, and a home theater. A fancy bar and lounge is built alongside a terrace with a nordic style outdoor bath. There is also a games room holding a pinball machine, a table football, and a table tennis.
Chalet Elixir
This 6-bedroom chalet highlights a magical leisure area encompassing a glass-walled gym with pool view, a modern sauna, an indoor jacuzzi, a massage room, and a home theater. An impressive glass-floor lounge area is built right above the chalet's gleaming blue heated pool.
Chalet Elixir has an elegant-minimalist design, containing only hand-picked elements within each space each selected to create a sophisticated look. Stylish chandeliers are suspended from coffered ceilings while matte finish surfaces add character to the rooms. All six bedrooms come with ensuite bathrooms and flat screen TVs, including the penthouse style master bedroom which occupies the top floor of the chalet.
Chalet La Grande Roche
La Grande Roche was formed in a cast of vintage luxury. Its monochromatic interior is adorned with intricate glass crystals and artisan metal works. Victorian style furnitures fill the space and nostalgic photographs hang from the walls. The basement holds a number of leisure facilities including a wide screen cinema and a fitness room complete with high tech equipment, a heated indoor swimming pool, a steam room, and a spa.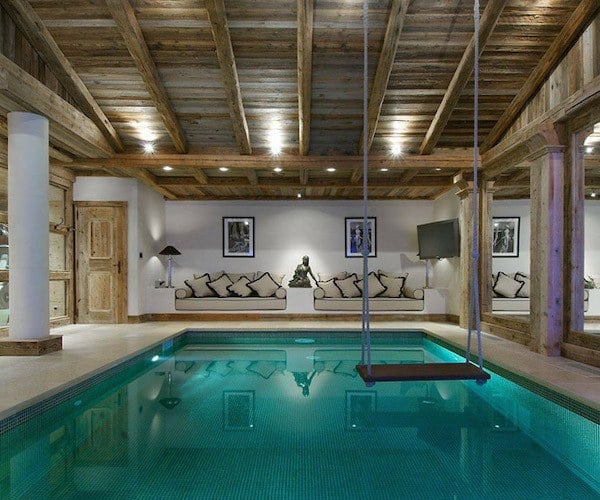 Another highlight of the chalet is its open balcony with a lounge and jacuzzi for ten people. From here, guests can enjoy a view of the woodlands of the Cospillot area. The top floor is dedicated entirely to the master bedroom which comes with its own balcony and fireplace.
Chalet Pearl
Chalet Pearl is an authentic embodiment of a true alpine home, but of course, with the addition of lavish modern amenities. Impressive craftsmanship of natural timber and stone blend with facilities such as a custom-built home theater, a gym, and a heated indoor swimming pool with a spectacular waterfall feature.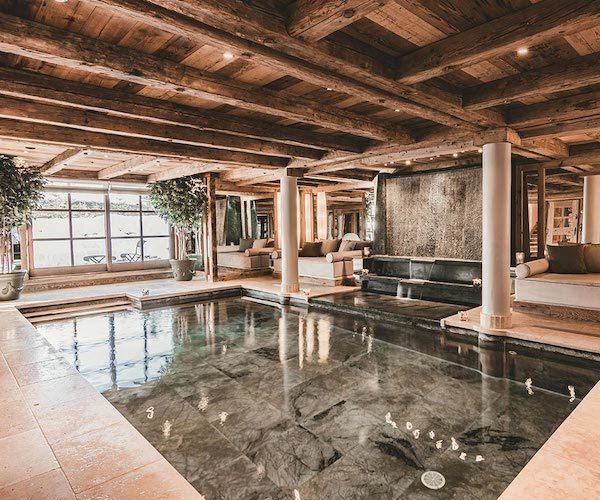 The chalet is also well-beloved for its array of in-chalet services courtesy of its dedicated manager and chef, as well as luxury car service complete with a private chauffeur. There is a total of seven bedrooms, all ensuite and able to accommodate up to 14 guests.
Chalet Les Bastidons
Chalet Les Bastidons is located in the Chenus area, one of the most favored parts of Courchevel. In addition to delightful facilities including an indoor pool, a cinema, and a gym, the house also holds some exciting features including a secret gaming room with a snooker table hidden behind a bookshelf door.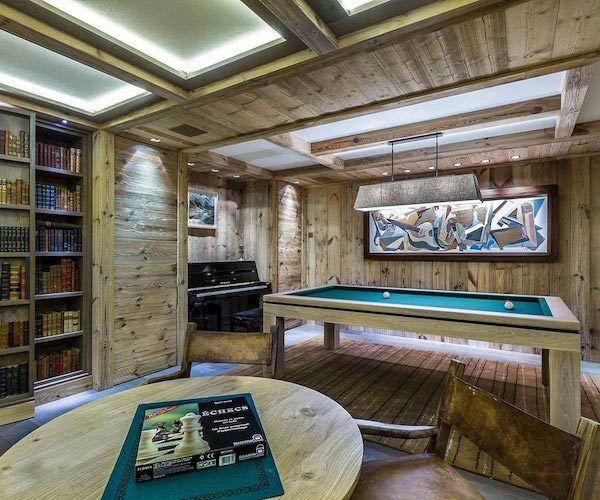 Another highlight of the chalet is its outdoor hot tub. Built on its covered deck, guests can enjoy relaxing baths while also enjoying the spectacular views of the Alps. Les Bastidons comes with six bedrooms all having a dedicated bathroom, double bed, and Apple TV.
Silvan Kitma is General Manager of The Private World. The Private World is a villa rentals company offering some the most top-rated luxury vacation home rentals in the world's top tourist destinations.
If you would like to be a guest blogger on A Luxury Travel Blog in order to raise your profile, please contact us.