7 South American destinations for pursuing your wanderlust again
As 2021 approaches — with all of us anxious to break free of almost a year of confinement — the natural question arises: where will we head out to enjoy all that the world has to offer? One thing's for sure; it's no exaggeration that South America is simply stunning. Around the continent, you can stumble upon majestic mountain ranges, breathtaking beaches, immense glaciers, wildlife-rich jungles, thundering waterfalls, jewel-toned lakes and so much more.
But there are also many surreal sites in South America that you won't quite believe are real until you see them for yourself; from lunar terrain in northern Chile to the world's southern-most city that is surrounded by wildlife. So, read on to discover seven liberating South American experiences for again pursuing your wanderlust.
1. Lençóis Maranhenses, Brazil
Brazil boasts countless stunning landscapes, but the most surreal is found in Lençóis Maranhenses National Park to the north of the country.
Here, 50km inland from the Atlantic Ocean, undulating sand dunes stretch far into the distance and are sprinkled with pools of blue water – it looks more like an abstract work of art than a real-life setting you can visit! Essentially, what happens is that the dunes are shaped by strong winds, while around 50 inches of rain is deposited in the gaps in-between, creating lagoons as deep as 10ft that you can actually swim in (or just take really cool photos of).
2. Take in the rich aroma of Colombia's coffee region
Lush, picturesque and undulating, Colombia's Coffee Region is a soul-soothing place to rest and recoup for a few days. Clearly, it is named after the aromatic coffee bean which grows in abundance here, thanks to a tropical climate and just the right type of soil.
If you're into your coffee, then a tour around one or two of the plantations here is an absolute must, where you can see how the plant is picked, dried, and transformed into an excellent cup of coffee. But that's not all that this region has to offer – it's also a delight to walk through the Cocora Valley, distinctive for its tall wax palm trees, or relax in a traditional finca with views of the green expanse unfolding before you. What's more, you could opt for a more challenging hike through Los Nevados National Park, admire the colorful streets of Salento, or soak up the friendly atmosphere that this region is known for.
3. Authentic cultural contacts in Otavalo, Ecuador
Cossetted in the highlands of northern Ecuador, Otavalo is the epitome of authentic countryside escapes in South America.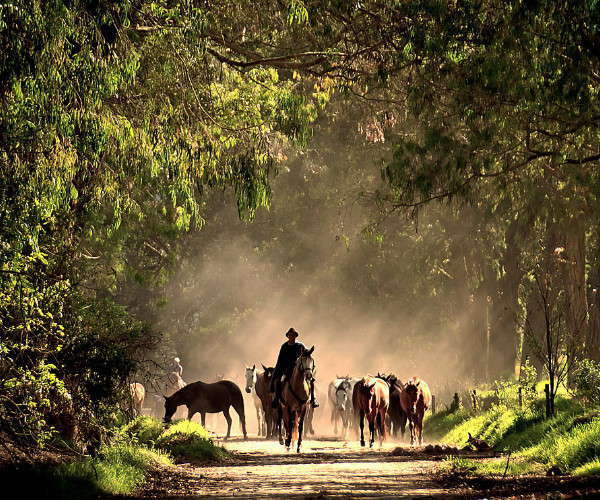 The town itself plays host to one of the continent's most cherished markets, held in the Plaza de los Ponchos with a rainbow of handicrafts, fruits and vegetables on show. After you've picked up some souvenirs and basked in the market atmosphere, heading out to the verdant rural surrounds is a must. Stay at a hacienda hotel for an intimate experience of the region, exploring the hills, lakes, waterfalls and valleys on horseback, before returning to slip into delectable Andean cuisine, all the while learning all about life in the Ecuadorian highlands.
4. Outdoor sports in Chile's scenic Lake District
The Lake District has long served as a quiet, peaceful retreat for Chileans and Argentineans alike, and it's no wonder why. A sprawling region in northern Patagonia, the Lake District is brimming with mountains, rivers, forests, and yes – lots of lakes!
This backdrop was made for action-packed activities, such as white-water rafting, kayaking, biking and kayaking, but it's also perfect for moments of pure relaxation. Therefore, whether staying in a characterful boutique B&B or a luxe spa hotel, be sure to allocate plenty of time for unwinding on alfresco terraces, savoring a long lunch or picnic, and simply drinking in the stunning views.
5. Experience the surrealism of Chile's Atacama Desert
Another totally different landscape to the tropics of the Amazon and the icy realm of Patagonia, Chile's Atacama Desert flaunts its own unique appeal. This is the driest desert in the world, with some of the clearest night skies for
stargazing
, rock formations dating back millions of years, and eerily beautiful scenery brushed in strokes of red and ochre.
Moreover, the land is dotted with geysers, volcanoes, high-altitude lagoons, salt flats, canyons, and gorges, a dramatic background that sets the scene for biking, hiking, horse riding, 4×4 adventures and even floating in pools of mineral and salt-rich water. Additionally, you can witness Flamingos, Guanacos and Vicuñas in the wild, then spend the night in a boutique hotel that segues into the desert landscape and offers spa pools, yoga, fine food, and locally-inspired Atacama décor.
6. A delightful countryside escape in Chiloé, Chile
Chiloé is a Patagonian island in Chile that's proud of its unique heritage and culture, shaped by storybook myths and legends that make it a curious destination indeed. What's more, the little fishing communities, traditional shipbuilding villages, 17th-century Jesuit churches, and towns awash with
palafitos
– wooden homes propped up on stilts – are particular to Chiloé, and fascinating to behold. All of this makes for a delightful countryside escape in South America, particularly since the island is shaped by rolling pastures, tangles of native forest, wetlands rich in wildlife, and rugged, dramatic coasts, protected by otherworldly powers and mythical figures, according to the locals.
7. Exploring the southern wilderness in Ushuaia, Argentina
With a name as dramatic as 'Land of Fire', you know you can expect something rather out of this world from Tierra del Fuego. Cast away on the southernmost tip of South America, this rugged archipelago encapsulates Patagonia at its wildest, making for an otherworldly stomping ground that adventurers will find hard to resist.
Ushuaia occupies the final urban threshold before the wild, end of the world wilderness takes over. This frontier town sits on the cusp of the Beagle Channel, characterized by temperamental waters, ice-blue glaciers and endemic wildlife, such as Sea Lions, Pygmy Right Whales and various bird species. It is also the route towards Antarctica, the path of many an intrepid explorer during the Age of Discovery, which you can emulate on your very own Antarctic expedition.
Alfonso Tandazo is President and CEO at Surtrek Tour Operator. Surtrek Tour Operator is a well-established firm, specializing in custom-designed luxury tours in Ecuador, the Galapagos and throughout the rest of South America.
If you would like to be a guest blogger on A Luxury Travel Blog in order to raise your profile, please contact us.
Did you enjoy this article?
Receive similar content direct to your inbox.