By
Anna Mascaro
on Jan 17, 2021 in
Africa
,
Arizona
,
Asia
,
Central America
,
Costa Rica
,
Croatia
,
Eastern Europe
,
Europe
,
Maldives
,
Morocco
,
North America
,
Regions
,
USA
A New Year abounds with possibilities to bid adieu to the old and set out to explore some of the world's most extraordinary hidden gems. From cultural treasures in Korcula island to atmospheric streets in Essaouira, tropical paradise in Costa Rica and the Maldives, and the soaring Red Rocks of Sedona, we reveal the best destinations for connecting deeply with nature, and healing your body and mind to reset yourself for the year ahead.
Join us on a journey to five blissful destinations where you can travel slowly, delve deeply into the local culture, and enjoy immersive experiences that will leave you transformed, inspired, and rejuvenated.
Sedona, Arizona
For some, relaxation looks a lot like exploration — and there's no better place for it than Sedona's famous Red Rocks, where you can go hiking, mountain biking, horseback riding, or river kayaking amid truly breathtaking terrain. What's more, the region has developed a robust sustainable tourism plan, ensuring that the stunning lands are protected and the skies remain as peaceful as when the landscape was formed many millennia ago.
Sedona offers an array of hikes for multiple skill levels and guarantees panoramic views, regardless of your fitness level. With a circular trail of 3.2 miles, the Airport loop is recommended for the more relaxed wayfarer. For a moderate climb, we recommend the one-and-a-half mile trek up Doe Mountain, which rewards with stunning views of the canyons and desert. If you like a challenge, hike the Cathedral Rock Trail, a steep 1.2-mile trek with a unique perspective of the surrounding rocks and beautiful Sedona landscape. When the sun goes down, join an astronomer for a special stargazing experience as you learn about the constellations and star formations.
Back on Earth, the peaks and valleys of Sedona are truly enriched by mystical Native American culture. Amongst the many ancient pueblos, the Tuzigoot National Monument is a must for those looking to escape modern haste. The ancients expressed a deep interest in the movement of the sun, moon, and stars for reasons still unknown to archaeologists. The Sinagua Indians gave particular attention to harvest times and even used a cosmic calendar. Much of their ancient way of life remains a mystery, and that enchantment remains part of Sedona's enduring magic.
The wonder continues at Sedona's Enchantment Resort, a refreshing stay that embodies the Red Rock aesthetic in gorgeous casitas and suites. From light to dark, day to night, prepare to be spellbound by Sedona's many outdoor wonders.
Nicoya Peninsula, Costa Rica 
Learn lessons about longevity on the Nicoya Peninsula in Costa Rica, a so-called 'blue zone', where people live exceptionally long lives. In this case, it's probably due to the rejuvenating power of the country's tropical nature, as well as the locals' laid-back love for life known as "Pura Vida".
The New Year is a time to blend the body with mind and the Nicoya Peninsula is rich with experiences and accommodations to aid in this synthesis. Located on the sandy shores of the Santa Teresa region, the beachfront Nantipa Hotel is a stylish, boutique hotel with incredible beachfront bungalows with private plunge pools. Set your gaze upon the views or take part in one of the many wellness experiences offered at the hotel, such as meditation on the beach, healing sound therapy, or energizing yoga sessions. 
Beyond wellness, take a trip to the Cabo Blanco National Park, home to over 140 different tree species and a variety of tropical creatures. Continue on your wild wanderings to the Montezuma Waterfalls, great for a refreshing dip and a couple of lively jumps, if you dare. Surrounded by lush nature and the calming sounds of the falls, you'll find it hard to return to reality.
The peaceful ambience of the Nicoya Peninsula will leave you feeling transformed. We're certain that it should be on the agenda for your next trip focused on all things restoration, reset, and wellness.
The Maldives
With pure white beaches, dazzling hues of turquoise, and endless opportunities for adventure, the Maldives is a truly unique paradise.
The archipelago may be small in size, but it knows how to utilize the jewel-like ocean that encompasses it, offering a variety of water-based experiences for the light hearted, curious, and daring. At the carbon neutral resort of Soneva Jani, discover the Maldives' first overwater 3D observatory, So Starstruck, which allows you to see space in all its splendor. The observatory contains a 16" telescope that rises up through the floor and provides views that are, quite literally, out of this world.
Take a cruise through the Muli Channel on an unforgettable marine safari to encounter Maldives dolphins and an abundance of fish, such as the longfin bannerfish and the clown triggerfish. Or embark on a fishing expedition on a traditional wooden dhoni and dine on your catch that evening.
For a more interactive adventure under the deep blue sea, take an exhilarating speedboat ride to the next island in Hanifaru Bay and swim with hundreds of Maldives manta rays in their natural environment at the world's largest manta ray feeding station.
If a digital detox is part of your New Year plan, you can turn off your wifi with the flick of a switch and avoid the outside world entirely in your TV-free luxurious suite. The incredible Maldives knows the secrets of unwinding and will make for a perfect place to reset and restore for your brand New Year and brand new self.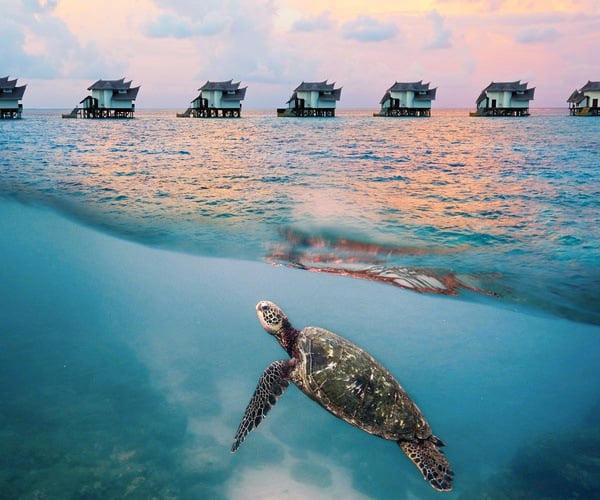 Korcula, Croatia 
If your idea of disconnecting involves discovering new cultures then Korcula is heaven sent for an ultimate Croatian travel experience. A dreamy island off the Adriatic coast, it's lesser known than other Dalmatian islands such as Hvar or Brac. Take seclusion a step further by visiting off season—a late spring or early fall trip is almost guaranteed to be exclusive, tranquil, and revitalizing.
The ancient fortified city of Korcula town is exemplary of the Venetian style, including an exquisite monastery and grand cathedral. The city center, with its ancient walls and towers, have undergone extensive renovation and a new walkway is being built so you can immerse yourself in the island's extraordinary cultural heritage. Lose yourself in the ancient streets of the Old Town, fusing Greek, Roman, and northern European influences, the island is rich in traditions that live on through its food, architecture, and culture. If you're lucky to be in Korcula on the night of the Moreska Sword Dance, witness the incredible spectacle of the dancers' precise fighter moves.
Give your New Year's resolutions some momentum with a cycling tour through the rural scenery, stopping in one of the island's oldest settlements, Žrnovo. While there, indulge in the olive oil and winemaking craft that envelops the town. Or if you're hoping to start the year with a more leisurely rhythm, you won't want to miss out on a motor yacht day trip to the nearby, untouched Mljet Island that, according to legend, captivated Odysseus for seven years.
Claim your year with a stay at Korcula's finest, Lešić Dimitri Palace. Immerse yourself in history, culture, and old-world charm in this picturesque boutique hotel which draws inspiration from acclaimed explorer Marco Polo. Enjoy breakfast on the terrace overlooking the Adriatic, admire the historical architectural touches, or simply indulge in a spa day. Korcula and all of its wonders will provide you with the renewal you're seeking for the New Year.
Essaouira, Morocco 
Renowned for its ancient wonders and dramatic landscapes, Essaouira is the perfect destination for true escapism with a relaxed, hippy vibe. At the port, let a sense of calm wash over you as you watch the famous blue boats sway hypnotically in the soft breeze.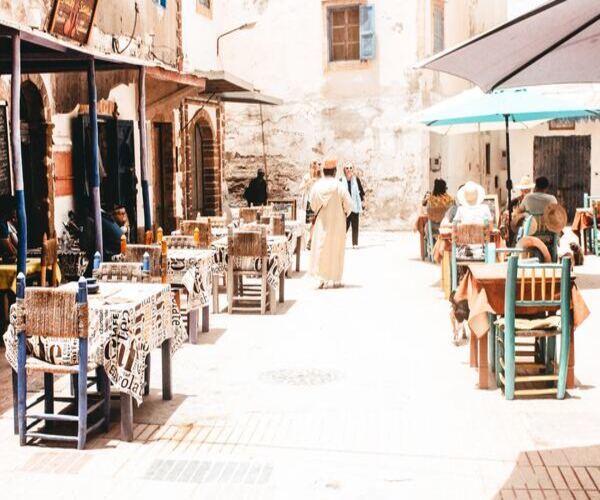 Game of Thrones fans might recognize the city's ramparts, which features as a backdrop in the series and today provide the perfect promenade to see the layout of the old town and learn more about the history of this former fortress city. If shopping's your activity of choice, Essaouira makes it easy to participate in responsible tourism, with myriad NGO and cooperative shops selling beautiful local crafts and souvenirs, and income circulating back to the local economy.
At dinner time, indulge in the exquisite flavors of Essaouira's finest restaurant at L'Heure Bleue. On Fridays (the Muslim holy day), in-house Chef Ahmed cooks couscous, and on Saturdays, savor a handcrafted "discovery menu" with a pairing of different Moroccan wines. If you're wondering how to create this delectable dinner for yourself, stick around for one of the cookery classes offered by the prized chef himself. If your New Year resolutions involve learning a new skill, the powerful trade winds make for perfect surf conditions. After a surf lesson, reward yourself with a meal of fresh seafood at one of the many restaurants that speckle the harbor.
Outside of the city, there are several natural gems such as the spectacular Sidi M'Barek Waterfalls, just a short drive away and accessible via a short, easy hike. Once there, inhale the serenity and listen to the sounds of rushing water amid scenic views.
Coastal charm and cultural delight combine to define the city of Essaouira. Whether your New Year reset involves concocting your own culinary successes or losing yourself in the impressive nature that surrounds the city, this Moroccan gem is the perfect place to nourish your body and soul.
Anna Mascaro is Founder of Terracotta Travel. Terracotta Travel is a boutique travel agency that caters for luxury travellers who want to go beyond the guidebook and behind the scenes in every corner of the world.
If you would like to be a guest blogger on A Luxury Travel Blog in order to raise your profile, please contact us.