By
Kerry Golds
on Jan 18, 2021 in
Africa
,
Asia
,
Central America
,
Costa Rica
,
Egypt
,
India
,
Japan
,
Jordan
,
Middle East
,
Regions
These five corners of the planet captivate with their beautiful hues, from cherry-blossom pink to jungle green. When you picture your perfect holiday destination, which colours spring to mind? Do you imagine emerald forests, azure oceans, golden sands?
Colour can have such a profound impact on the character of a place and its attraction to us. Wassily Kandinsky once wrote, "colour is a power which directly influences the soul". Artists may ponder the meanings and moods of different hues, but our response to colour is a deeply personal one – and the planet affords us the most dazzling of palettes to explore.
Here we share five tempting destinations more defined by their colours than most…
Red: Jordan's Wadi Rum
Lawrence of Arabia once described Wadi Rum as "vast, echoing and god-like", and it's easy to see why. Though dubbed the 'Valley of the Moon', this UNESCO-listed part of southern Jordan more closely resembles the terrain of Mars (indeed, it was a stand-in for the 'red planet' in 2015 film "The Martian"). Striated sandstone peaks punctuate sweeping desert plains, forming an otherworldly landscape of red, pink and peach hues. Rather than Martians, nomadic Bedouin tribes inhabit this region, as they have done for centuries. If you wish to experience life as one of the tribe, visitors can choose to camp out under the stars at one of Wadi Rum's desert camps. Alongside Petra and the Dead Sea, this awe-inspiring valley is a must during a holiday to Jordan.
Blue: India's city of Jodhpur
Even when it isn't Holi – the Hindu festival of colour – India is home to a rainbow spectrum of cities. Perhaps most famous of all is the 'white city' of Udaipur, the 'pink city' of Jaipur, and the 'blue city' of Jodhpur. Jodhpur's cityscape is awash with morpho-blue houses, and, though apocryphal tales abound, nobody is exactly sure what began this trend. What is certain, though, is that it lends a cooling atmosphere to this semi-arid region. In addition to its characteristic hue, Rajasthan's second-largest city is famed for its temples, palaces and forts.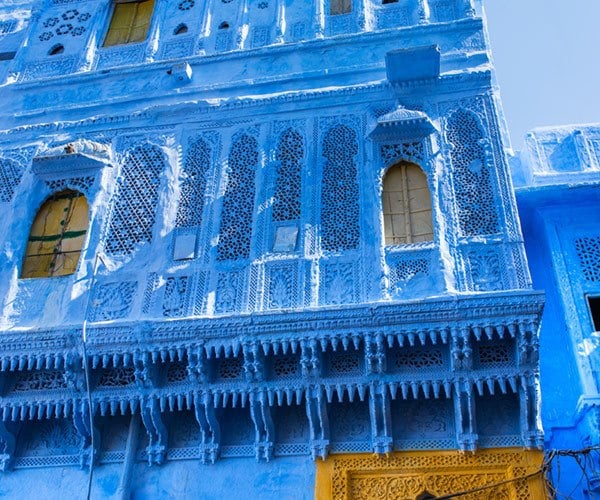 Green: Costa Rica's jungle
You might think being set between the Caribbean Sea and the Pacific would make Costa Rica's defining colour ocean blue. But this pioneer of eco-tourism in Central America is pretty in green, thanks to lush tropical forests that brim with biodiversity. Costa Rica's Corcovado National Park is the country at its wildest and most verdant. The 424-square-kilometre park lies on the Osa Peninsula, and its canopies, lagoons and rivers are home to two- and three-toed sloths, scarlet macaws, coatis, tapirs, crocodiles, jaguars; white-faced capuchin, howler and squirrel monkeys; among other fascinating and rare creatures. Costa Rica is also known for its forest-covered volcanoes – 16 in total – many of which are open to the public.
Pink: Japan's cherry blossom
In Japan, the arrival of spring is marked by the blossoming of cherry trees – or sakura in Japanese. From around March to May, frothy blooms of pink and white vivify avenues, woodlands and gardens across the country, before dripping their petals in a snow-like flurry. Locals have celebrated this natural display for centuries. There is even a specific word for the traditions honouring the event: hanami. During cherry blossom season, people gather day and night at the most picturesque viewing spots to take photos, picnic and throw parties. It's one of the most popular attractions amongst visitors and locals alike, so it's worth booking the best-placed hotels and traditional inns (ryokan) well in advance.
Yellow: Egypt's ancient pyramids
Amidst a sun-baked plateau on the outskirts of Cairo, the famous pyramids of Giza point towards the heavens. Ancient Egyptians believed gold to be 'the skin of the gods', and the relics of pharaohs were drenched in it. Yet, gold seems to characterise the very landscape, here. The limestone used to construct the pyramids appears amber in hue, as though formed by the very desert surrounding them. However, it is thought the exteriors of Giza's pyramids were once gleaming white, encased in a layer of polished white stone to better reflect the sun. Time and the temptation to re-use this finer material elsewhere exposed the yellower stone underneath, giving the last of the surviving Wonders of the Ancient World their distinctive colour.
Kerry Golds is Managing Director of Cox & Kings. Cox & Kings is an award-winning tour operator with a history of over 260 years, specialising in luxury small group tours to the world's most captivating destinations.
If you would like to be a guest blogger on A Luxury Travel Blog in order to raise your profile, please contact us.