Consisting of over 32 islands and cays, only nine of which are inhabited, St Vincent and the Grenadines have been appropriately dubbed 'the jewels of the Caribbean'. Famed for secluded beaches, crystal-clear water, and sublime dive sites, most of this sprawling archipelago is only accessible by boat, making it an ideal spot to take a relaxing yacht charter in glorious seclusion.
Short sailing distances between islands make it a breeze to visit rainforests or white sand beaches, buzzing ports or chilled reggae shacks. An endless array of private anchorages, snorkelling opportunities and exciting activities all add to the allure of the Grenadines. Take a trek along verdant pathways to immerse yourself under cascading waterfalls, where the scenery and wildlife are so magnificent that the raw beauty witnessed first-hand can never be fully replicated in a photograph.
St Vincent
Sailing south will make the most of any prevailing currents and weather systems, so a starting point at St Vincent is ideal. Rugged and volcanic, this island has remained largely unspoiled and offers plenty to discover. The interior is mostly undeveloped and bursting with wild nature, meaning it is a place most successfully discovered by yacht. Climb to the top of the towering 1,200m Soufrière active volcano that last erupted in 1979 to soak up incredible views, wander the Sunshine Market to pick up award-winning Sunset Very Strong Rum, or head north to take in the natural beauty at the wildly tumbling Falls of Baleine. Those seeking less adventurous pursuits may prefer a more sedate experience at the beautiful and historical Botanical Gardens near Kingstown or relish a cocktail at the renowned Capt. Bligh Lounge Bar as the fiery sunset dips below the horizon. Nearby, at the privately owned getaway resort of Young Island, take time for a luxury pampering day of ultimate relaxation where the blue lagoon snorkelling is outstanding.
Bequia
Make way to the charming isle of Bequia where Admiralty Bay is a great anchorage close to the colourful capital town of Port Elizabeth, clustered with local restaurants with the white sands of Princess Margaret Beach nearby. Step ashore and wander down the Belmont Walkway before savouring a cocktail at the superb Frangipani Hotel waterfront bar. Chilled beachside cafes at Lower Bay offer a cool ambience or, for the more adventurous, enjoy a sunset picnic up the high peak of Mount Peggy. Bequia offers a unique mix of the traditional and modern with international art and leisure activities inside a bustling community.  Famed for its wooden boatbuilding, take time to seek out hand-carved replicas of historical Bequian skiffs, intricately made by resident craftsmen for local shops. Take an adventure tour around the island – you can be entranced by the 360-degree views from Mount Pleasant, visit the fabulous Old Hegg Turtle Sanctuary, sip rum punch at Firefly Plantation and admire the West Indian architecture amongst the ubiquitous lush foliage along the way. Friendship Bay provides a tranquil anchorage bathed in natural beauty, ideal for whiling away the hours with some relaxed watersports and snorkelling in the clear, warm waters, while scuba enthusiasts will relish the myriad of marine life at famed dive site, The Wall. Sail around the uninhabited private island of Petit Nevis, packed with history from the whaling days and where reef diving is sensational.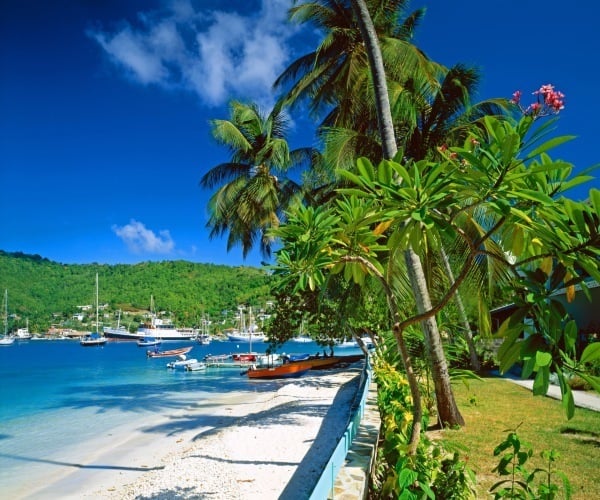 Mustique
Enticingly swathed in a whirl of glamorous history, the tiny island of Mustique needs no introduction. Exclusivity has long been sought on the so-called Billionaires Island by celebrities and jetsetters alike, with residents such as Princess Margaret and David Bowie raising the stakes. Nowadays, the island still retains its wildly natural topography in some areas, with swathes of relaxed beaches and unpaved roads simply adding to the hedonistic appeal. However, pristine villas and manicured lawns endure, delivering a tropical retreat for today's A-listers looking to escape, whilst a robust social schedule is maintained at the handful of luxury resorts found here. On the water's edge, amidst colourful shops and boutiques, don't miss the opportunity to stop at world-famous Basil's Bar, renowned for Mick Jagger delivering a few impromptu sessions. The nearby reef is teeming with fish and ideal for snorkelling. Fishing is banned in this protected area and turtles can be seen from yacht decks, rising up from the weed beds for air. The coastline on Mustique is unique, with nine intensely different beaches and a multitude of coves to discover. At North Point and Rutland Bay the terrain is rugged with booming waves and a wild windswept beach walk awaits around Pasture Bay. In contrast, the sweeping crescent of Macaroni Beach to the east is regarded as one of the top ten beaches in the world, complete with sparkling white sand and emerald green palms. For a cooling midday swim, Gelliceaux Bay is blessed with magical turquoise, clear waters that beg exploration. Between the islands of Mustique and Canouan there are superb snorkelling and scuba diving opportunities off the tiny uninhabited islets of Petit Mustique and Savan, each with a small sandy beach – look out for the friendly and inquisitive manta rays.
Canouan
Centrally located within the Grenadines, the forested and mountainous island of Canouan is a compact paradise. Named 2,000 years ago by its Arawak founders, Canouan translates as 'turtle island' and is protected by one of the world's largest living coral reefs delivering sublime diving. Pronounced the place that billionaires go to escape millionaires, here the meandering tortoises outnumber the locals. Flanked to the south east by a stunning crescent shaped coral reef for exceptional scuba diving, the bustling main town and seaport of Charlestown is found in the north. Visit the cosmopolitan boutiques, maritime museum and sample delicious Caribbean cuisine. Firmly established as a yachting hub, the idyllic surroundings and excellent facilities of the Sandy Lane Yacht Club prove a popular draw together with the championship golf course, intimate luxury resorts and the most pristine white sand beaches in the Caribbean. The high point of Mount Royal offers breath-taking panoramic views over to St Vincent, and even St Lucia on a clear day, with neighbouring Mahault Bay Beach offering a remote expanse of tropical seclusion, ideally accessed by yacht.
Tobago Cays
Known as the jewel in the crown of the southern Grenadines, the cluster of five uninhabited islets of the Tobago Cays are a protected marine park boasting fluorescent waters alive with colourful fish, dubbed by Jacques Cousteau as one of the world's best diving spots. Home to significant habitats – including coral reefs, sea turtle nesting and feeding sites plus mangrove systems – the 4km long Horseshoe Reef encloses four of the cays (Petit Bateau, Petit Rameau, Baradal and Jamesby) in a crystal-clear lagoon creating a popular yachting anchorage. The fifth cay, Petit Tabac, lies outside of the reef to the east and is the ideal place to enjoy a luxurious picnic on the deserted sands and take a dip with wild turtles. This was in fact the film backdrop for Johnny Depp being marooned in Pirates of the Caribbean: Curse of the Black Pearl! For activity-seekers, there are great opportunities for watersports fun with kitesurfing enthusiasts favouring a launch from Petit Rameau and sailing upwind to the inner edge of the horseshoe, while the more adventurous sail beyond the reef to World's End.
Mayreau
A true yachting haven, Mayreau offers peaceful and scenic anchorages at gorgeous Saltwhistle Bay and the simply perfect sands of Half Moon Beach. This is the smallest inhabited island in the Grenadines archipelago and one of the most stunning. Take the only paved road leading to the quaint Old Wall village perched atop the hill with sensational views from the top. Here you must visit local bars and restaurants with welcoming residents and excellent island home-cooking to sample. Additionally, enjoy cocktails then dinner under the trees on the beach at Saltwhistle Bay Beach Club, a lively and popular place for visiting yachts. Nearby, tiny Mopion is not be missed. A 30m long sandbar (depending on the tides) surrounded by an underwater reef and adorned solely with a thatch umbrella that was originally left so sailors could identify the reef from a distance to avoid collision. Today it is thought of as an iconic geographical marker for the Grenadines and a wonderful photo opportunity on a yachting getaway.
Union Island
Mountainous and volcanic, Union Island presents a dramatic silhouette. Clifton Harbour is a superb yachting anchorage and boasts the must-see Happy Island, a man-made isle hosting a vibrant bar with a view – this is a great spot for a sunset cocktail. The picturesque town of Clifton offers quaint local markets on the green together with entertainment and a selection of excellent restaurants. Hiking and biking are superb with great trails throughout the island; especially recommended is the challenging hike up to Mount Taboi, nearly 30m above sea level, for a reward of exceptional views. Chatham Bay to the west has great anchorage opportunities for yachts and the crescent of golden sand against a backdrop of lush green hills is a scenic delight. The only commercial enterprise here on the beach is Shark Attack, a local bar with a great Caribbean barbeque and steel band music for dancing after dinner – when cooking starts they will dispense a messenger in a boat to visiting yachts to let you know and take your order! During May, the island celebrates the beginning of the planting season with the fabulous Maroon Festival where dancing, music and food play a large part in praying for rain to water the season's crops.
Grenada
The spice island of Grenada hosts a wealth of wonders ideal for those seeking relaxation as well as activity-lovers. Divers have a unique treat at the Moliniere Point underwater sculpture site, where contemporary art meets a powerful ecological project. Journey inland and explore the Grand Etan Forest Reserve, teeming with wildlife beside the amazing water-filled volcanic crater lake and trek through the Seven Sisters Waterfalls rainforest to swim in natural pools surrounded by colourful beauty. In capital St George's, explore the history of Grenada with architecture and dialects all reflecting the fascinating culture built through South American and European settlements. Grenada is known as the spice island for good reason – cloves, nutmeg, cinnamon, ginger and vanilla are grown in abundance and the fragrance is often carried on the breeze. Hot, spicy food is also a national treasure with pepper pot being a favourite dish and best eaten while the calypso tunes are playing well into the night.
The charming appeal of each island and the warm Caribbean welcome clearly make the Grenadines a captivating yachting destination. Relish the relaxed atmosphere and stress-free lifestyle: kick back, set sail and make some amazing memories.
Nicholas Dean is Managing Partner of Ocean Independence. Ocean Independence is a global leader in luxury yachting, providing a bespoke experience across yacht charter, sales and management.
If you would like to be a guest blogger on A Luxury Travel Blog in order to raise your profile, please contact us.