Whilst some may overlook the 'mini-break' as lacking the appeal of a traditional week-long stay, sometimes nothing feels more indulgent than spontaneously packing your bags and heading off for a 'long-weekend' somewhere wonderful. With the staycation trend set to mould travel plans across Great Britain throughout 2021, why not take advantage of the beauty 'on your doorstep' and opt for a luxury leap to the Yorkshire Dales?
Dominated by rolling hills, ancient stone walls and thundering rivers, there are miles of picturesque landscapes to choose from when considering where to begin your Yorkshire adventures. Whilst you may be spoiled for choice, we have selected one of our favourite market towns and it's surrounding area to craft a short but sweet, 48-hour itinerary to ensure your 'mini-break' packs a real punch.
Friday (am)
Welcome to Swaledale
Setting the tone for your country escape, the best way to experience the unparalleled natural beauty of the Yorkshire Dales is without doubt, on foot. In the depths of Swaledale, there are a multitude of tree-lined trails, inspiring stone paths and woodland walks to undertake, weaving and traversing through some of the most verdant and lush landscapes Great Britain has to offer. The roaring Swale river traverses through the medieval market town of Richmond before snaking off over dale and valley; providing the ultimate backdrop for a romantic hike or a family adventure.
One of the most popular routes leads from Richmond along the Swale river, and up through the Hudswell valley woodland. Emerging from the steep banks, wanderers are rewarded with truly breath-taking views and the warm welcome from all at the multiple CAMRA award winning 'Pub of the Year'; the George and Dragon. Even the most discerning of gastronomists would be hard-pressed to turn down the exceptional home-made pies and crisp hand-drawn ales, all set to the backdrop of 'God's Own County'.
Friday (pm)
Well-earned luxury
After thoroughly earning a relaxing evening, check-in to your own luxury lodge in the heart of the rich woodlands. Leaving your muddy boots to dry on the heated racks, sink deeply into a bubble bath, soothing any weary feet and abandoning the stresses and strains of everyday life. Pad across the under-heated wooden floor before reclining by the log-burning fire, toasting your toes and admiring the star-lit skies through the floor to ceiling windows.
There are many a local culinary delight to enjoy on a self-catering escape in Swaledale, so there is ample opportunity on your first evening to tuck into a 'Yorkshire' tapas from the comfort of your lodge. Award-winning, crumbly artisan cheese from Wensleydale, treacle-thick regional chutneys, honestly-baked crusty loaves and locally-reared charcuterie; expertly paired with one of the many Yorkshire wines now making waves in British sommelier circles.
Saturday (am)
Refresh and renew
After a deep, peaceful sleep in whisper-soft beds, take pleasure in a languid breakfast overlooking the wilds of the woodland outside. Refresh with freshly squeezed juice and Champagne, before nibbling your way through flaky croissants with loved ones in the vast, open-plan living space where the log-fire warms bare toes and those far too comfortable to shrug off pyjamas and dressing gowns just yet.
Whilst traditional hotel breaks usually come hand-in-hand with spas and swimming pools, five-star services are no longer confined to city breaks. Guests who opt for an experience 'off the beaten track' can now find that many luxury treatments are able to travel to them (and not the other way around). One such example is the unparalleled massage menu from the wonderful team at Glo Pamper. Their trained beauty therapists can recreate the spa experience from the comfort of your lodge, adding the ultimate indulgence to your weekend stay.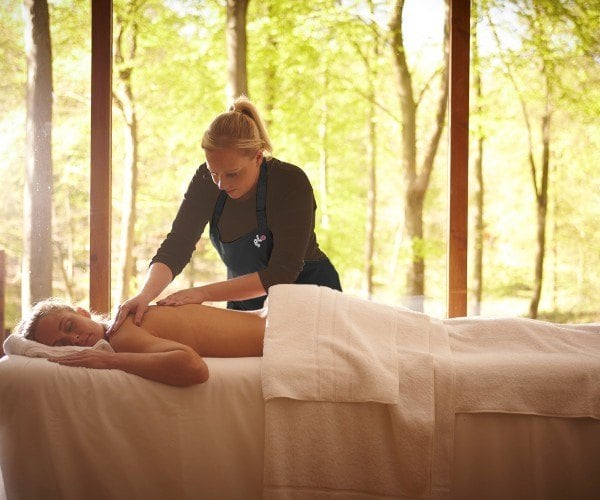 Saturday (pm)
After enjoying a contended morning being pampered, continue the self-care well into the afternoon with an impromptu stroll through the charming market town of Richmond. The historic architecture that lines the cobbled streets bears home to a myriad of independent boutiques, Aladdin's caves filled with beautiful gifts and homeware, chocolatiers and pretty cafes adorned with lace. After a satisfying spell of retail therapy; bags laden with treats and mementos of your time in Swaledale, head to one of the town's most popular drinking houses; the Kings Head Hotel. Serving guests for over 200 years, their spacious lounge is a fine spot to enjoy a pre-dinner cocktail by the roaring fire.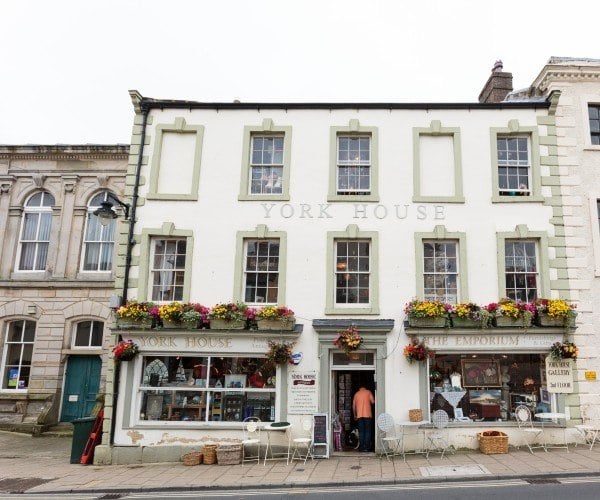 Retiring back to the comfort of your accommodation, avoid the stresses of cooking by hiring a talented catering team to host an in-lodge dining experience for your loved ones. Many of the contemporary culinary services offer tailor-made menus to suit all tastes, with all aspects of the evening taken care of (including any washing up!). Yorkshire-based 'Nomad Catering' are steered by the talents of Head Chef James Brown, who's preference for Pan-Asian and European delicacies have made their dishes sought-after for bespoke events, birthday celebrations and intimate dinners.
Sunday (am)
After another restful night, take a final front-row seat to the innate beauty of the Swale valley, enjoying freshly-ground coffee from the privacy of your wooden deck. Despite a fairly-short stay, there are a wealth of ways to pack unique experiences and luxury touches into a 'long weekend', leaving you feeling reconnected with nature and well-rested before returning to everyday life. From indulgent pampering to memorable feasting, it would be wise not to underestimate the healing power of the 'mini-break'.
Laura Dubois is Managing Director at Together Travel. Together Travel is a luxury holiday cottage operator covering the British Isles.
If you would like to be a guest blogger on A Luxury Travel Blog in order to raise your profile, please contact us.