Whilst swimming with dolphins usually conjures visions of Caribbean waters, opulent, far-flung resorts and price tags to match, those opting to staycation this year may be pleasantly surprised to know that there is a wealth of magical wildlife that inhabits the Great British coastlines, year-round.
From the wild shores of the Scottish islands to the balmy Cornish waters, a myriad of species choose to breed, feed or live within spotting distance of some of the UK's most popular holiday hotspots. Minke whales to grey seals, colourful puffins and orca – these species are themselves incredible in their own right, but nothing quite compares to the glimmering elegance of a dolphin.
Many species of dolphin frequent the coast, the most popular of which tend to be the harbour porpoise, the bottlenose, the common and the slightly more elusive Risso. The most rewarding way to interact with these inquisitive creatures varies on geographic location, so take note as our team steer you through their favourite ways to enjoy these spectacular aquatic animals.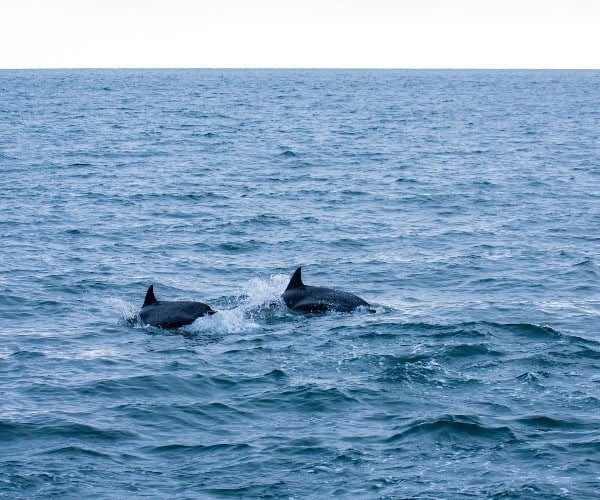 Bespoke boat tours of Cardigan Bay off the Llŷn Peninsula
Whether cruising the craggy coast of Bardsey Island or heading out into the wide open waters of Cardigan Bay, those aboard one of the Llŷn Peninsula's many popular boat tours can be sure to catch a glimpse of a natural wonder that will remain memorable for a lifetime to come.
Home to a pod of over 360 bottlenose dolphins, Cardigan Bay offers one of the best locations in Europe to marine-watch and is a dedicated 'Special Area of Conservation'. The family of aquatic creatures that frequent here are one of two resident populations in the UK, the other making home on the magical Moray Firth on the banks of Inverness in Scotland.
For those looking to pair a wildlife tour with a splash of indulgence, we recommend starting the day wandering the steep streets of affluent Abersoch, taking in a seafood lunch at one of the waterfront bistros before hopping aboard a boat tour either here, or in neighbouring Pwlhelli, where there are plenty of excursions to choose from within their pretty marina.
There are a wealth of other marine adventures to enjoy whilst holiday on the Llŷn; sailing, stand-up paddleboarding, fishing and beach-hopping to name a few. Couple these outdoor adventures with luxury accommodation in the form of an opulent, self-catering cottage that overlooks the twinkling Irish Sea, and you're bound to create a luxury staycation to remember.
Binoculars and Champagne picnics at Tiumpan Head on the Isle of Lewis
Visitors to the Outer Hebrides are spoiled when it comes to powder-soft beaches, sparkling waters and breath-taking natural scenery, but heading North along the Eastern edge of Lewis, the opportunities for spotting wildlife become abundant.
Tiumpan Head Lighthouse overlooks a proposed Marine Protected Area, which recognises the biological significance of the watery stretch that runs South from the Butt of Lewis. In these waters, keen wildlife enthusiasts can easily spot the lesser know Risso's dolphin, with their dome-shaped heads and monochrome colouring.
Sitting at 55m above sea level, the lighthouse commands exceptional views across the Minch to mainland Scotland, and although a little breezy is the perfect place for a picnic. We recommend stocking up your rucksack with award-winning Uig smoked salmon, hearty oatcakes and a bottle of your favourite bubbly (or a wee dram of Whisky!).
Whilst exploring the rocky cliff-tops of Lewis and powder-soft beaches of Harris, make time in your dolphin-spotting schedule to enjoy some of the finer Hebridean customs including whisky tasting, wandering through dreamy castle ballrooms and fishing for plump-bellied salmon in Uig.
Wild walks along the South West Coastal Path in Cornwall
As the temperatures start to rise during the summer months, those who opt to explore Cornwall via the iconic South West Coastal Path can enjoy clear views of dolphin pods from the cliff-tops, quaint harbour walls and long, golden beaches.
Here the dolphins annually take full advantage of the generous fish stocks, going into a frenzy of sorts and thrashing around in the surf. These sociable creatures have been known to swim right up to passing fishing boats in the hope of a snack, or just to make acquaintance with those on board.
Those willing to embark on a stroll in the wild, can expect to spot pods of up to 50-100 of common dolphins, identifiable by their unique yellow and grey markings and friendly disposition. In terms of geography, your best bet would be to head for the charming harbour of Padstow or the quaint fishing village of Porthgwarra (considered one of the best sites in the country!).
Cornwall is looking to claim it's crown as one of the most popular staycation spots in the UK in 2021, owing to it's balmy microclimate, exceptional sandy stretches and azure waters. For those wanting to escape to the coast before the summer crowds set in, explore the self-catering route with a spacious villa, cosy cottage or harbourside penthouse – available to those looking to getaway with their household after 12th April.
Top tips for spotting dolphins in the UK
Find a spot with great elevation and scan over the sea looking for any flecks or white flashes to the waters surface.
Pack a pair of binoculars to enhance your view.
Opt to staycation during the summer when your chance of spotting the pods is greatly increased in warm weather – the best months tend to be between June – September.
To increase your chances, choose to book onto a wildlife boat tour with expert guides who will be able to point your gaze in the right direction.
Laura Dubois is Managing Director at Together Travel. Together Travel is a luxury holiday cottage operator covering the British Isles.
If you would like to be a guest blogger on A Luxury Travel Blog in order to raise your profile, please contact us.