Just a short hop Palma couldn't be more accessible for a break from most European cities and is also increasing in popularity with American visitors since the recent award winning showing of BBC's The Night Manager and now the The Mallorca Files being aired on US TV.
The city is compact and easy to negotiate on foot, is steeped in history with many attractions such as the magnificent Gothic Cathedral, as well as chic shopping streets and a seemingly endless selection of bars and restaurants.
But where to stay?
A good-looking city like Palma needs admiring and its hard to beat a bird's eye view! For the urban hotelier of today, the rooftop pool is no longer a luxury but an essential part of the offering, giving guests a place to relax, cool off and admire the view. Here's our selection of the best spots in the city to sip a cold glass, dip in a pool or stretch on a sunbed under a warm Mediterranean sky.
El Llorenc Par de la Mar
A striking new five star hotel set in a tranquil spot adjacent to Palma's  old city walls and overlooking the Bay. On the edge of the historic quarter, this neighbourhood of La Calatrava is one of the oldest in Palma.
The crowning glory has to be the 360 degree views form the multi-levelled roof terrace with its 12 metre infinity pool and Balinese-style sunbeds. Disconnect from the hustle and bustle, stretch out and drink in that view over the Mediterranean, the old town and the Cathedral.
A couple of steps up is a bar, lounge area and dining tables where all, including non-residents, are welcome to enjoy the beautiful setting and views. Open from lunch to late evening.
Nakar Hotel
This iconic building has been in the Ramis family for three generations and is well known in the city and its location, slap bang in the centre of the smartest shopping district, is hard to beat.
What's special about the Nakar is views. When the lift doors open at the 8th floor Cuit Restaurant, you are welcomed by views across the rooftops of the Cathedral and the Bay of Palma beyond. The restaurant is open to non-resident guests and is a popular destination for local foodies.
Walk up one level more to the 9th floor (for guests only) and enjoy that same stunning view, complete with loungers and splash pool.
Summum Prime Boutique Hotel
This 16th-century palace has been artfully refurbished into a five-star boutique hotel offering all mod cons while retaining its historic character. Situated in Palma's Gothic Quarter, it is steps away from the shops of Jaume III and Paseo del Borne.
Lazing around at the Summúm is easy on the pretty roof terrace with spectacular views over the old city. There is a plunge pool where guests can cool off and sun loungers while enjoying a drink or snack.
Hotel Glória de Sant Jaume
Situated in the heart of Palma's old town, this five star luxury hotel lives up to its name. This dazzling new hotel is just moments from the elegant shopping area of Avenue Sant Jaume and La Rambla.
The only remaining building in the city with four stone arches, it is reminiscent of a far flung colonial club with sumptuous dark woods, furnishings and tiled floors.
The hotel has a blissfully quiet roof terrace complete with plunge pool with views over the old town to Palma cathedral. Why not join the daily yoga classes that take place next to the pool or just sip and ' people-watch' instead.
Boutique Hotel Can Alomar
If you like to be in the thick of things, then Boutique Hotel Can Alomar is for you. Shopping is inevitable. Step outside the hotel and it's neighbour is Massimo Dutti on one side and Louis Vuitton on the other. But because the hotel occupies the building from the 2nd floor up, there is a feeling of quiet calm, unlike many other city centre hotels which can suffer from noise.
This hotel, similar to the Nakar Hotel, offers a dual rooftop setting. On top of the hotel you find the sun terrace, with rooftop pool and a jacuzzi. On the 2nd floor the restaurant De Tokio a Lima, open to all, has two lovely open-sky terraces, where you can enjoy a fusion of Asian and South American food.
Convent de la Missió
Tucked down one of Palma's charming little streets in the heart of the historic centre,  you will find this stunning boutique hotel.
An 18th century Convent for missionaries has been blended with 21st century luxury to create a chic hotel which is a real gem. With the added bonus of a Michelin Star chef in residence – Marc Fosh. Completely refurbished a couple of years ago, it now now boasts the largest hotel roof terrace in Palma, with pool, huge sundeck and views across the city and in the distance to Bellver Castle.
Can Bordoy Grand House and Garden
Recently opened in the heart of old Palma, this is one of the jewels of the hotel scene. Beautifully-restored close to La Llotja, the trading exchange of Mallorca's merchants since the 1400s, and the marina and just minutes from the smart shops and pavement cafes of Passeig del Borne, it offers a haven of peace and tranquility.
The roof terrace and pool area is an oasis of calm, where you can look out over the hotel gardens and across the rooftops to the rose window of Palma's La Seu Gothic Cathedral and the glinting blue of the Mediterranean beyond. The views have got to be some of the best in Palma.
Possada Terra Santa
Tucked in one of Palma's delightful little streets in the heart of the old town you will find Posada Terra Santa dating back to 1576. It's location is hard to beat, just minutes from Placa Mayor with its bar, cafés and entertainers and a gentle stroll downhill will bring you to the Paseo Maritimo and the Bay of Palma.
Sitting pretty on the roof top with plunge pool and sun terrace, it is amazing to think that you are in the middle of a busy European city and yet at this lofty level there is a cushion of calm and tranquility. At the push of a button, a staff member will deliver you a refreshment of your choice so that you can just relax and take in the view. Ahhh!
Boutique Hotel Sant Jaume
This grand new hotel is perfectly situated. In a quiet narrow street between the Gothic Sant Jaume church and the Santa Magdalena Convent,  just minutes from the main shopping street of Jaime III and all of Palma's attractions. A lofty atrium awaits you on arrival and a friendly smile from the delightful staff.
Make your way up to the fourth floor sun deck and drink in the views over the roof tops and spires of Palma's old town and across to it's majestic cathedral. Surrounded by sunbeds and with a pale blue plunge pool, this is the place to flop and relax.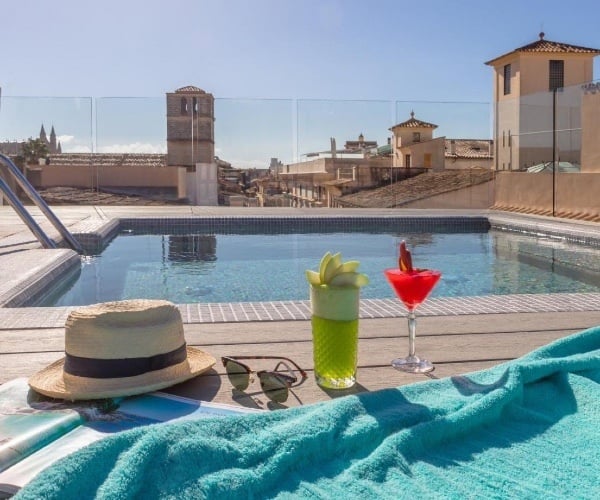 Sant Francesc Hotel Singular.
Visitors to Palma just can't get enough of this award winning. In heart of the historic quarter, this handsome 1880 villa has been remodelled into a magnificent luxury hideaway and has become one of the most chic addresses in Palma.
Situated in front of the Basílica Sant Francesc and just minutes away from all of Palma's attractions, Palma on foot is easy.
But it's the stylish rooftop terrace that will become your base camp and it's hard to pull away.
This is one of the few terraces that offers a lunch, supper and cocktail menu with seated dining and sit up cocktail bar (open to non residents except during busy times in high season). Order your lunch, swim it off and snooze the afternoon away after pausing to take-in the 13th century spires as your backdrop. Impressive.
Don't leave your giddy views of Palma to chance. With such an outstanding collection of hotels to choose from, your head for heights is assured.
Deirdre O'Connor is the Managing Director of MallorcanTonic. MallorcanTonic is a luxury hotel and information booking portal, offering expert knowledge about the island of Mallorca.
If you would like to be a guest blogger on A Luxury Travel Blog in order to raise your profile, please contact us.