It certainly looks very promising that we will soon be able to return to holidaying abroad. With the increasing vaccine rollout, confidence is once again returning to the traveller.  The Canary Island of Fuerteventura is proving to be a popular choice for the latter part of this year onwards. This Spanish island may conjure up images of vast, white and golden sandy beaches and sand dunes. However, there's much more to see around the island and here are just some of our favourites.
Fuerteventura is one of 8 Canary islands and is the second largest after Tenerife.  You'll find the island has over 50km of stunning beaches. Being only 100km from the coast of Morocco has meant that sands from the Sahara have been deposited along the coast of Fuerteventura over the centuries.
Corralejo
Although you may be tempted to relax by the hotel's swimming pool, it will certainly be a worthwhile trip to Corralejo's beach and dunes, and you won't be disappointed.  You'll find a very wide, and around 11km long, white sandy beach here. The sea is very clear, although due to currents it can be unsuitable for children. The dunes are a protected nature reserve and are popular with beach goers. You'll find Corralejo on the north coast of Fuerteventura.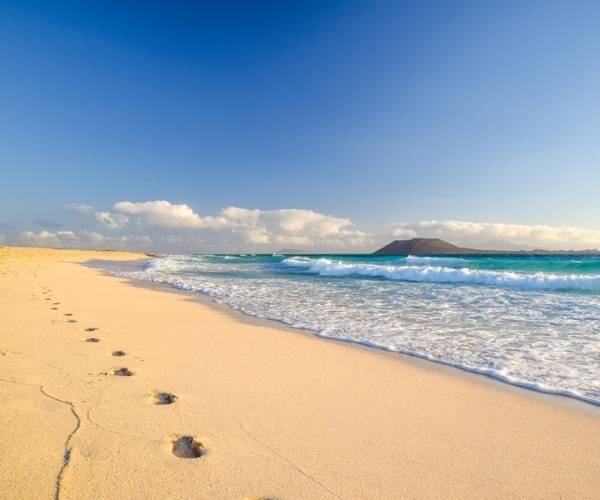 Popcorn Beach
You'll need to wear some footwear when walking on Popcorn Beach.  This beach lies just outside Corralejo, and as you can see, the 'sand' resembles popcorn.  Neither soft underfoot, nor to relax on, this beach is certainly a tourist attraction.
Many have thought the unusual deposits were pieces of coral that had washed up on the beach. However, they are fossilised aquatic plants. Still worth a visit, and a great photo opportunity, but please don't take any home.
Jandia
You'll be able to find many secluded spots on Jandia Beach that's located in the southern part of the island of Fuerteventura. Take it easy, enjoy a walk along the vast, gently shelving sandy beach, or a swim in the crystal-clear water. The sea here is suitable for all the family, but this area of the island is also known for its Atlantic breeze.
Watersports
Fuerteventura offers wonderful surfing, windsurfing and kite-surfing facilities.  Head to the north of the island, to the resort of El Cotillo where the more experienced surfers go to experience what is known as 'Bubbles' where the waves break over the rocks and reefs. Playa de Sotavento in the south plays host to a leg of the Windsurfing World Championships as it's known for its windy conditions and excellent waves.
Toston Lighthouse
Faro del Toston (Toston Lighthouse) can be found in the north-western coast of Fuerteventura on the coastline just 5km north of El Cotillo. Inside you will find the Museo de Pesca Tradicional (Traditional Fishing Museum) where you'll be able to learn about the importance of fishing for the island.  Stay here until the evening and you will have the chance to see a wonderful sunset – some say it's the best on the island.
Aloe Vera
We've probably all heard of aloe vera, especially when it comes to its soothing and healing properties. It's particularly known as an ingredient in after-sun.  Fuerteventura has ideal soil and weather conditions for growing the plant.
You can visit the island's aloe vera plantation located in the northern part of the island. Head to La Oliva and you'll be able to see around 2,000 plants and even had a guided tour.
La Entallada Lighthouse
This is an active lighthouse located on the east coast of Fuerteventura, around 6km from Las Playitas. Sitting on a 200m high cliff, its location is the closest point of the Canary Islands to the coast of Africa (approximately 100km away). If you're driving, you'll find a large car park and incredible views of the Atlantic below.
Cofete
Located on the southwest coast of the island, Cofete is possibly one of the best beaches in Spain. Located in a nature reserve, this beach is known for its winds and unsafe waters for swimming. The beauty of the beach is one of its main attractions (as you can see). However, be prepared for a bit of a trek as it's not the easiest beach to get to.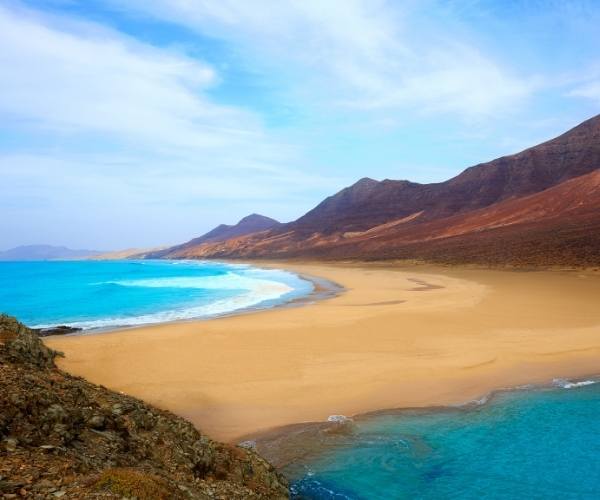 Markets
You'll find many markets open in resorts selling vibrant handcrafted jewellery, t-shirts, leather handbags and small souvenirs of your holiday in Fuerteventura for you to take home.  One of our favourites is the African Market in Costa Calma held every Wednesday and Sunday – a chance to use your haggling skills.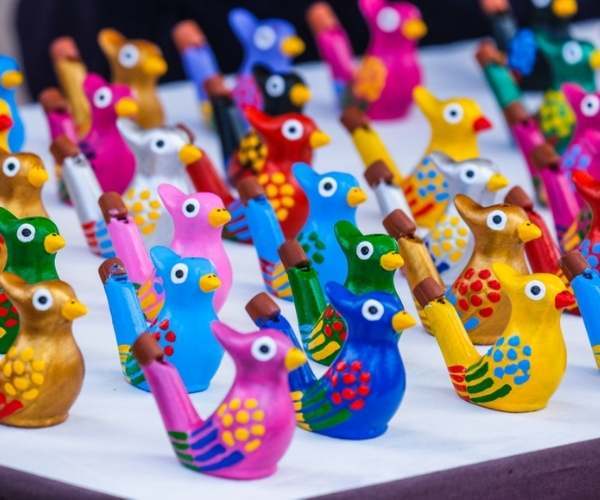 There are several 4 / 5-star hotels on the island that we find particularly attractive – just 3 of them are shown below.
Bahiazul Villas
This 4-star villa complex is located just a 10 minute drive from Corralejo's beaches and centre. Villas sleep from 1-5 people and may be the ideal answer for those seeking a holiday in the sun, but still retaining independence.  With your own pool, whirlpool and catering facilities, you may decide to use this as your home-from-home. The white rendered walls, coupled with the turquoise pool, and glamorous interiors makes this one of our favourite colourful places to stay.
Secrets Bahia Real Resort and Spa
Formerly the Gran Hotel Bahia Real, this 5-star luxury hotel is located beachfront in Corralejo. We particularly love the colourful terrace overlooking the white sandy beach. Somewhere you can spend a while with a cocktail and relax catching up with your latest holiday read.  The hotel's Moorish style creates an oasis of calm with its rich earthy tones.
Sheraton Fuerteventura Beach Golf and Spa
The 5-star luxury Sheraton Fuerteventura is not only located beachfront in the resort of Costa Caleta, but it has a stunning pool area.  The jewel tones of the multiple pools, contrast with the orange and terracotta of the hotel façade.
If you are looking to travel to the island of Fuerteventura, you can travel here year-round. The hottest months are July, August and September at an average of around 28°C. The coldest month to visit is January at around 21°C.
Gail Hewitt is Owner and Director of Corona Holidays. Corona Holidays are specialists in tailor-made holidays to the Canary Islands, Balearic Islands, and European city breaks.
If you would like to be a guest blogger on A Luxury Travel Blog in order to raise your profile, please contact us.