Cioppino done maximum flavor style! This dish was inspired by its complex history. Cioppino was developed in the late 1800s by Italian immigrants who fished off Meiggs Wharf and lived in the North Beach neighborhood of San Francisco, many from the port city of Genoa. When a fisherman came back empty handed, they would walk around with a pot to the other fishermen asking them to chip in whatever they could. Whatever ended up in the pot became their Cioppino.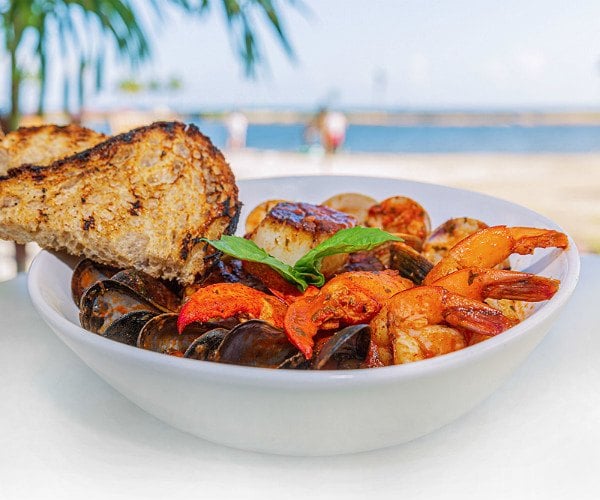 This recipe combines bold flavors with the freshest clams, mussels, jumbo shrimp, sea scallops and lobster claws to create a seafood stew that would wow every guest's palate. The "wow" factor doesn't just come from the flavor punch that it packs, it's a stunner when it arrives at a table. The variety and abundance of fresh seafood nestled in a luscious, aromatic and slightly spicy marinara, is an eye catcher. The base for the ciopinni is so intoxicatingly delicious that its recommended to be served with two slices of Grilled Truccione Bread (Italian Sourdough) to soak up any sauce left behind. There's a beautiful, rustic approach to cooking this dish, that transcends time and trends. At first taste, one should close their eyes and imagine garlic sizzling in olive oil, plump tomatoes, basil… tons of seafood. Your guests will be transported elsewhere when they taste Ciopinni done Maximum Flavor style.
Ingredients
3 tablespoons extra virgin olive oil
1 yellow onion, chopped
3 large shallots, chopped
2 teaspoons kosher salt
7 large garlic cloves, finely chopped
1 teaspoon dried crushed red pepper flakes, plus more to taste
1 teaspoon dried oregano
1/4 cup tomato paste
1 (28-ounce) can diced tomatoes in juice
1 1/2 cups dry white wine
1 cup fish stock
1 bay leaf
1 pound littleneck clams, scrubbed
1 pound mussels, scrubbed, debearded
1 pound uncooked large shrimp, peeled and deveined
3 sea scallops, muscle removed
2 Maine lobster claws
Italian sourdough bread, grilled
Directions
Heat the oil in a large pot over medium heat. Add onions, shallots, salt and saute until the onion is translucent, about 8-10 minutes. Add the garlic and 1 teaspoon of red pepper flakes, and saute 2-3 minutes. Add oregano. Stir in the tomato paste. Add tomatoes with their juices, wine, fish stock and bay leaf. Cover and bring to a simmer. Reduce the heat to medium-low. Cover and simmer until the flavors blend, about 30 minutes. Add the clams and mussels to the cooking liquid. Cover and cook until the clams and mussels begin to open, about 5-7 minutes. Add the shrimp, scallops, and lobster. Simmer until shrimp, scallops, and lobster are just cooked through, and the clams are completely open, stirring gently, about 5 minutes more. Season to taste, with more salt and red pepper flakes. Serve with grilled Italian sourdough.
Thank you to Chef Adrianne Calvo from Redfish by Chef Adrianne, Miami, FL, USA, for the recipe.
If you have a recipe you would like to share with A Luxury Travel Blog's readers, please contact us.