Tarangire National Park is arguably Northern Tanzania's least known wildlife destination. Whilst the majority of visitors head straight to the Ngorongoro Crater and then the Serengeti, this park is often overlooked.
Although it does not have the headline grabbing migration or the popularity of the Crater, Tarangire is a destination not to be missed. Easily accessible by road transfer or by air, it is the perfect place to begin your Tanzanian safari.
Luxury camps
As with all wildlife destinations, picking the right camp is one of the most important aspects of any safari holiday. The majority of camps that are often associated with Tarangire are actually located outside the park, which means the Southern reaches are not accessible and does not allow you to have that true safari experience.
Deep in the heart of the park lie three beautiful camps that are a must for anyone seeking an authentic safari experience. Asilia's Oliver's (and it's sister camp Little Oliver's) and Nomad's Kuro.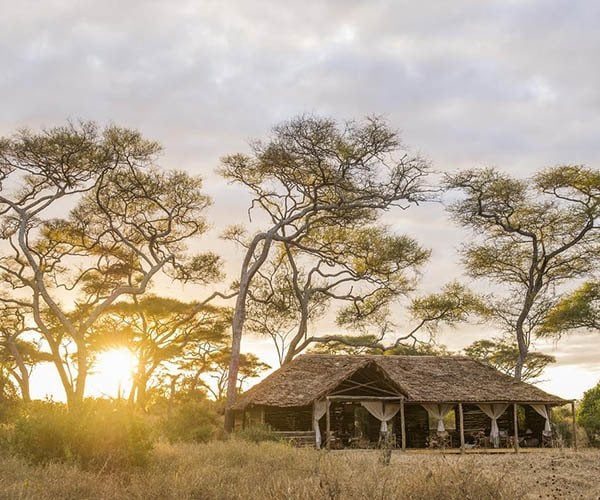 Both camps are situated in isolation and nestled so carefully within the bushveld that if you did not know what to look for, you could easily drive past them.
Both camps are small, intimate and allow you to experience a safari of old, accompanied by excellent guiding, hospitality and service. All rooms are en-suite and the open canvas structure allows you to feel at one with the wilderness around you.
Both camps have open-air dining areas and lounges under thatch. Reclining in the soft leather sofas with a book in one hand and a drink in the other is the perfect way to whittle down the hours in between activities.
If a more lavish and opulent experience is what appeals, then Chem Chem in the North of Tarangire is just the place. Equipped with a swimming pool, spa area and more, this lodge has its own private concession in which to enjoy all wildlife viewings. Every tent combines slick and stylish luxury with an authentic safari element giving the perfect blend of authenticity without compromising on luxury.
Wildlife
Closed in April and May due to the heavy rains, Tarangire comes to life as the dry season progresses. During the months of July and August a huge influx of Africa's largest land mammal sees the park become an elephant-lovers paradise. No matter what corner you turn on game drive, you will be greeted by flapping ears and grey bodies. Being such charismatic animals, spending time with elephants is never dull.
Plains game is always seen in abundance here and herds of buffalo numbering over five-hundred are also apparent as the dry season takes hold. With ten-percent of the park comprising of swamp land, all animals great and small make their way to the water's edge during the heat of the day.
Of course, where there is prey, there are predators. Lions often lurk on the outskirts of the swamp waiting for their moment to strike. The open plains are perfect for the lightning-fast cheetah and the huge baobab trees are perfect for leopards to hoist their kill out of reach of the ever-marauding hyenas.
It is not just the mammal life that makes Tarangire so incredible, the variety of habitat also allows bird species to flourish. The meandering rivers, the grassy plains and the dense riverine thickets allow almost five-hundred different species of bird to reside here. From the regal martial eagle to the white face whistling duck (and everything in between) you can be sure that it is a birder's paradise.
Activities
Whilst visiting different National Parks across Northern Tanzania, often activities are very limited. Game drives cannot leave before sunrise and have to be back at camp before night falls. Often walking safaris are not permitted either.
Tarangire however provides the answer to these limitations. Renowned for its serenity and beauty, one of the National Parks highlights are its walking safaris. Here you can count off hundreds of bird species and pay attention to the little creatures that are just as (if not more!) important as the megaherbivores. If you do happen to come across some of the bigger game, you can be sure of a heart thumping, unforgettable experience that will allow you to boast of walking in the footsteps of giants.
As the sun sets, Tarangire also allows for night drives to take place. This must be pre-booked in advance as a park ranger must accompany you as well as your guide. Armed with a spotlight and the freedom to explore the park after dark, lesser seen creatures like servals, aardwolves and genets can all be spotted after dark, giving rise to some incredible sightings that would normally go unseen.
Solitude and peace
Aside from the incredible wildlife, the beautiful scenery and the diversity of activities, the main draw of Tarangire must be its solitude and the peaceful experience one can have when visiting this National Park.
Whilst the other parks in Northern Tanzania can often become crowded with visitors during the peak season, Tarangire is often forgotten about, giving rise to a tranquil and intimate experience that is unmatched in the North of the country.
With camps that pride themselves on their limited footprint on the environment, relaxing here will ensure you are immersed in nature and a true wilderness without any interruption from the real world.
Whilst it cannot be overlooked that the Ngorongoro Crater and the Serengeti boast some of the highest densities of wildlife in Africa, a visit to Tarangire either side of these two headline stealers will ensure you an exclusive, intimate, and immersive Tanzanian safari that is hard to forget.
Marc Harris is Managing Director of Tanzania Odyssey. Tanzania Odyssey is a leading tour operator that has specialised in Tanzania since 1998.
If you would like to be a guest blogger on A Luxury Travel Blog in order to raise your profile, please contact us.