The Ionian Islands are an idyllic destination to experience the delights of a yacht charter in Greece. A line of stepping-stones across the sea, the mix of islands trail the western coast of mainland Greece. Ribbons of sand frame the undulating shoreline backed by dense woodland on soaring hills. Blessed with deep anchorages, sheltered coves and charming waterfronts, the mild and temperate climate adds to the Ionian's inherent appeal. It is easy to unwind amidst the laidback atmosphere and it is clear to see how the stunning colours of both sea and sky have long proved an inspiration for writers and artists who visit.
When planning a yacht charter itinerary, the seven largest and more widely known islands of Zakynthos, Ithaca, Corfu, Kefalonia, Lefkada, Paxos and Kythira will certainly be on the list. However, the abundant smaller gems, including Antipaxi, Mathraki, Meganissi and Antikithyra have a great deal to offer and are also less populated during the summer months.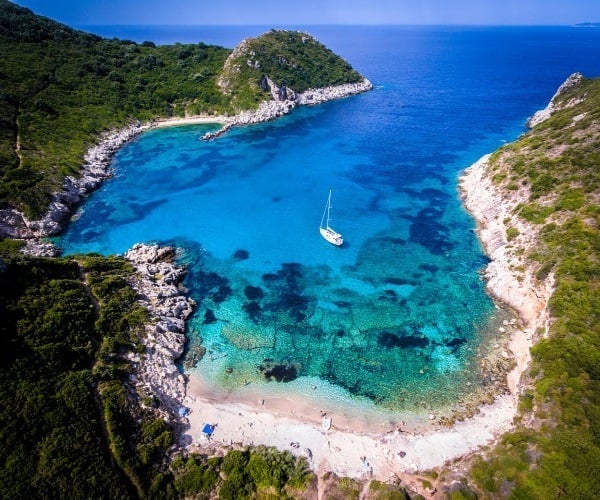 Corfu
A magical destination offering year-round celebrations and culinary feasts, Corfu is a medley of cosmopolitan experiences where you can soak up the sunshine, relish cultural highlights and appreciate some wonderful views. The north island with its mountainous backdrop has a wide choice of anchorages for yachts, ringed by pebble beaches, while the south is characterized by lush lowlands, sandy beaches and tranquil bays. It is well worth strolling the narrow streets of the charismatic old town, a World Heritage Site with fascinating architecture, plus plan a visit to the 13th century Moni Theotoku monastery, perched on the rocky promontory at Paleokastritsa with great views. For a very local affair, make a beeline to the old port where lively restaurants serve delicious Greek meze washed down with a glass of tsipouro.
The Diapontia Islands
Offering the opportunity for discovery off the beaten track, the trio of Diapontia islands to the north of Corfu are only accessed by yacht. Tiny, circular Ereikousa, sparsely populated and strewn with cypress forests, boasts sandy beaches at Porto and Bragini. Both are tranquil and inviting with crystal clear water, while the traditional port has a handful of welcoming tavernas. Famed for the 2km long ribbon of sand at Portello, the neighbouring isle of Mathraki is a yachting haven, dotted with natural inlets and gorgeous scenery. A true getaway location for privacy and seclusion, hillsides are carpeted with lush vegetation strewn with hiking trails that offer spectacular views for the adventurous. Westernmost of the Ionians, Othonoi is the hidden treasure of the Diapontia group. According to Greek mythology, the cave at Aspros Ammos beach is where Calypso kept Ulysses captive for seven years – at 100m long and 20m wide, this can be accessed by tender to discover the secrets within! Green and mountainous, the coastline in the south offers superb opportunities for diving enthusiasts amongst the rock formations. Ammos port is the hub of the island exuding traditional charm, with a handful of restaurants and shops for visitors, while the velvet sand of protected Molos beach provides a wonderful suntrap.
Paxos
Paxos is an island filled with scenic delights. The clear aquamarine sea and pebble beaches must be seen to be believed and locals are so welcoming that visitors immediately feel at home. Simplicity is ubiquitous; watch fishermen haul their catch ashore or enjoy fresh bread from the bakers' wood oven. Take the yacht's tender ashore to the northwest coast to explore the small coves and beaches at the Emritis Cliffs; there are countless secluded anchorages to choose from. Enjoy harbourside restaurants found at picturesque Loggos, sample the nightlife in the lively capital of Gaios and relax on the many beaches around the coastline of Lakka. From June to September, the Paxos Music Festival puts this island on the map, drawing artists to perform from around the globe and adding to island appeal.
Antipaxos
Small and beautiful, nearby Antipaxos is truly unspoilt and an idyllic getaway. Greek legend tells that all the tiny islands around Paxos were created by the sea god Neptune, who nipped a piece off Corfu with his trident to create a cosy place for himself and Amfitryti. Discover the handful of charming beachside tavernas serving wine produced by the excellent local vineyards. Often likened to the Caribbean with turquoise waters and white sands, it is fair to say that in Antipaxos peace prevails.
Lefkada
An off-the-radar island, characterized by wooded hills and an awe-inspiring coastline dotted with high cliffs, Lefkada is also known as Levkas. A heaven for hikers as well as water sports fanatics, satellite isles nearby ensure peaceful island-hopping by yacht is easy. Former fishing villages, Nidri and Nikiana, have sandy shores and a collection of welcoming waterfront tavernas, while the narrow streets of Vasiliki are filled with traditional houses and some breath-taking views. With its charming atmosphere, gorgeous stretches of beach and olive groves, Lefkada is a sanctuary for uninterrupted relaxation on a yacht charter.
Meganisi, Kalamos & Kastos
Flower-filled villages and gleaming white beaches are the trademark on unpretentious Meganisi. The coastline provides an array of exquisite anchorages with spectacular blue waters, perfect for kayaking, while the offshore isles of Skorpios and Sparti are an added attraction. Mountainous Kalamos is blessed with serenity and natural beauty; the crystal waters attract snorkellers, walkers and beach-lovers alike. Nearby the tiny hideaway of Kastos delivers a deliciously simple way of life with only 50 permanent residents. Many of the isolated beaches are only negotiable by yacht and almost guaranteed to be deserted.
Ithaca
Ithaca is a beautiful island that has stayed relatively undiscovered. Experience amazing sea views and hidden ruins from amongst the hiking trails dotted across lush green valleys and rugged hills. Homeland to Odysseus, there are some fascinating archaeological sites steeped in mythology. Head to the harbour towns of Frikes and Kioni, with vibrant tavernas serving extraordinarily fresh seafood or explore the ancient villages of Exogi and Anogi with panoramas stretching across the archipelago. Anchor at secluded coves such as Filiatro and Sarakiniko to enjoy great swimming spots with clear waters, while scuba divers will be captivated by the seabed nicknamed 'Poseidon's Meadow'.
Kefalonia
Largest in the Ionian chain, Kefalonia is a big draw thanks to perfectly clear waters at countless exotic beaches, such as those found at Myrtos, Lourdas and Skala. From medieval castles and picturesque villages to enthralling monasteries and busy tavernas, Kefalonia is packed with laid-back appeal. Prepare to be amazed by the range of geological phenomena occurring here, particularly the sinkholes located beneath the water, with one still viewable by the lighthouse in Fanari. Discover ancient rock formations in the caves at Drogarati, dive the Melissani Sea Cave, windsurf at Lixouri and visit the fabulous Sclavos family wineries. A visit to cosmopolitan Fiskardo is recommended where the lovely harbour has regular activity from the yachting crowd and is arguably the most stylish fishing port in the Ionian. Sail to rocky Vardiani isle in the west, boasting two monasteries, an impressive sandy stretch and protected anchorages, while scuba enthusiasts will relish reef dive opportunities found off the Asteris atoll on the eastern side.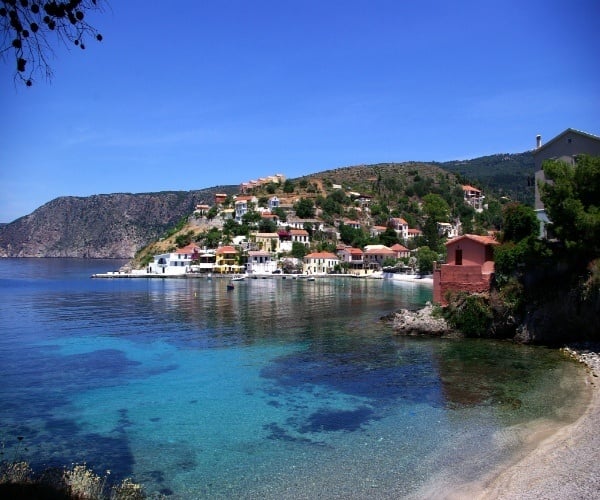 Zakynthos
Blessed with green valleys dotted with olive groves and sheltered coves bordered by sandy shores, sailing around the scenic coastline of Zakynthos is an absolute delight. Popular beaches such as Agios Nikolaos, Alykanas and Tsilivi offer brilliant opportunities to enjoy leisurely swimming and fun with water sports. The rocky landscape has a number of sea caves, including the famous Blue Grotto, where the sun creates a mosaic of stunning patterns across the cave walls. Only accessible by yacht and a popular attraction, Smugglers Cove is famous for the large wreck sat on the golden swathes, which really is a sight worth seeing. Head to the capital of Zante town for some great shopping and bustling restaurants – an ideal spot to sit with a drink and watch the world go by.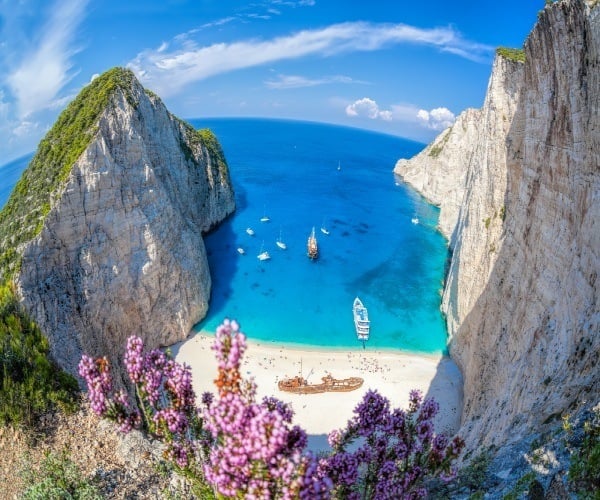 Strophades
To the southeast lie the Strophades, a group of two small rocky islands, referenced by Virgil in the Aeneid and known by local fishermen as the "plota nisia", or floating islands. Previously only inhabited by ancient monks, the larger islet of Stamfani boasts an imposing 13th century monastery, home to Dionysus, the patron-saint of Zakynthos. Yachts can take advantage of the secluded anchorage at the smaller isle of Arpia, named after the ancient belief that the mythological winged Harpies lived here. The Strophades are home to thousands of migratory birds, so this is a fantastic spot for budding ornithologists to get out the binoculars!
Kythira
Known as the isle of Aphrodite, the goddess of love, charming Kythira is famed for its sensational beaches, green landscape and traditional style. Sightseeing here is plentiful with the stalactite strewn Cave of Agia Sofia, the beautiful Waterfalls of Fonissa and the abandoned town of Paleochora. At the medieval castle of the Chora, a vestige of the Venetian era, soak up some incredible views over the Aegean or time it to watch the perfect sunset! The more popular beaches are found at Agia Pelagia and Diakofti, with many other secluded coves and bays only reached from the water.
Antikythira
To the south, tiny Antikythira is a delight. Life on this isolated isle between Crete and the Peloponnese is extremely relaxed; home to only 50 permanent residents and an economy based on fishing. A number of small beaches are lovely spots for swimming and make easy yachting anchorages, such as Xeropotamos, close to which is the fortified town of Kastro and the remains of the temple of Apollo.
There is no better way to explore this beautiful set of Greek islands in the sparkling Ionian than by yacht. Pretty marinas, isolated sands, scenic anchorages and mysterious sea caves await exploration, while locals in village tavernas ashore welcome visitors with gusto. There is so much to enjoy in this exceptional location where island-hopping is a delight.
It is said in the Caribbean that 'island time' is a state of mind, but in Greece it is most certainly a way of life – one worth trying!
Nicholas Dean is Managing Partner of Ocean Independence. Ocean Independence is a global leader in luxury yachting, providing a bespoke experience across yacht charter, sales and management.
If you would like to be a guest blogger on A Luxury Travel Blog in order to raise your profile, please contact us.