To truly get to know a place, you need to spend quality time with it, getting away from the crowds and immersing yourself in the local surroundings. It's often when we venture beyond a destination's 'greatest hits' to discover our own hidden gems, that we make our most treasured memories.
Here we explore five exclusive enclaves of popular holiday destinations, shining a light on what these less-visited islands and regions have to offer.
The Azores, Portugal
The Portuguese island chain of the Azores is famed for its rich history. Legends of islands in the Atlantic had long been told by classical poets and writers such as Homer and Pliny the Elder, however it wasn't until 1493 when Christopher Columbus landed on Santa Maria, that the islands played their part in the Age of Discovery. The far-flung archipelago is also characterised by its verdant, volcanic landscape and is a perfect getaway for nature lovers, or anyone looking to enjoy the dramatic windswept coastline, turquoise geothermal lakes and tranquil gardens. The waters surrounding the islands are some of the best spots for observing marine wildlife, including blue whales, orcas and dolphins.
The main island of São Miguel is the ideal base to explore. The capital, Ponta Delgada, is a charming town, easily explored by foot, with narrow streets and historic architecture such as the 16th-century Fort of São Brás and Gothic St. Sebastian Church. The three dramatic City Gates, dating from the 18th century, mark the historic entrance to the city. Today the adjoining wide plaza is filled with coffee shops and traditional restaurants, overlooking the pretty harbour. The island is also known for gin distilleries and some of Europe's few tea plantations, where visitors can taste the local produce for themselves.
Gozo, Maltese Islands
The Maltese archipelago is made up of no less than 21 islands, with Gozo being the second largest. Like the eponymous island Malta, Gozo's strategic position at the crossroads of the Mediterranean has allowed it to cultivate a rich culture over thousands of years. By venturing beyond the seaside resorts for which the Maltese islands are most famous, travellers can avoid the crowds and explore this fascinating history. From the 7,000 year-old Neolithic Ġgantija Temples to the 18th century Batoque cathedral, there have been many civilisations on the island leaving a wealth of captivating archaeological sites and architectural wonders.
The subtropical climate and dramatic scenery mean there are many sites of natural beauty too, with characterful caves, rugged coastline, scenic hills and a few sandy beaches. Being quieter and more rural than Malta, the island is an ideal base for a relaxing getaway, a walking holiday or world-class diving. Other attractions include the rock-cut Xwejni salt pans, which have been used since the era of the Phoenicians, and the historic main town of Victoria, which can be explored by thrilling tuk-tuk ride.
Evia, Greece
Greece is well-known for its islands, with 1,400 to its name. Whilst you may have visited historic Crete, magnificent Santorini and peaceful Paros, Evia remains mostly off the tourist map. Despite being overlooked for some of its more famous neighbours, it is home to tranquil beaches, archaeological wonders and charming wineries – all just a stone's throw from Athens. The unspoiled island, Greece's second largest after Crete, is a fantastic destination for a holiday with luxury beachfront hotels and plenty to see and do.
Being so accessible to Athens, Evia has long been a favourite weekend getaway for Greeks, but the secret hasn't yet reached foreign tourists. Visitors can take advantage of this peace and quiet to enjoy the beautiful mountainous scenery, relax on the uncrowded beaches and explore the many archaeological sites undisturbed. Activities to partake in include sailing and trekking, before winding down at one of the many vineyards for a wine-tasting session or sampling a traditional Greek coffee.
Veneto, Italy
The Veneto region of Northern Italy, has so much more to offer than its most famous city of Venice, including numerous historic towns and rural idylls. Explore the rich culture of the region by visiting one of the area's many other fine cities. Verona, the setting for Shakespeare's Romeo and Juliet; Padua, famed for its Byzantine-style Basilica of St Anthony and beautiful frescoes; and Vicenza, with its elegant Palladio-designed architecture are all impressive alternatives. Artistic heritage is a big draw for all three of these cities, with plentiful classic art collections of paintings and sculptures housed in historic buildings throughout the region.
The culture of Veneto, however, extends beyond the artistic and architectural to the gastronomic. The famous Prosecco hills offer an opportunity to take a break from sightseeing to sample some of the best-loved fizz in the world. The area is also known for its traditional risotto served at excellent local restaurants, often using renowned regional produce. Beyond the cities, there is also an abundance of pretty walled towns, such as Castelfranco Veneto, and picturesque villages amongst the rolling hills, just waiting to be discovered.
The Basque Country, Spain
From its Pyrenees peaks and rugged Atlantic coast to its ancient language and traditional cuisine, the Basque Country is unlike any other part of Spain. The autonomous community is proudly unique, with its own distinct culture, carrying their own flag and celebrating their own traditions and festivals. A visit to this often-overlooked enclave of the Iberian Peninsula is remarkably rewarding.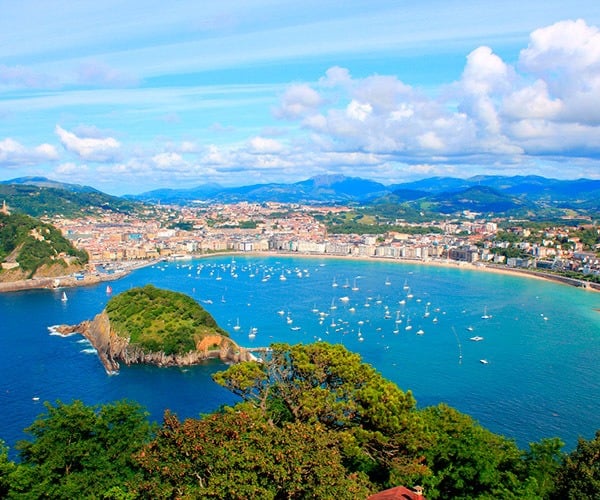 Bilbao is the vibrant capital of the region and is probably most well-known for its modern, industrial architecture, the highlight of which being the striking, titanium-clad Guggenheim museum. Inside is housed an enviable collection of modern and contemporary artworks. In contrast, the elegantly classic, twisting Old Town is a perfect destination for a stroll; stopping to sample the local pintxos at the many characterful bars and restaurants along the way.
Just along the coast, on the Bay of Biscay, is the picturesque seaside resort of San Sebastián. The city is famed for its upscale shopping, beautiful beaches and wide promenade, but above all else has become a hotspot for world-class restaurants serving cutting-edge cuisine. In fact, it boasts more Michelin-starred restaurants per capita than almost anywhere else in the world, making it a perfect destination for foodies, sun-seekers and culture vultures alike.
Kerry Golds is Managing Director of Cox & Kings. Cox & Kings is an award-winning tour operator with a history of over 260 years, specialising in luxury small group tours to the world's most captivating destinations.
If you would like to be a guest blogger on A Luxury Travel Blog in order to raise your profile, please contact us.