We all see Charleston continue to make many of the "best of" lists, and it's clearly a favorite for a lot of tourists. Before Covid, the city was seeing well over seven million visitors each year, and since all of these people need places to stay, I wanted to share 10 of my favorite luxury hotel (and inn) experiences around the city.
Charleston was home to the first museum, one of the first theaters, and one of the first golf courses in the United States; and is now home to a ton of great hotel options. These award-winning properties just have a little something special about them, so I suggest you add them to your list when planning your next visit to this beloved city that's filled with charm and southern hospitality (and crazy good food!).
1. Charleston Place, A Belmond Hotel
This hotel has been a favorite for decades, and the level of luxury touches and refined elegance is more alive than ever before. Plus, their pimento cheese is legendary, and just another reason you should visit this Belmond property. The pool and spa provide a great place to recharge when taking a break from the historic home tours and eating your way through Charleston. The Luxury Club Suites are a favorite here, but all their rooms and suites will not disappoint.
2. French Quarter Inn
On the smaller side, this 50-room luxury boutique hotel goes big with their little touches during each stay. Your day begins with the locally sourced artisanal breakfast and you can end your day with personal wine and cheese pairings. I'm picky about my pillows at hotels, so this one does it right: inquire about their sound sleep pillow menu that provides you with seven different options. Just off Market Street, you will feel right at home while staying at the French Quarter Inn!
3. HarbourView Inn
It's all about the views at HarbourView Inn as it sits right at Waterfront Park with the famous pineapple fountain and vistas out over the harbor that go for miles. This property recently completed a refresh, so you will enjoy the design enhancements and their private rooftop that has some of the best people-watching in the city. I like that they offer afternoon wine and cheese hour for the adults, but don't forget the kids by offering freshly baked cookies and milk. I strongly recommend that you begin with the wine and cheese and then enjoy the milk and cookies with turndown service!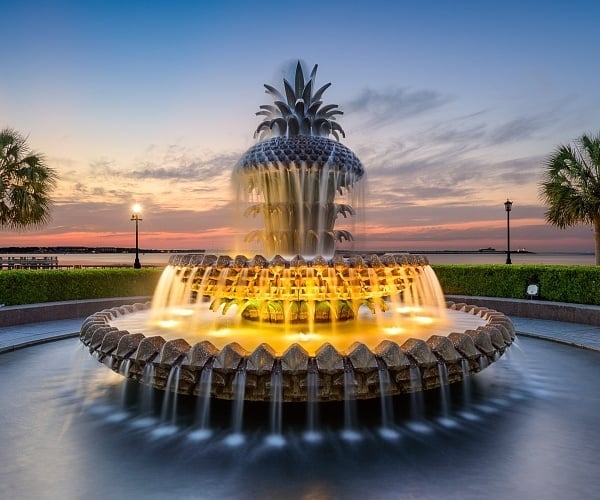 4. Hotel Bennett
Hotel Bennett is still one of the new kids in the neighborhood, but one that is making a big impression on everyone who visits. Several decades in the making, this hotel took the time to thoroughly develop a hotel experience that is like no other in the city. The King's Club delivers a VIP experience from start to finish, and I recommend planning ahead to make reservations for afternoon tea at least once during your visit. You won't regret it!
5. The Dewberry
For anyone who might have been to Charleston some years ago, you might recognize this building as a somewhat nondescript federal building, but it has been transformed inside to reflect the vision of its founder, John Dewberry. The entire experience has been designed to deliver a level of luxury you desire, but with obvious warmth and a nod to the Charleston of yesteryear. I find this hotel to be a very cool property with an eclectic vibe that is simply timeless.
6. The Restoration
When it comes to hotels giving a new and enhanced version of southern hospitality, The Restoration has taken this approach and completely owned it. The wow factor is seen around every corner, and with every detail around the hotel. The Premier Balcony Suite is like having your very own pied-à-terre in Charleston with a full kitchenette and a modern bathroom that will blow you away. Be sure to sneak away to The Watch Rooftop Kitchen and Spirits during your stay for great food and cocktails with local ingredients.
7. The Spectator Hotel
Let's face it, everything is just better when a butler is involved. The Spectator Hotel is unique (in a great way) as they have a butler assigned to each guest.  Your personal butler is able to coordinate anything from your dining to preparing the rose petal bath that is just required after a hard day of vacationing in Charleston. This hotel likes to think that they are sort of a maverick of a boutique hotel that evokes Old South charm and Jazz Age charisma. I completely agree with this assessment, and I love it!
8. The Vendue, Charleston's Art Hotel
Art lovers can rejoice with what The Vendue, Charleston's Art Hotel has done for the city. It's actually a combination of two properties: 19 Vendue and 26 Vendue, which are located across the street from each other. These converted historic warehouses from over 200 years ago have come long way, and with the modern renovations, no two rooms are the same so you will never get bored. Enjoy more than 300 pieces of art throughout the hotel, and if you're like me and love a modern take on traditional, their Signature King Suites are perfection!
9. Two Meeting Street Inn
For a localized experience in the heart of Charleston, Two Meeting Street Inn delivers in a big way. From the peach flavored iced tea to the views out over White Point Gardens and beyond to the Battery, this is quintessential Charleston. The historic feel of this inn experience is more like visiting someone's home, and the personalized services that the family provides is what really makes this option so desirable.
10. Wentworth Mansion
A favorite destination for history buffs, Wentworth Mansion is a beautiful tribute to the Gilded Age. The amenities are seemingly endless here with a full breakfast, wine and hors d'oeuvres in the afternoon and a glass of port in the evening. The family always makes sure to customize your stay and be there to ensure an unforgettable travel experience. Make it even better with the Grand Mansion Suite and at least one visit to Circa 1886 Restaurant for their amazing seasonal menu.
Eric Hrubant is Owner and President of CIRE Travel. CIRE Travel is a concierge style travel agency specializing in luxury vacations and honeymoons, once-in-a-lifetime bucket-list journeys as well as group and corporate travel.
If you would like to be a guest blogger on A Luxury Travel Blog in order to raise your profile, please contact us.