The Big Island of Hawaii is built on an active volcano and some dormant ones, which, when measured from the seafloor to the summit, is over 33,496 feet tall. There are endless activity options, so how to spend your precious holiday time?
Hawaii Volcanoes National Park
The top of the active volcano is usually the lava action location. How to view best and appreciate the magma-tude is the question. Visiting the national park is the best option because it is a geology lesson, past to recent history display, endless hiking options with personal exploration by walking the different lava flows. Likely a two-hour drive from your lodging, so best to spend the night at the Volcano House Hotel, right in the national park, and then embark on day two. You can see most of the park in two days and chart your own course of hikes, overlooks, and viewing through different lava flows.
Hawaii Tropical Bioreserve & Garden
Close to Hilo is a place with a plant-amazing array of natural foliage, from flowers to native trees. Not a free park, yet the Hawaii Tropical Bioreserve & Garden is well worth the entry fee to walk the trails. Its location is on the edge of Onomea Bay. This is a protected area for the flora and fauna to exist in their natural environment. The combination of volcanic soil, mountain streams, trade winds, and tropical jungle results in a unique intersection of plants from native flowers to tropical trees. A few feet back in either direction, and the microclimate makes an abrupt change, so does the plant life. The 20-acre reserve features more than 2,000 plant species.
Snorkeling boat trips
Unless you are going to the beach every day and planning on snorkeling no matter what the conditions, a boat trip is a much better option. Gear is provided, so no lugging around for the week, as well as refreshments and snacks. And, with a boat, you see the coastline and get to sites only accessible by water. In Waikoloa, the go-to company is Hawaii Ocean Sports, and further south in Kona, it is Sea Quest Hawaii. Both have catamarans and vetted itineraries to picturesque spots. The tours go from early morning adventures all the way to nighttime manta viewing.
Luau at Fairmont Orchid
Luau's maybe the optimal blend of Hawaiian food, drink, culture, and history in one event. Featuring a beachfront setting and award-winning fare, the Luau at Fairmont Orchid may be the perfect event to get it all. The permanent lava-stone stage gives every table a great view of the entertainment. The executive chefs from the Fairmont cook up the usual food treats like roast pig, poke (raw fish), and poi, with a few more from their dining menu. And the open bar doesn't hurt your appreciation of the Luau experience.
Big Island Candies
When you grow macadamia nuts, lilikoi and coffee, you can expect that to make it into confections at some point. Big Island Candies, in Hilo, has been combining local chocolate with these other island products for some unique treats. Their showroom is a dessert-tasting heaven of all sorts of goodies you have not had before. Try the coffee and chocolate-covered brownie or the macadamia nut shortbread cookies dipped in local chocolate. And, for those with food allergies to nuts, they make nut-free versions.
Beaches and state parks
Hawaii has some famous beaches, and two of the most renowned are Puako and Hapuna. While all beaches in Hawaii are public, getting to them and parking is not always available. State parks are now charging non-residents for access and parking so that free adventure is no charge anymore. Beaches close to hotels or resorts have minimal shore-line access parking, which fills early in the morning. Residents tend to go to the beach Friday through Sunday, so those days should be avoided.
StarGaze Hawaii
Want to see the stars? Unfortunately, the vast telescope complex of the Mauna Kea Observatories is reserved for professional astronomers. Never fear, an astronomer brings out his enormous telescopes to the Westin Hapuna four nights per week. The lack of city lights combined with the telescope's power means you can see things you have only seen in photos. StarGaze Hawaii has limited viewers and even offers private viewing sessions. Astronomer and guide to the heavens, Wayne Fukunaga, is a one-man Wikipedia on all things in the starry sky.
TopShape Sport Fishing
Just a bit offshore on the Big Island, where the water gets deep, the marlin and other game fish abound. It's quite a bit of ocean. Experience comes into play in making sportfishing a great adventure and reeling in the big one. Captain Al and TopShape Sport Fishing have the best experience and record on the Big Island in doing both. His boat is top line with a gyro system and minimizes the effect of waves on the ship. Captain Al and first mate John Bennett collaborate on the best spots to fish for the day where you will reel one in.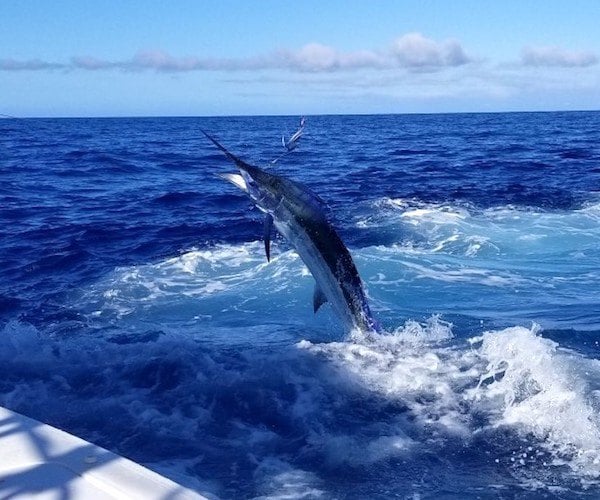 Kona Coffee & Tea Market farm tour
Coffee is famous in the Kona district. It can taste different from farm to farm because of specific micro-climates. Agriculture is getting a boost on the Big Island with additional crops. The best place to see the bean to cup process is the Kona Coffee & Tea Market farm, just 15 minutes from downtown Kona. Their farm doubled in size and now grows cacao, avocados, bananas, endangered tree species, and over 22 different exotic fruits. And the real caffeine kicker is you see how coffee beans are picked, roasted, ground into coffee, with the ultimate end getting to sample fresh, award-winning Kona coffee.