No one has ever gone thirsty in the city where vermuterías (vermouth bars) and cervecerías (breweries) can be found on every corner. Sometimes, however, the night calls for something a little different. From classy interiors adorned in vintage velvet, to modern, hidden haunts that require some in-the-know to discover, Barcelona has countless cocktail bars to be enjoyed.
Whatever the tipple of choice may be, these cocktail bars push the limits of mixology with weird and wonderful creations. However, if gin and tonic is the only way to whet your taste buds, these excellent bars excel here too. Here are our top recommendations of the best cocktail bars in Barcelona.
1. Paradiso
This clandestine cocktail bar appears from the outside to be an unassuming pastrami sandwich shop. However, when the fridge door is pushed open, it reveals the uber-cool cocktail bar of Paradiso. This speakeasy is not just any old cocktail bar, as it has been named as one of the top 50 bars in the entire world.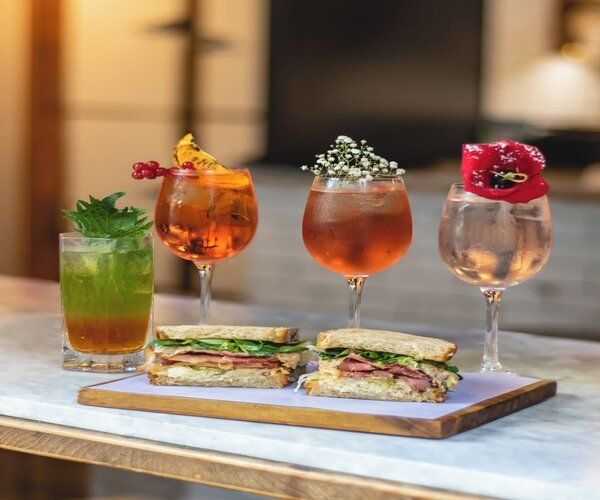 The bar is an elegant cave-like set up, where their mixologists will recommend the perfect, out-of-this-world cocktail for you. Sample quirky creations such as the 'Gelato Paradiso', which is made from vodka, turmeric, sheep's milk kefir, walnut bitters, and nitro foam!
Address: Carrer de Rera Palau, 4
2. Bobby's Free
Bobby's Free is another deceiving speakeasy, that from the outside looks like your everyday barbershop. Even once inside, no drinks or bar stools will yet be visible, until you have provided the 'barber's' secret password to enter, which changes every month. Not to fear, as this can be found on their Instagram or Facebook.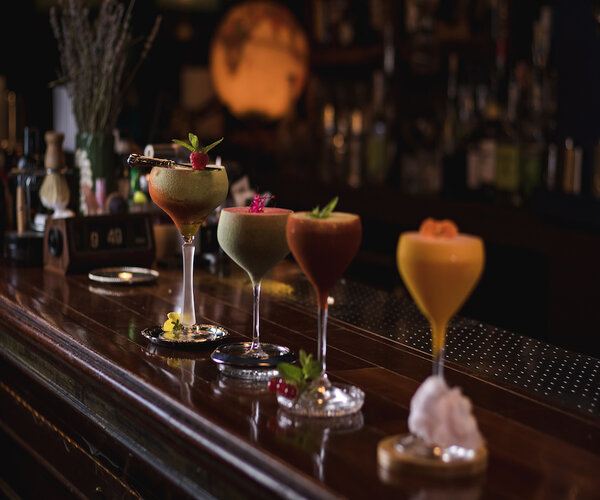 This bar has a 1920s prohibition interior, and they have a fantastic selection of gin and tonics and exciting cocktails to try. This bar is not to be missed for any G&T lover looking for their new favourite bar.
Address: Carrer de Pau Claris, 85
3. Dr Stravinsky
Dr Stravinsky appears to be the lab of a mad scientist, with infusing jars lining the walls and old-school lab equipment visible throughout. The bar is an alchemist's den full of fun and surprises – distorting mirrors, homemade essential oils in jars, flasks filled with water from the coastal town of Tamariu…
The bar is dedicated to using in-house ingredients, and they even ferment and distil their own ingredients, such as kombucha, kefir and more. Expect to find weird and wonderful cocktails, such as the 'Soil Dry Martini', made from Ketel One Vodka distilled with soil and Martini Vermouth Extra Dry.
Address: Carrer dels Mirallers, 5
4. Dry Martini
The owner of Dry Martini, Javier de las Muelas, is somewhat of a genius when it comes to cocktails. Internationally recognised as one of the best bars on the planet, De las Muelas has succeeded in making this bar rank as one of the best 50 bars in the world for eight consecutive years.
Their cocktails are carefully crafted, offering both the reliable classics among more exclusive and innovative drinks. It is compulsory to try their unbeatable dry martini itself, which undoubtedly is one of the best in Barcelona. Despite the crowds (to be expected for a bar so renowned) Dry Martini continues to be a benchmark cocktail bar.
Address: Carrer d'Aribau, 162
5. Hemingway Gin & Cocktail Bar
Hemingway Cocktail Bar was established in 2017 and takes its name from one of the most famous and influential writers, with a passion for cocktails and good drinks.
They use only the finest spirits, freshest ingredients, and press all their citrus juices daily. They believe that by taking meticulous care about the quality of every product given to customers, the cocktail experience here will be unforgettable.
Address: Carrer de Muntaner, 114
6. Solange
Solange is run by the Pernías, a family of mixologists who are already well-known for their Tandem Cocktail Bar. Also earning its spot on the top 50 best bars in the world, expect James Bond classic glamour and a list of unpretentious cocktail creations. The interior has vintage sofas, a stately wooden bar, and a drip of liquid gold throughout the décor.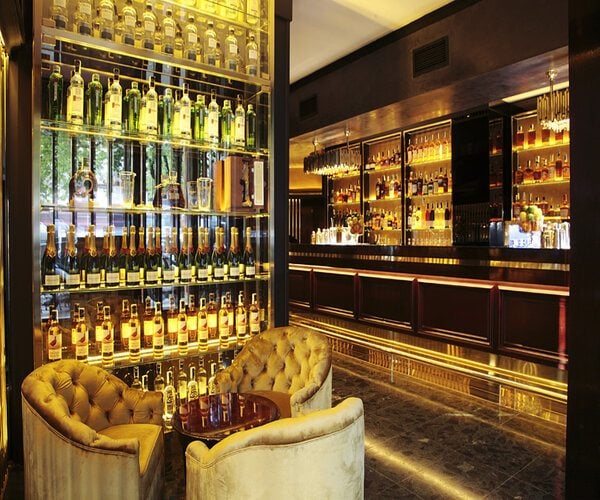 To match its design that looks fancy enough for the world's most famous secret agent, their cocktail menu is split into sections by Bond movies. For example, within 'Casino Royale' you will find 'Le Chiffre', a blend of Ron Matusalen 23, cherry and hibiscus cordial, and coffee.
Address: Carrer d'Aribau, 143
7. Negroni
Negroni is a bar with a classic spirit and a contemporary look. The El Raval district where Negroni takes its home might have a slightly grungy reputation, but the bar is elegant and stylish throughout, in both its décor and its cocktails.
Talk to one of their skilled mixologists for them to recommend an unforgettable cocktail suited to your tastes. As is only right, their negroni cocktail is a must try on any visit here, and we also recommend their delicious Moscow Mule and Whiskey Collins.
Address: Carrer de Joaquín Costa, 46
8. Boadas
Set up in 1933 by Miguel Boadas, born to Catalan parents in Havana, this classic cocktail bar has barely altered since Hemingway himself used to frequent this bar. It is not only the oldest cocktail bar in Barcelona, but in the whole of Spain too.
There are a wide range of spirits on offer, with their daiquiri coming highly recommended by those in the know. The bar staff are happy to prepare something classic or create a drink to order if nothing is calling out from the menu.
Address: Carrer dels Tallers, 1
9. The Antic Theatre
The Antic Theatre is the placed to be for small and exciting events, as it is found just next to the Palau de la Música Catalana. This hidden bar includes a garden area, which is used throughout the summer, and a terrace inside which gives an excellent view of the enormous courtyard area.
Expect to find live music, poetry, theatre and much more here. The drinks are very reasonably priced, with a variety of craft beers, wines, and cocktails available to enjoy.
Address: Carrer de Verdaguer i Callís, 12
Sandra Roig is Marketing Director at AB Apartment Barcelona. AB Apartment Barcelona is an apartment rental agency offering over one thousand short and long term apartments across Barcelona.
If you would like to be a guest blogger on A Luxury Travel Blog in order to raise your profile, please contact us.